The grill can be an intimidating beast at first, but it's one that can be easily tamed with a little practice. I have to admit my first few attempts at the BBQ were eventful with a few small fires and a little food charcoal. But...with a little practice and a little coaching from Mr. Monday Is Meatloaf I finally started getting the hang of it. A perfect introduction to grilling are these Easy Kebabs 3-Ways!
These are ideal for starting out with or cooking on a weeknight. The prep time is minimal so the focus can be on building those skills with the grill or just getting a quick meal on the table.
Start by cubing your Spam, and draining one can of chunky pineapple. Next, cut up your chicken into generous cubes, and toss in a bowl with your favorite poultry seasoning.
Finally, halve your summer squash and cut into big chunks but leave your tomatoes and mushrooms whole. Chunk the green peppers into large chunks as well. Put the veggies into a bowl, toss with olive oil, and some Italian Seasoning or seasoned salt.
Place all of your meat onto skewers. Alternate the Spam with the pineapple.
Preheat the grill to about 350-degrees, with all the burners on. Usually I start off by putting the tomatoes, mushrooms, and green peppers on the lower section of the grill. I cook these for a few minutes, and then turn over to cook a few minutes. Close the grill. When they have some good grill marks, and have begun to soften move them to the top shelf of the grill. These won't take long to cook - less than ten minutes.
Next place the summer squash cut side down on the grill. Close the grill. Let these cook about 5-6 minutes then turn over. Cook for the same amount of time on the other side then remove the veggies from the top shelf to a platter. Replace with the summer squash.
*Note: If you feel like the squash is done before the cooking time above please be sure to swap out the veggies to avoid burning them.Â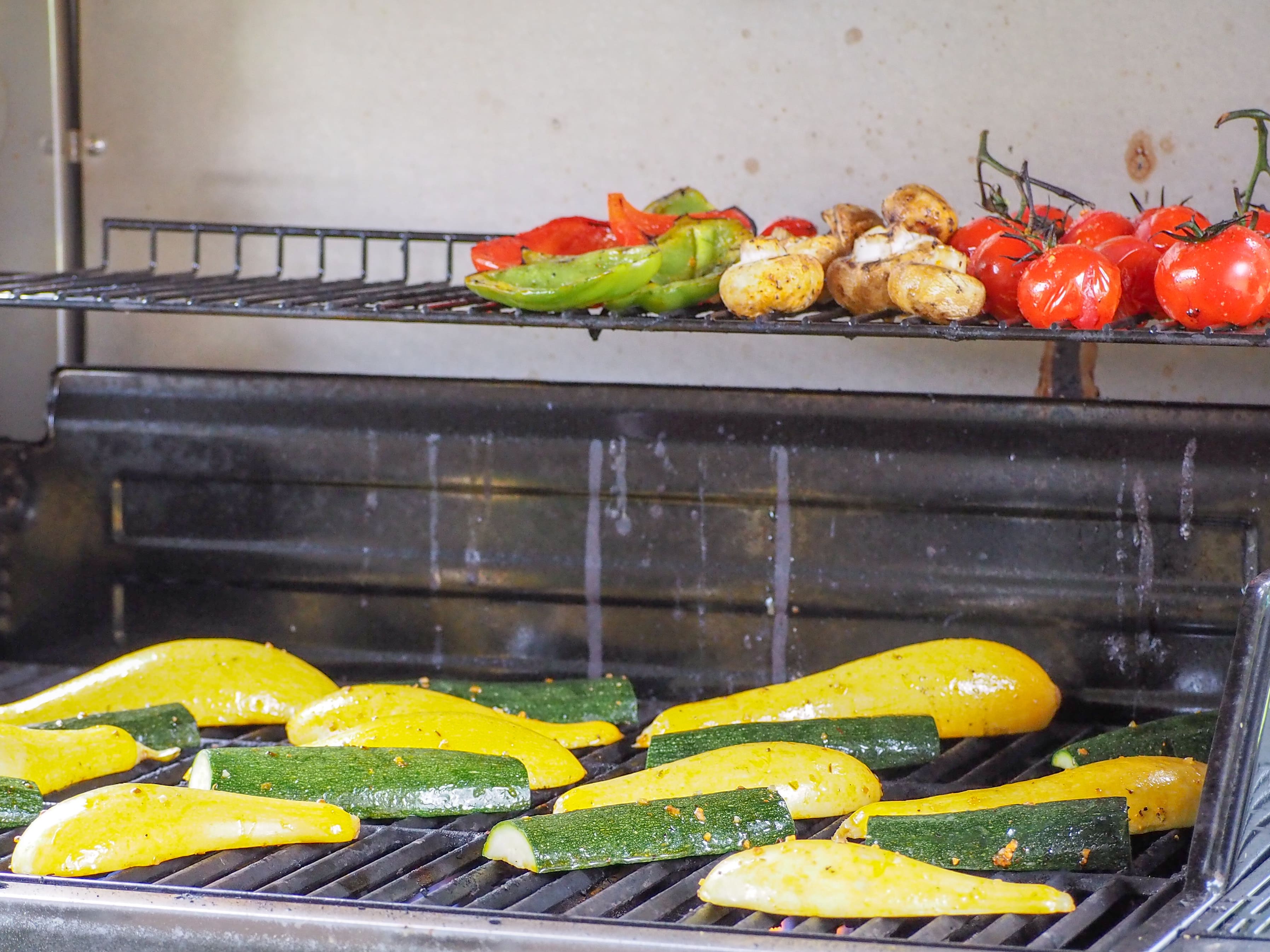 Then place the Spam skewers on the bottom half of the grill. Cook for about 5-6 minutes before turning, and cooking an additional 5-6 minutes. Remove the summer squash to the platter unless you would like to cook them for some additional time. Add the Spam skewers to the top rack, and brush with your favorite BBQ sauce. I like to use a Sweet Heat flavor on mine. Cook for an additional 5-10 then remove from grill.
Place the chicken on the lower rack, and cook for about ten minutes. Turn the skewers over, and cook an additional ten minutes. Cook the chicken until done or to an internal temperature of 165-degrees.
Let the meat rest for about ten minutes and then serve with some buttered Jasmine rice. Enjoy your Easy Kebabs 3-Ways!
Easy Kebabs 3-Ways
Easy and simple kebabs to build those grilling skills, and get dinner on the table in a hurry on a weeknight! Great for meal prep with plenty left over for lunches!
Print
Pin
Rate
Ingredients
2

cans

Spam

rinsed, drained, and cubed

1

can

chunked pineapple

drained

½

cup

BBQ sauce

3

pounds

boneless, skinless chicken breasts

cubed, large

Poultry seasoning

to taste

2

green peppers or red

chunked

8

ounces

mushroom

whole

10-12

campari or cherry tomatoes

whole

6

summer squash

halved and quartered

Italian seasoning or seasoned salt

to taste
Instructions
Cube Spam and put on skewers alternating with pineapple.

Cube chicken, season with poultry seasoning, and put on skewers.

Cut vegetables as directed, toss with olive oil and seasonings.

Place tomatoes, mushrooms, and peppers on lower rack of grill. Grill for a few minutes on each side. Transfer to top rack of grill.

Add summer squash to lower half of grill, cut side down, and cook for 5-6 minutes on each side.

Place vegetables from top rack onto a platter, and put summer squash on top rack.

Put Spam skewers on lower rack in grill, and cook for 5-6 minutes. Turn then cook an additional 5-6 minutes.

Remove summer squash from top of grill, and replace with Spam skewers. Brush Spam skewers with BBQ sauce. Add chicken skewers to bottom of grill and cook for 10 minutes. Turn chicken skewers half way through cooking time. Remove Spam from grill to platter. Put chicken on top rack and cook an additional ten minutes. Cook until done, or chicken reaches an internal temperature of 165-degrees.
Notes
Will keep in an airtight container for up to one week. 
Nutrition
Serving:
1
serving
|
Calories:
574
kcal
|
Carbohydrates:
30
g
|
Protein:
51
g
|
Fat:
28
g
|
Saturated Fat:
10
g
|
Trans Fat:
1
g
|
Cholesterol:
169
mg
|
Sodium:
1589
mg
|
Potassium:
1680
mg
|
Fiber:
4
g
|
Sugar:
21
g
|
Vitamin A:
634
IU
|
Vitamin C:
63
mg
|
Calcium:
54
mg
|
Iron:
2
mg