This is the first time I had ever the heard the word "bomb cyclone" this winter or any one before it. What was happening in the world? Come on, it was raining frozen iguanas in South Florida. Yikes!
Wondering through the aisles of the grocery store that week, I stumbled upon some fresh and already shelled pints of black eyed peas that hadn't been sold out for New Year's. Feeling like I had found nothing short of a lucky penny or a four leaf clover I scooped up a couple of pints to make...something. You can also use frozen ones for this recipe as well, and it should cut down the cooking time.
I do this a lot, find an ingredient then figure out a dish for it later. With dinner not figured out I gave it a few moments thought and decided to make a stew. It was super cold and this would be perfect and quick. The chirping birdies wouldn't have time to make a peep about dinner being so late.
The question was though, what kind of stew. I thought about it a little more and decided to add sausage, jalapeno, plenty of tomato, and some spinach. First I chopped up some onion and red bell pepper along with some sliced celery. Otherwise known as the holy trinity. I sautéed this until softened then...
Added some sliced bulk sausage. Notice I have not added the jalapeno yet. 🙂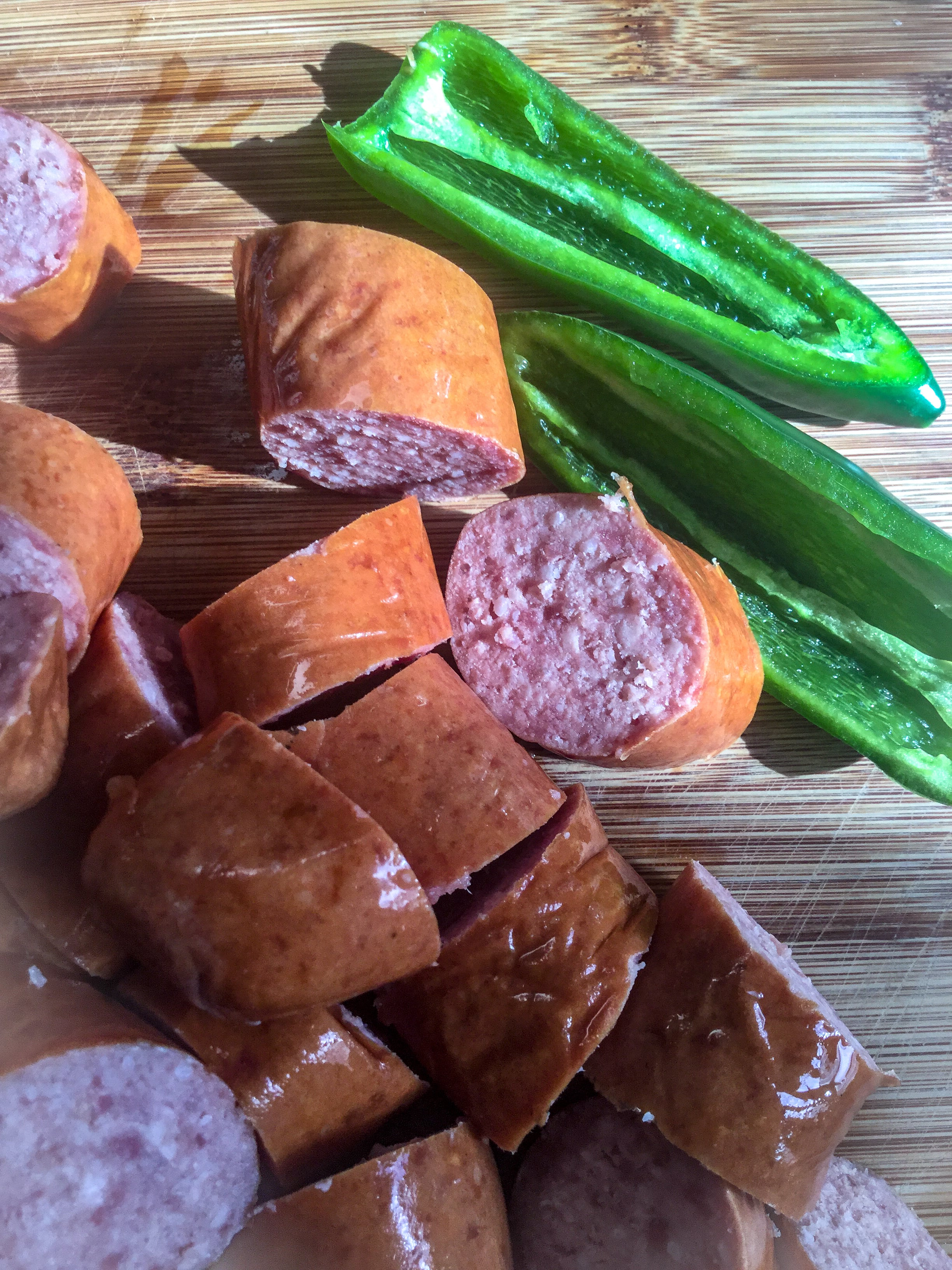 Once this had a chance to cook, about 8 minutes I added a few tablespoons of tomato paste and a heaping tablespoon of minced garlic.
I let this cook a few minutes then added one can of San Marzano tomatoes, one can of diced tomatoes, and four cups of chicken broth.
Next I added in two pints of black eyed peas, and chopped jalapeno (cleaned of seeds and membrane). Spinach went in next, because this doesn't have to cook for long. Green veggies are good and pretty in a soup or stew.
I seasoned my stew with black and white pepper, chili powder, ground thyme, and oregano.
*Note: This can also be cooked in the slow cooker, on high for 4 hours or low for 8 hours.
I cooked this for about 40 minutes before it was ready to eat. You can always cook it longer. Can be served immediately, or store for a week. I served this over a bed of buttered jasmine rice. Enjoy!