The Instant Pot is pretty incredible at making dinners and saving time in the kitchen. Did you know that you could also make some impressive desserts in it too? With the busy holiday and party season fast approaching we've put together a delectable list of Instant Pot Desserts that will make you the hit of any party or holiday dinner.
Monkey bread is delicious, but this Instant Pot Monkey Crack Bread from Monday is Meatloaf is off the charts addictive! Easy to make, and perfectly cooked every time!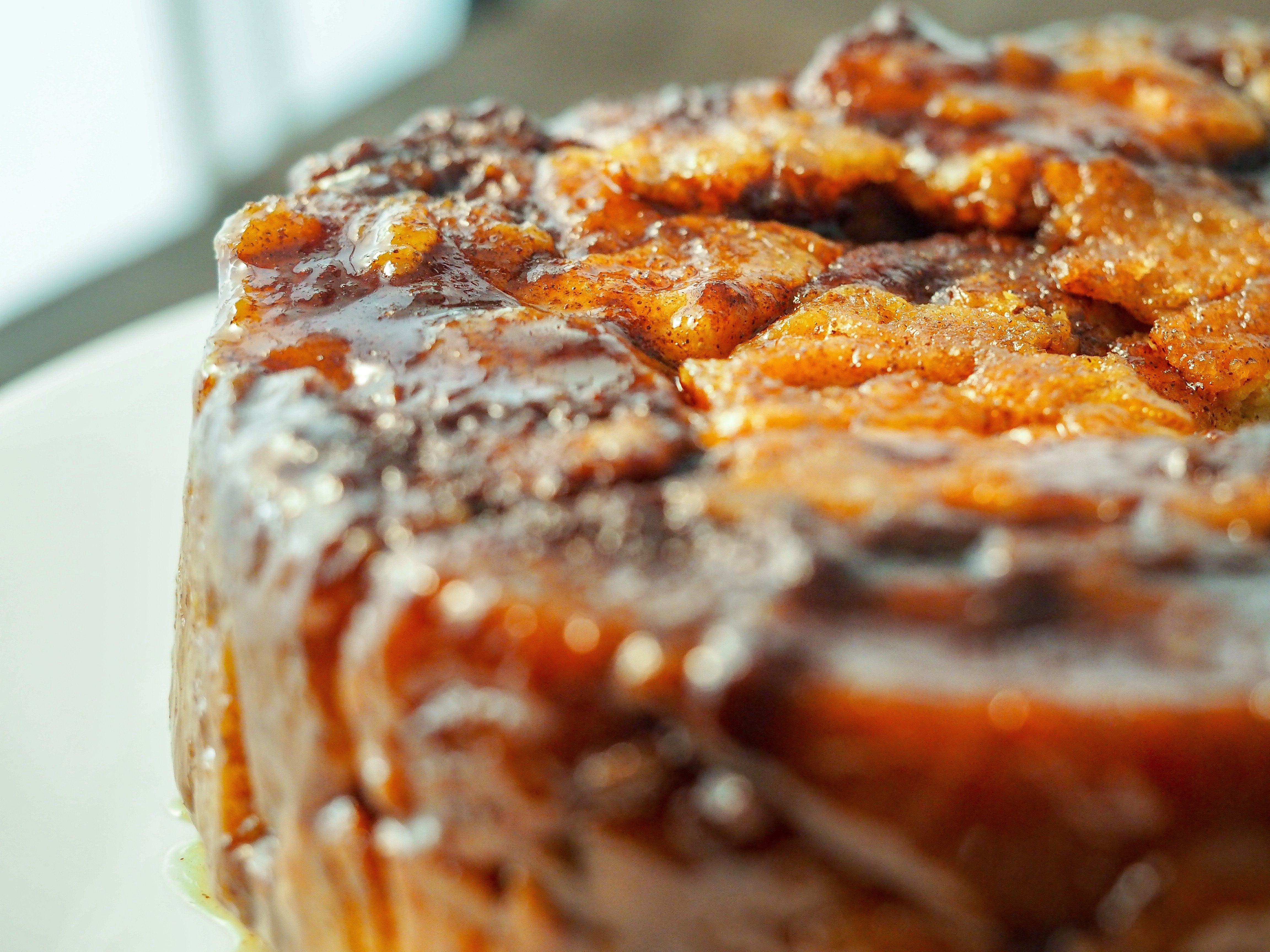 Instant Pot Chocolate Caramel Cheese Cake from Garden in the Kitchen will make you feel like Martha Stewart for a day! A delicious cheesecake with a hint of lemon and covered with a thick layer of chocolate and caramel will have your family singing your praises for days!
This fluffy Instant Pot Angel Food Cake from A Typical Mom will make you feel like your floating on a cloud. It tastes just like you cooked it in the oven! Top with your favorite fruit, or just eat a slice plain!
For a fancy dessert for date night or entertaining sample some of this Instant Pot Crème Brulee from Sparkles to Sprinkles. So easy to make you could eat it every night of the week!
Instant Pot Pumpkin Cheesecake from My Wife Can Cook has a delicious gingerbread snap crust that is a perfect and easy Fall dessert that can be made any time of the year!
Instant Pot Banana Bread with Cream Cheese Frosting from A Mom's Impression is a perfectly sweet treat for dinner, and great for a redo at breakfast with a warm comforting cup of coffee!
Keep on track for your fitness goals while satisfying your sweet tooth with this Keto Chocolate Cheesecake from Low Carb Yum. With lots of options on what type's of sweetener's to use, this is an easy dessert to whip up in no time!
Make an elegant and easy French Dessert with frozen but defrosted cherries with this Instant Pot Cherry Clafoutis from Two Sleevers tonight!
Enjoy a slice of Instant Pot Apple Cake from What's in the Pan that is full of great cinnamon flavor with a scoop of ice cream or a dusting of powdered sugar!
Enjoy this tangy Decadent Instant Pot Passion Fruit Pie from Living Sweet Moment's any time of the year using fresh or frozen passion fruit.
Nothing says home like Grandma's Instant Pot Pound Cake Recipe from The Awe-Filled Homemaker. A treasured family recipe lovingly converted from the oven to the Instant Pot is a definite cannot miss!
Instant Pot Pumpkin Pudding Cake from Imagelicious is a pumpkin spice latte on a plate that cooks in 7 minutes! Add a dollop of cream and a dusting of cinnamon and you have a dessert to die for!
Instant Pot Easy Strawberry Compote from I Heart Umami is a delicious 3-ingredient delight that is perfect for using as a topping for ice cream or yogurt!
A quick and easy recipe for a Low Carb Instant Pot Cheesecake (Keto) from A Savory Tooth that also features a gluten-free crust. You just can't go wrong with these healthy options!
Take advantage of the Fall harvest and make some Instant Pot Baked Apples from Happy Foods Tube. A great twist on the classic version the filling includes hazelnuts, dates, and ladyfingers. Yum!
Instant Pot Peanut Butter Caramel Cheesecake from Super Golden Bakes is a slice of heaven and one of the best reasons to own an Instant Pot!
Instant Pot Kettle Corn from Sixth Bloom is a classic and light dessert the kids will love!
Who doesn't love chocolate pudding? This 5-Minute Healthy Instant Pot Chocolate Pudding from Recipes to Nourish is a great protein-packed dessert that is Paleo friendly. Dairy-free options are also included which make this a wonderfully healthy dessert!
Instant Pot Date Cake from Simmer to Slimmer is an easy dump-and-push start recipe for a delicious dessert. Even better this makes a great starter recipe to start to teach your kids how to cook in the Instant Pot!
Pressure Cooker Peppermint Milkshake Cheesecake from This Old Gal is truly a holiday delight! A chocolate cake base with a white chocolate mousse topping is a dessert that will be a homerun at any party!
Instant Pot Weight Watcher's Apple Cake from Midlife Healthy Eating is a delicious and easy recipe to make that can be a great dessert or breakfast that will keep you on track this holiday season!
Instant Pot Chocolate Amaretto Cheesecake from Saving Dollars & Sense a perfect dessert to serve after a family dinner!
Get The Best Instant Pot Rice Pudding recipe from Hello Nature! A creamy dessert with a custard-like consistency this childhood favorite can be topped with a dusting of cinnamon or some cream with berries!
This colorful Instant Pot Rainbow Bundt Cake is not only beautiful but easier to make than you think from Recipes from a Pantry. Using everyday pantry staples and about ten minutes of your time this is a great recipe for the kiddos!
Instant Pot Pumpkin Pie with Jaggery Crust from Delicious Obsessions has tons of healthy options for special diets. Options like gluten-free, grain-free, dairy-free, and refined sugar-free.
Keto Instant Pot Molten Brownie Cups from Beauty and the Foodie are the best thing since sliced bread! Time to get your chocolate on!
Orange Semolina Cake in the Instant Pot from Piping Pot Curry topped with orange syrup is egg-free and a great dessert for vegetarians!
Instant Pot Golden Oreo Chocolate Chip Cheesecake from Monday is Meatloaf will have your friend's thinking you spent a ton of time in the kitchen when you didn't! Topped with a white chocolate ganache, and dark chocolate whipped topping this is a beautiful and delicious dessert for any occasion.