Hard Tack Candy is very easy to make if you have the right tools! I converted my stove top recipe to the Instant Pot, and it has made life so much easier this holiday season. Creme brulee is also an easy make ahead dessert too!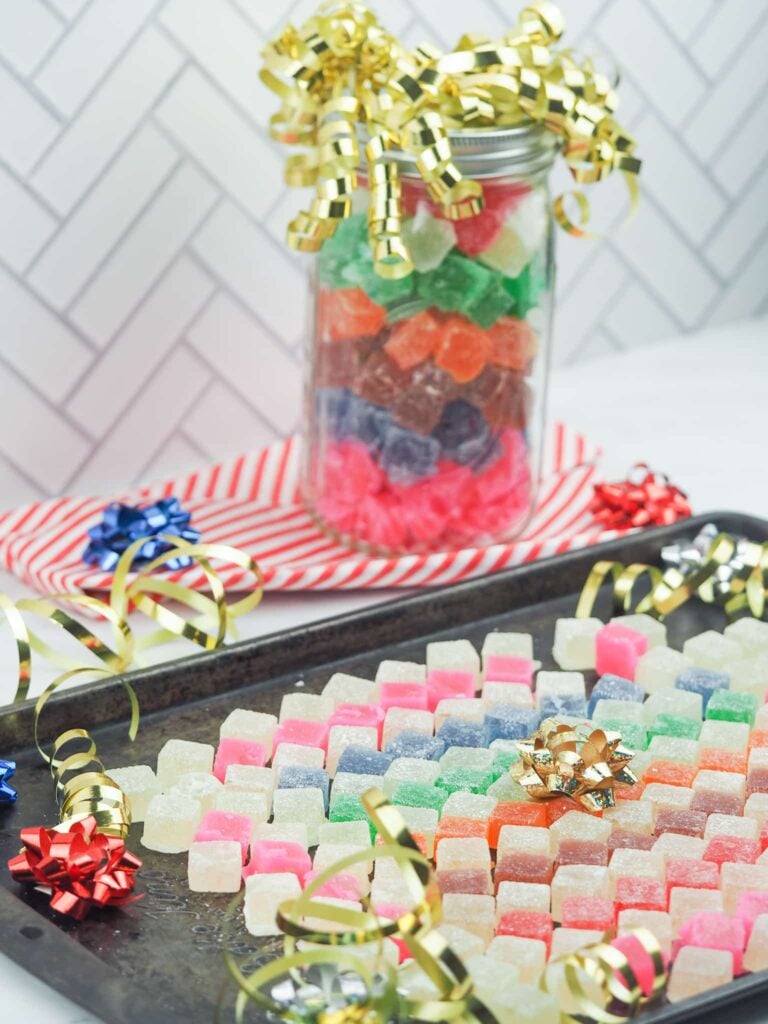 FEATURED RECIPE
A Hard Tack Family Tradition
Hard tack candy also known as rock candy or stained glass candy. Making the candy is a tradition for many families like the Ganster's of Pittsburgh. In my family my grandmother would make this at Christmas for our family.
When my grandmother would make it she would make this on the stove top. Once it came to temperature should would gently pour it out onto a greased cookie sheets and then cut the candy with scissors. My mom and aunts all remember the day they would make this Christmas candy each year.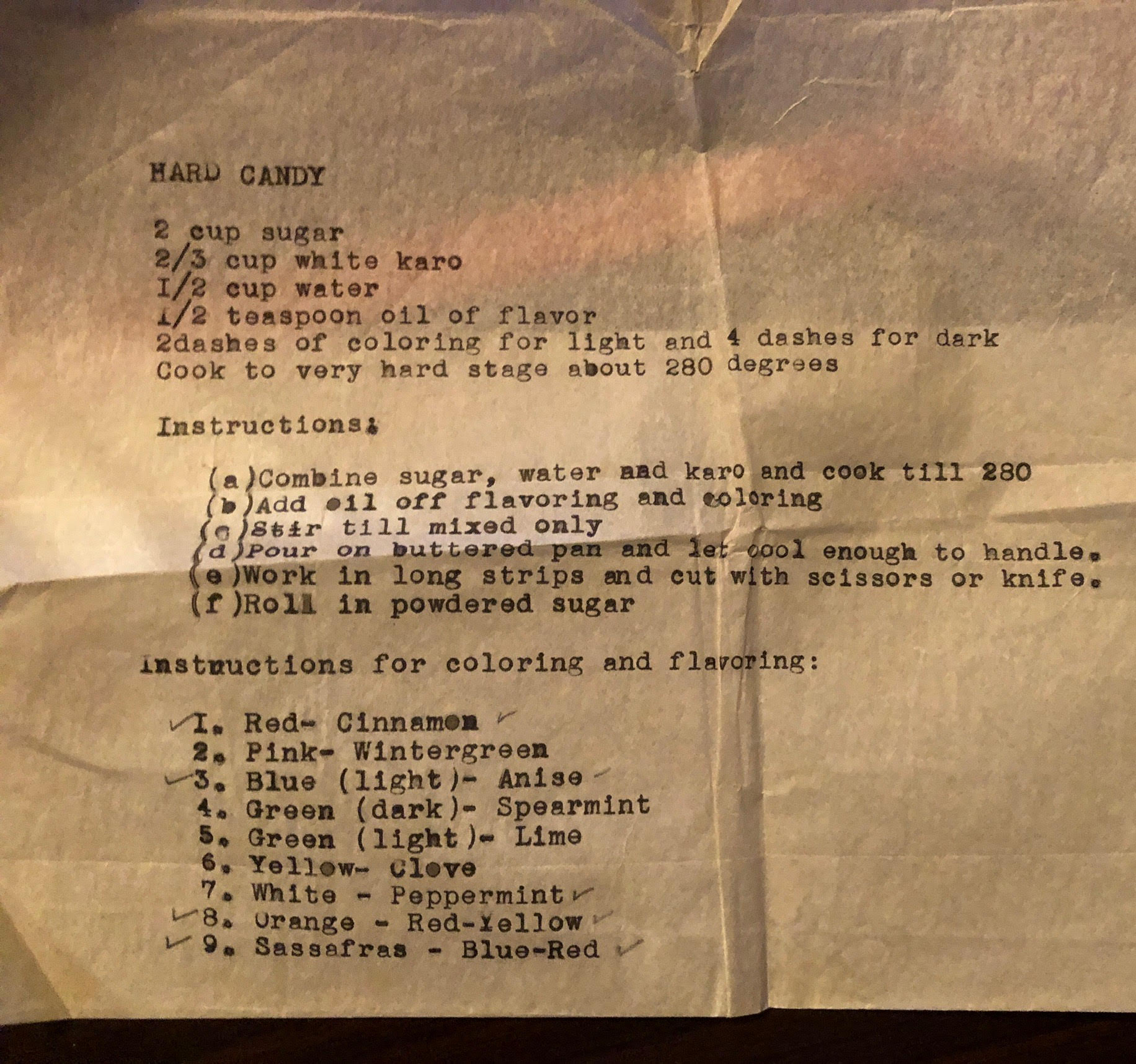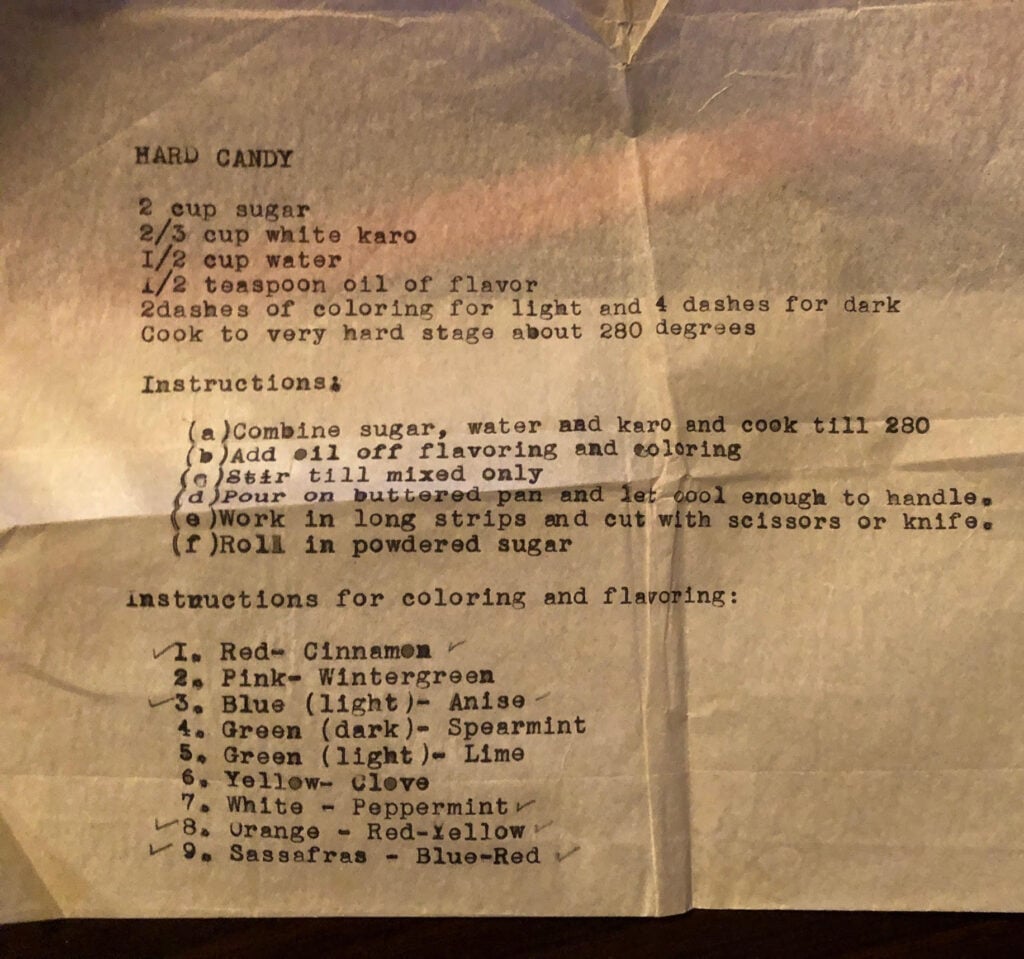 What equipment do I need?
I can't stress enough how important it is to make sure all your equipment and ingredients are ready prior to starting this process. Once the candy reaches temperature everything moves very quickly. You need the below.
Candy molds or baking sheets, both sprayed with cooking spray
Measuring spoons
Baking sheets
Baking rack
Mesh strainer
Pizza cutter, if not using molds
ThermoWorks ThermoPop or candy thermometer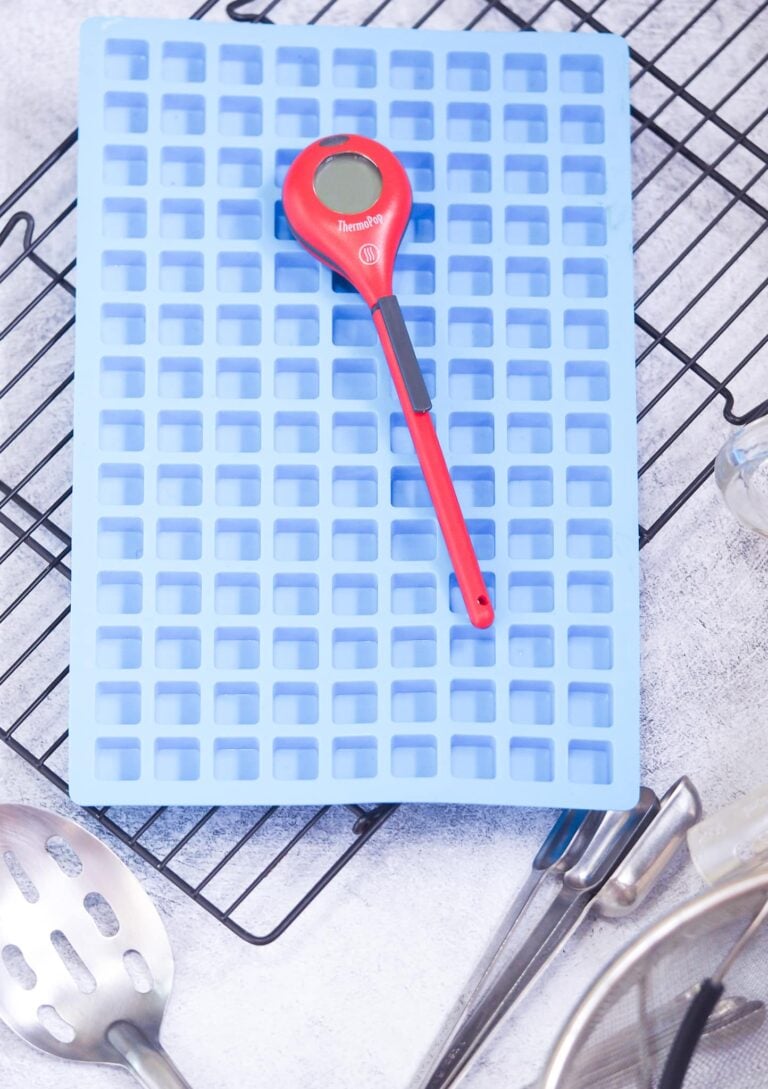 What ingredients do I need?
I used Lorann Oils which can be ordered in variety packs, or you choose the flavor packs. These essential cooking oils have been around since the 1960's, and pack quite a punch of flavor. So you will need the below ingredients for this recipe.
Sugar
Light Karo Syrup
Water
Food coloring
Lorann oils
Powdered sugar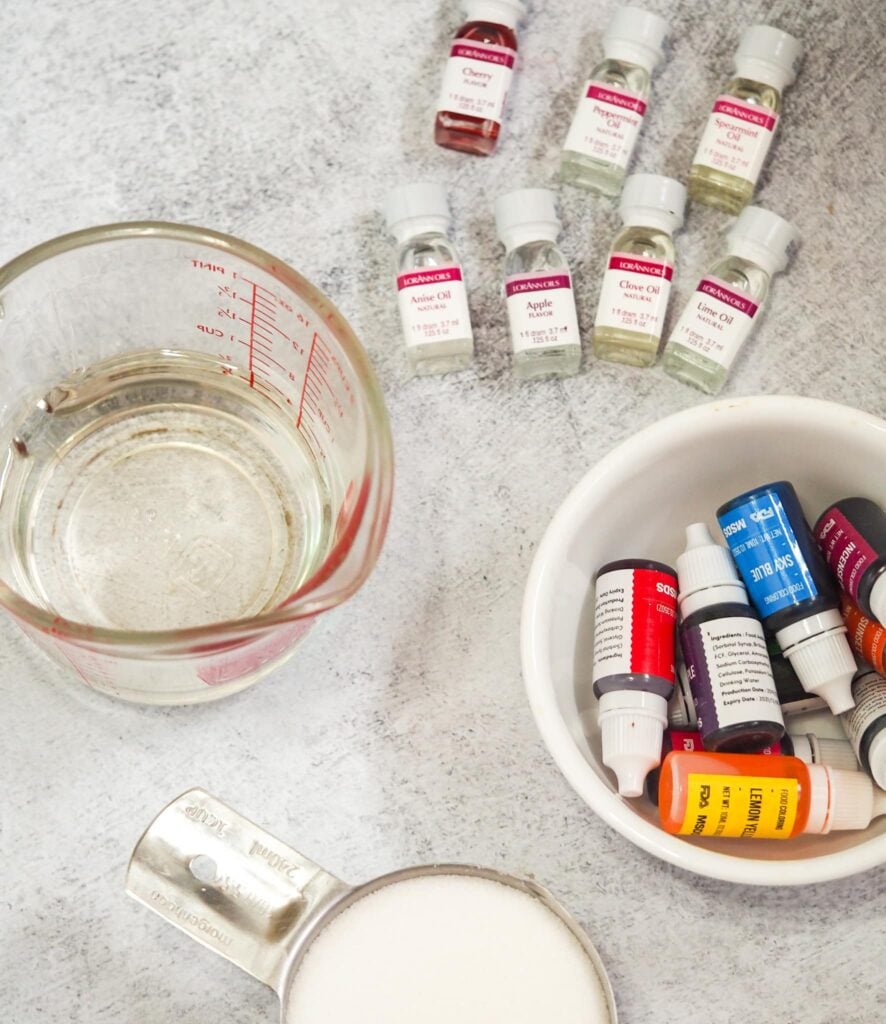 Making the candy
I tested this recipe in both a 3-Quart Instant Pot Duo and a 6-Quart Instant Pot Duo. The 6-quart takes a few minutes longer than the 3-quart to make each batch but not much. Combine the sugar, Karo syrup, and water in your pressure cooker. Set the Instant Pot to Saute (normal) setting.
Note you can make this on the stove top using these directions, but it will take considerably longer.
You want to cook until the mixture comes to 280-degrees. Once the mixture starts to boil it will take about 7 minutes to come to 230-degrees. After that keep a close eye on your temperature as it will take about 20 minutes to come to 280-degrees.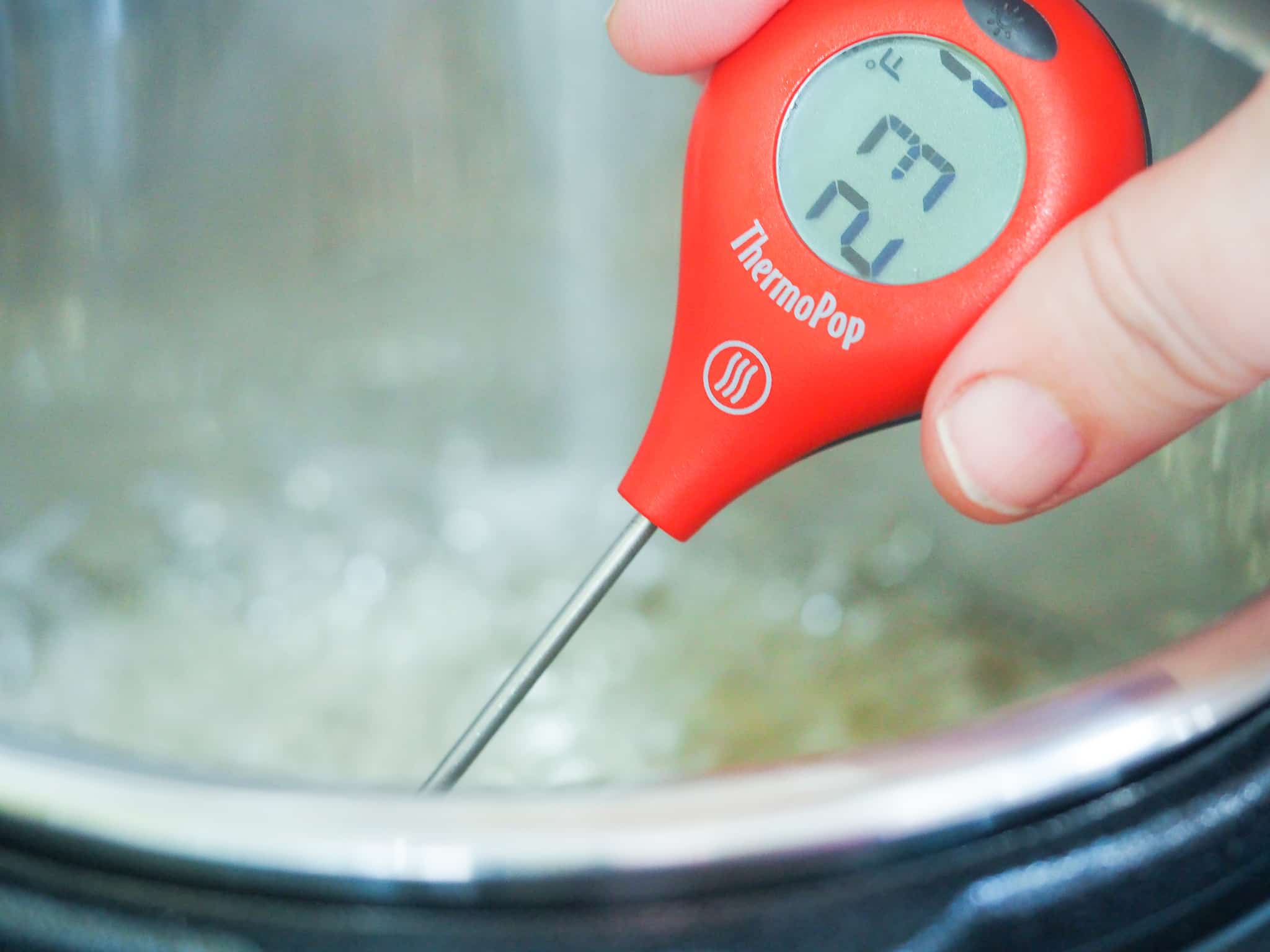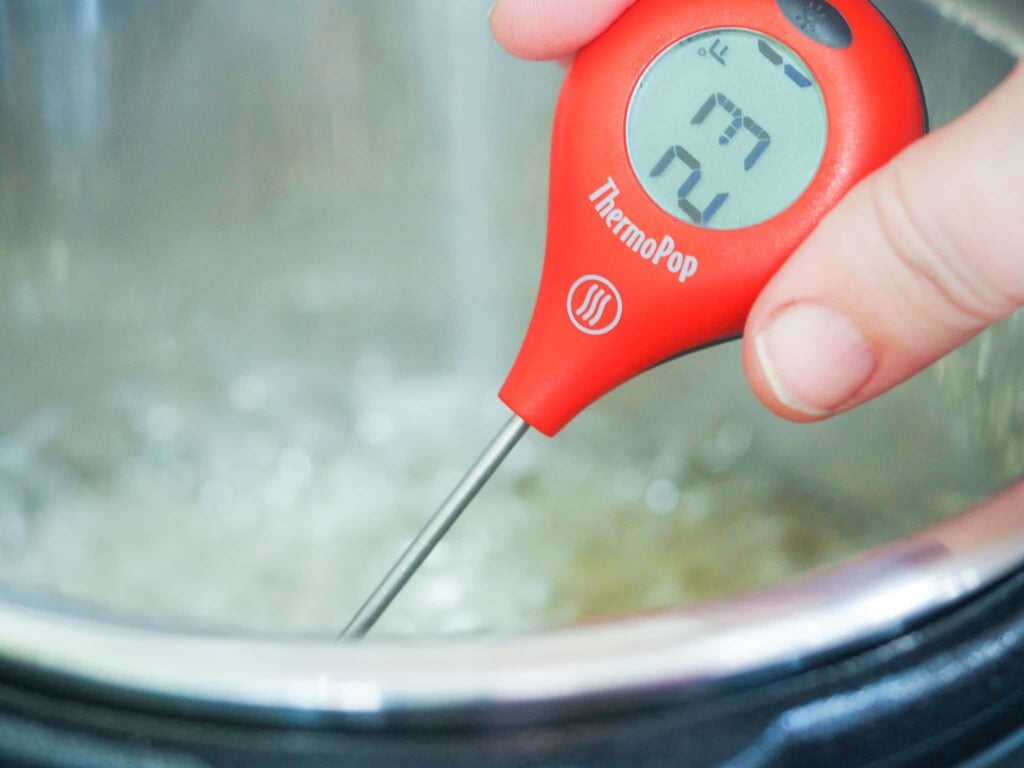 Once the mixture reaches temperature you will need to work quickly. Turn off the Instant Pot. Add the oil and food dye. A word of warning, do not lean over the pot as the oils are strong and may clear your sinuses. I learned this one the hard way! LOL
Gently pour the candy mixture into the prepared mold which should be sitting on a cooling rack. Start in the middle and work your way out. Use the back of your spoon to smooth and help fill in.
Helpful hint: Once you have emptied your Instant Pot liner immediately soak it and your spoon in soapy water. Clean up can be difficult, however, warm water will dissolve any hardened candy from your utensils.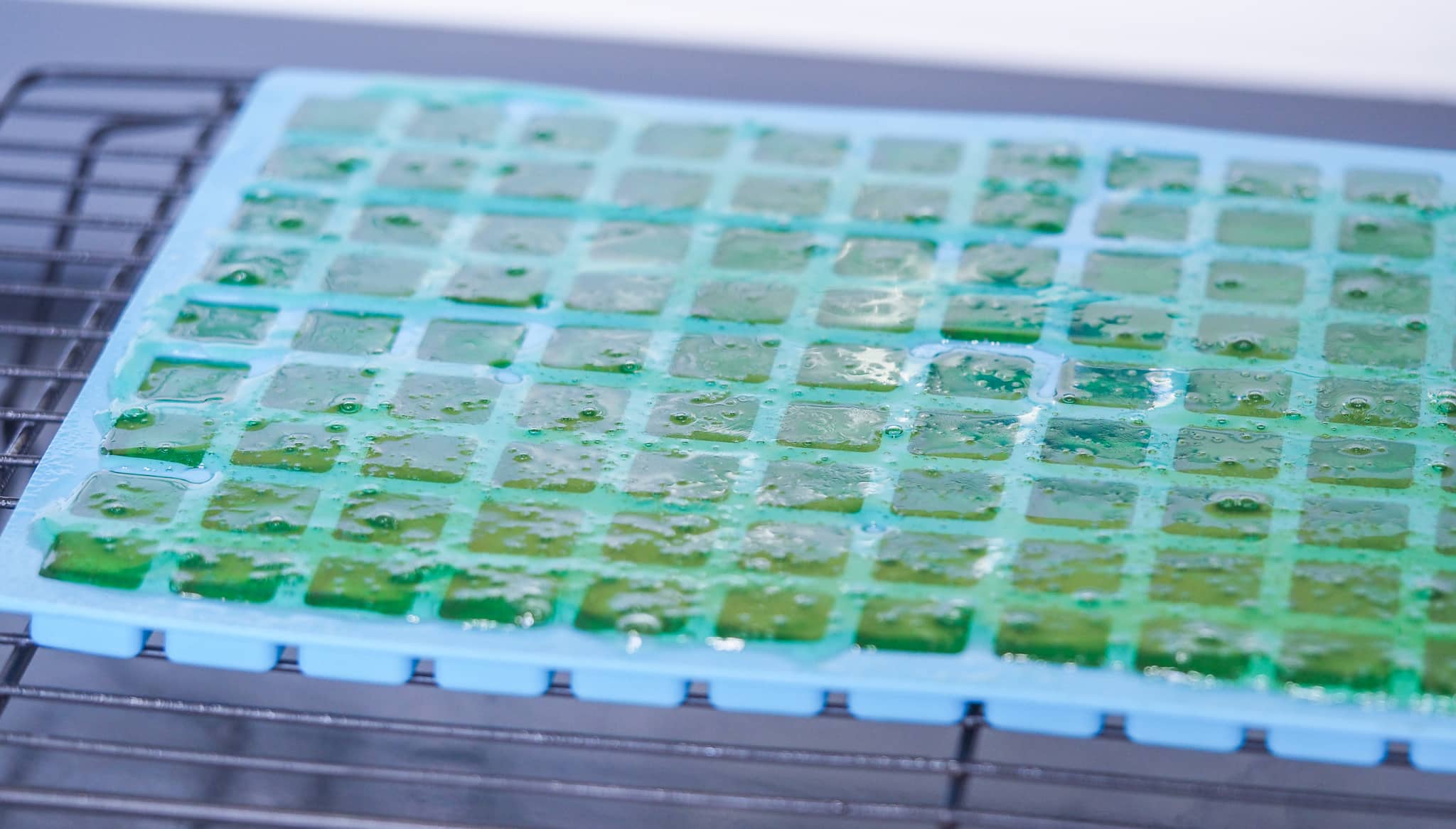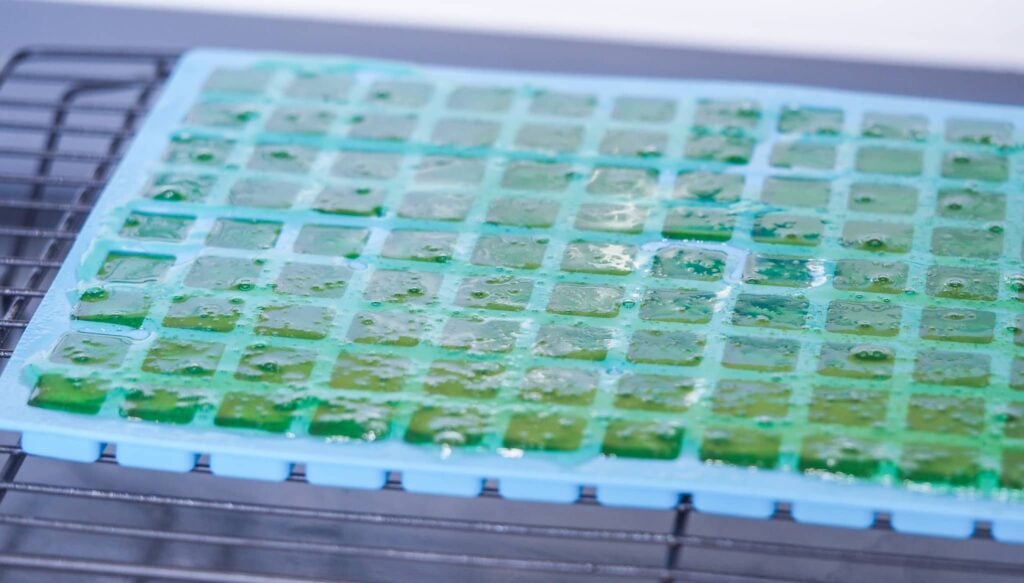 If using a baking sheet, use the spoon to make the single layer as uniform as possible. Working quickly use the pizza cutter to cut into pieces.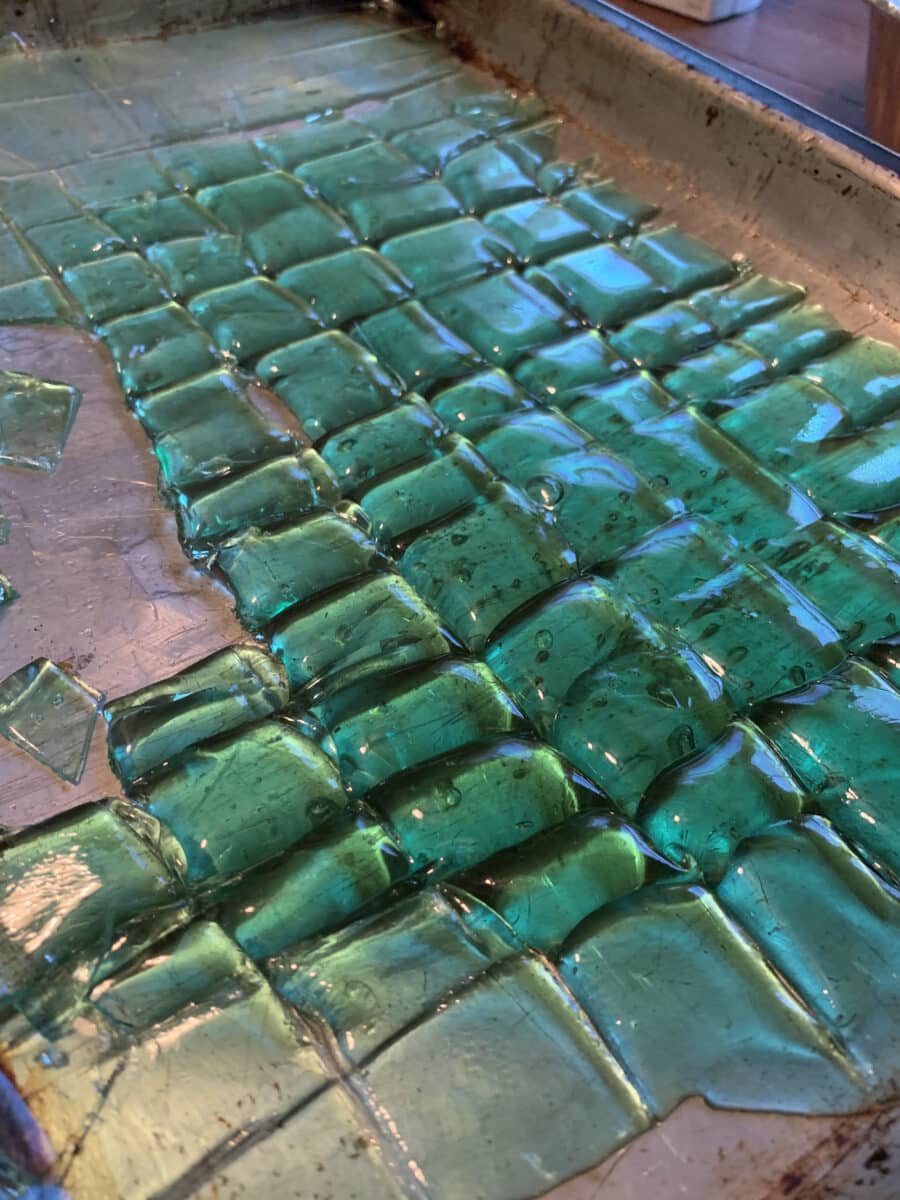 Once the candy is completely cooled remove from mold and break apart on the baking sheet. Cover in aluminum foil to help with easy clean up.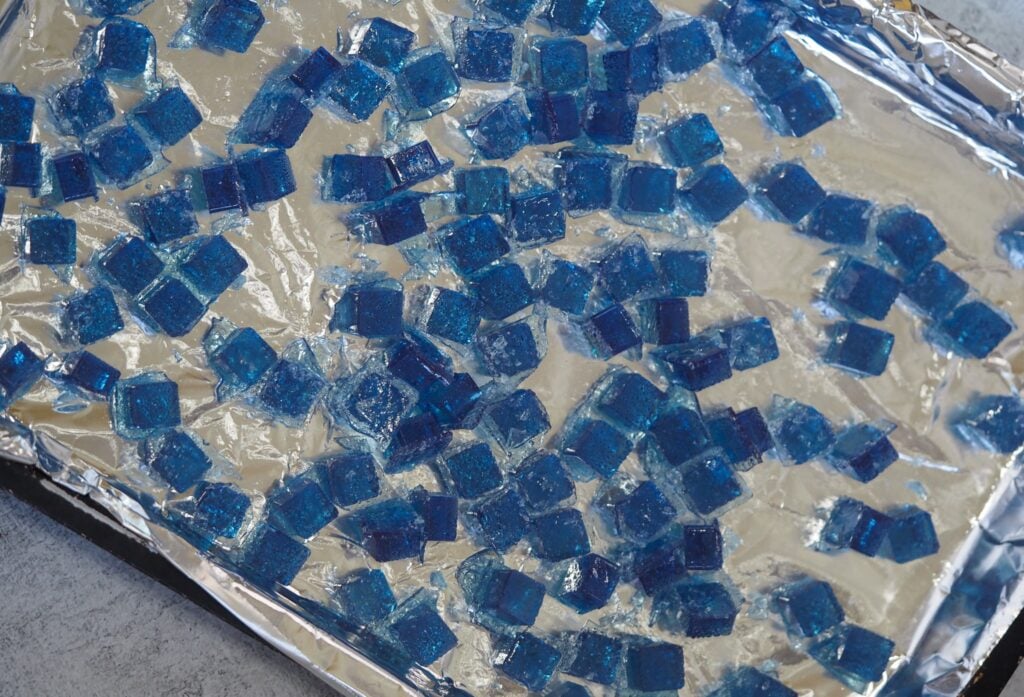 Put the candy into the mesh strainer, add the powdered sugar, and shake to cover the pieces completely. Do not put this step off to later or you will get stuck with sticky candy. 😉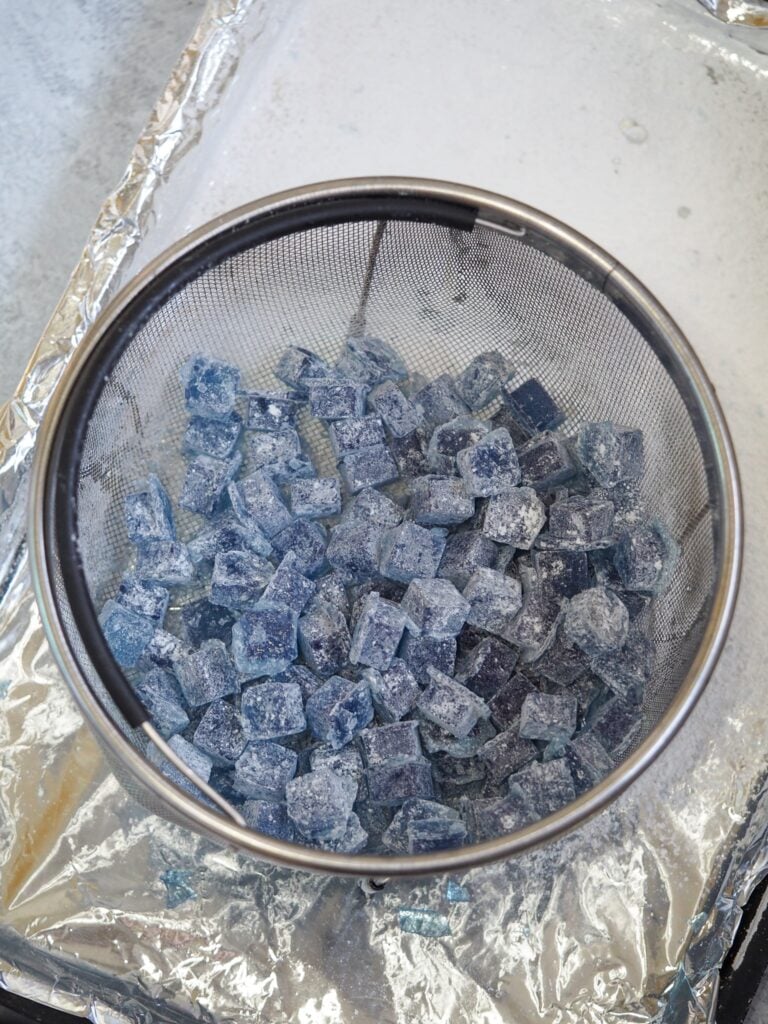 Store in plastic bags or an airtight container for up to several weeks. These make great gifts for any holiday, or you can serve them at your next family get together, potluck, or party! Have your littles arrange the pieces into pretty mosaic patterns for a fun activity.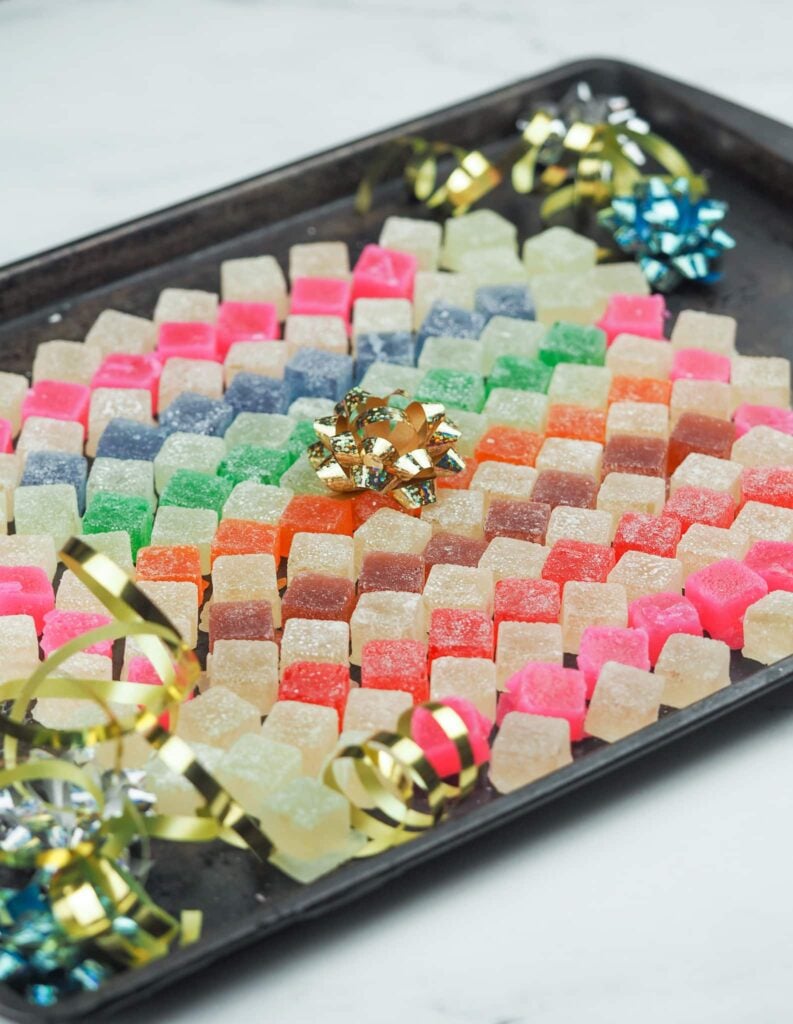 If you enjoyed this you might like Instant Pot Peanut Butter Fudge, Instant Pot Cherry Chocolate Cheesecake, or Instant Pot Omelette Bites!
Recipe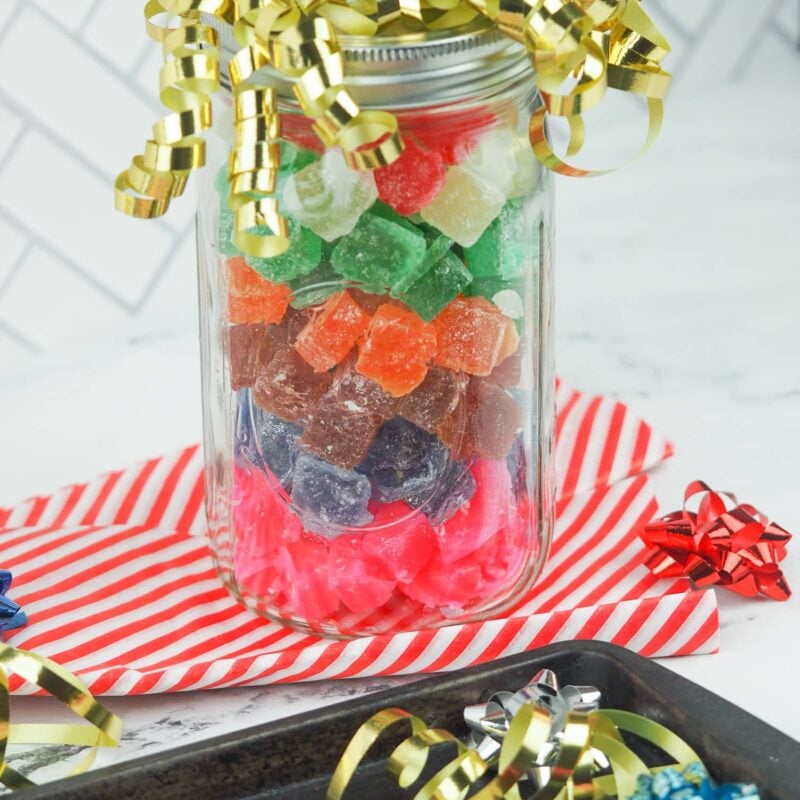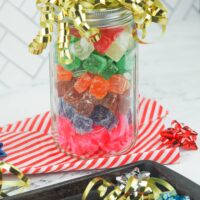 Instant Pot Hard Tack Candy
Hard Tack Candy is very easy to make! I converted my stove top recipe to the Instant Pot, and it makes this family favorite quick.
Print
Pin
Rate
Ingredients
2

cups

sugar

⅔

cup

light Karo syrup

½

cup

water

½

teaspoon

essential oil specific to food and candy making

from Lorann's, see below and in post for links

2

dashes of food coloring or until desired color is reached

½

cup

powdered sugar

for dusting
Instructions
Combine the sugar, Karo syrup, and water in Instant Pot. Stir to combine.

Bring to a boil and cook on Saute (normal) until the mixture reaches 280-degrees.

At temperature turn off the Instant Pot add the oil and food coloring.

Pour into greased candy mold or onto baking sheet.

If using baking sheet cut with pizza cutter into pieces.

Cool completely, and then toss with powdered sugar until coated.

Store in bags or airtight container for several weeks.
Notes
Make sure to gather all equipment and ingredients prior to starting. 
Do not put face over pot when adding oils as they are very strong. 
As soon as candy is poured soak pot and spoon in hot soapy water. Candy will melt with the warm water. 
Note that you can make this on the stove top using these direction but it will take considerably longer. 
Note cooking will take slightly longer in a 6-quart versus a 3-quart but cooking time increases only a few minutes for each stage. 
Nutrition information does not include powdered sugar. 
Must make one flavor and one color in a single batch each time. 
Oils can be purchased from Lorann Oils.
Nutrition
Serving:
1
piece
|
Calories:
17
kcal
|
Carbohydrates:
5
g
|
Fat:
1
g
|
Sodium:
1
mg
|
Sugar:
5
g
|
Calcium:
1
mg
|
Iron:
1
mg