Butter makes everything better, including Instant Pot Burgers! I recently had my first butter burger, and I fell in love! Moist, juicy, and quick to make in the pressure cooker. These burgers were easy to finish with my new Instant Pot Air Fryer lid.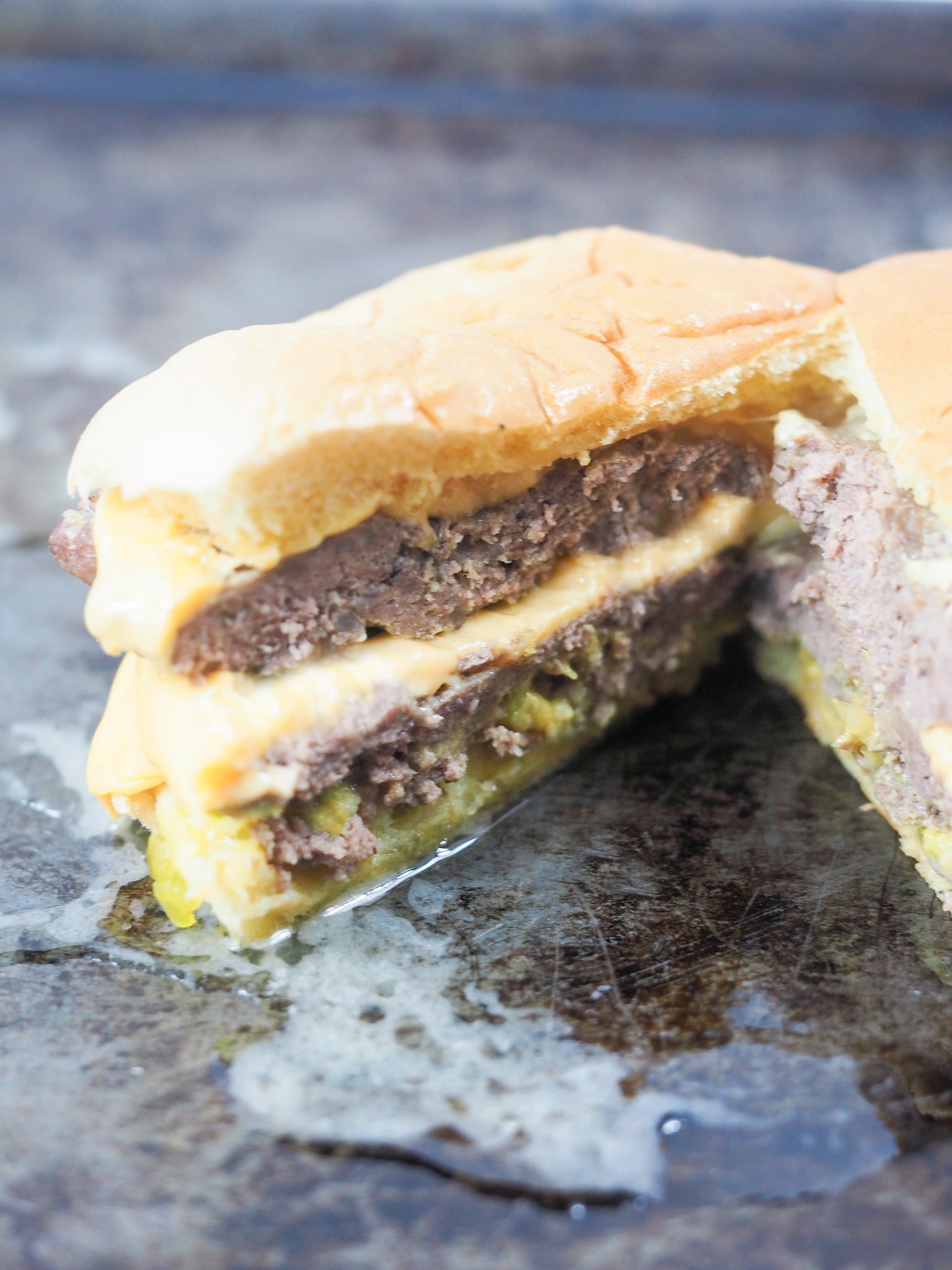 MY OTHER RECIPES
What is all the fuss about?
Hamburgers, or "burgers" are considered classic American cuisine even though bun-less versions were served in Europe for a long time. In the middle ages ground or minced meat was rare and usually reserved for the upper classes.
The port of Hamburg in Germany had a lot of Russian immigrants who brought their steak tartare recipe to it's shores. In the 19th century German immigrants brought their Hamburg steak, also called Frikadelle,to the new country which was served in fine restaurants in New York City like Delmonico's.
Today burger chains can be found just about anywhere, and hamburgers are on the menus of some of the fanciest restaurants with endless variations. In 1936, according this article at the The Thrillist, Kroll's Grille in Green Bay added a dollop of butter to finish their burgers.
However, it was Kenneth "Solly" Salmon that made this Wisconsin treat famous at his coffee shop in Milwaukee. The burger became so insanely popular that he converted the coffee shop to Solly's Grille which you can still visit today to get a taste of the original butter burger.
The butter burger features a fresh thin ground beef patty that is seared and grilled quickly then added to a bun and topped with a crown of butter. You can top with sauteed diced onion, pickles, relish, lettuce, or tomato.
Choosing and prepping the ground beef
I use an 80/20 mixture of ground beef to make hamburgers, which is commonly labeled as ground round in grocery stores. This means the meat has a ratio of 80% percent meat to 20% fat content. This mix will give you good flavor, and leave with you plenty of moisture no matter what method you use to cook hamburgers.
You can use a ground beef with 15% fat, but I would not go less than this or you will end up with a really dry burger. If you decide to go with 30% fat then you will have a pretty greasy burger.
In a large bowl, combine the ground beef with the salt, pepper, and garlic powder. Keep in mind that all the seasoning is optional for our homemade version of this classic burger. Mix all this together really well.
Form eight golf ball size balls of meat. If you would like larger single patties then form four tennis ball size balls of meat.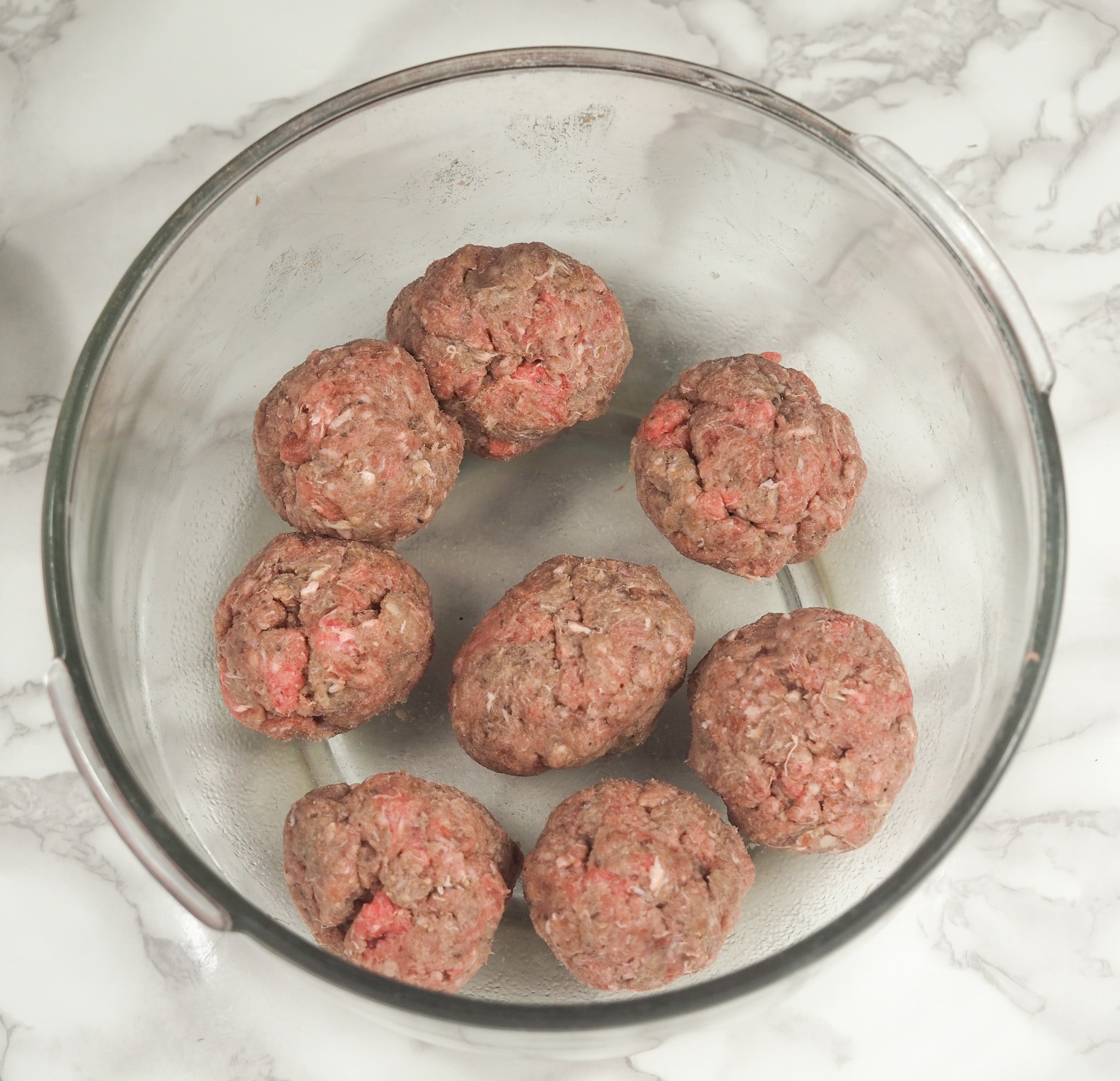 Take two small plates and turn them upside down, and coat the bottom with a layer of olive oil. Place one of the meat balls on top of a plate. Take the other plate and smash the ground beef down until it forms a thin patty. Place in a piece of foil or parchment paper wrap then set aside.
Prepping the buns and toppings
I like to serve mine on a toasted bun, and this is a totally optional step. I brush them with butter, and toast in my Instant Pot using my air fryer lid. I did two at a time at 400-degrees for two minutes.
If you do four at a time, then after the two minutes remove the buns on top, and move the ones from the bottom to the top cook for one additional minute. These can also be toasted under your oven broiler on a baking sheet for a few minutes.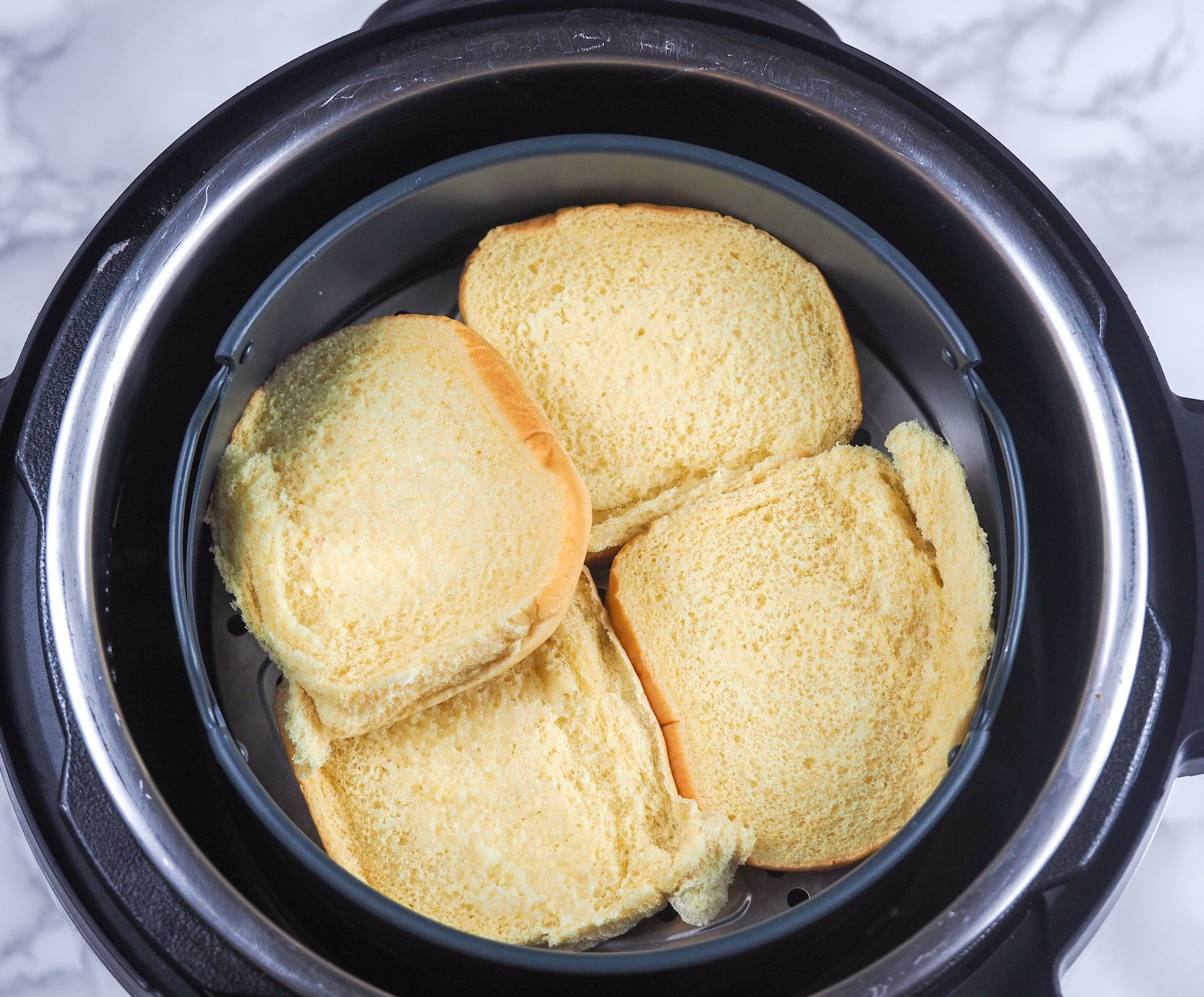 Finely dice one small onion, and put in a foil packet. Add a dab of butter then salt and pepper to taste.
Be sure that you have set out your butter to soften. I used unsalted, but this is a preference you can use salted if you like.
Cooking the hamburger patties
Add one cup of water to the Instant Pot along with your rack. Layer the onion pack, and hamburger patties in the pressure cooker. Close the lid, and turn to the sealing position. Depending on the size of patty you opted for you will a different cook time for each one.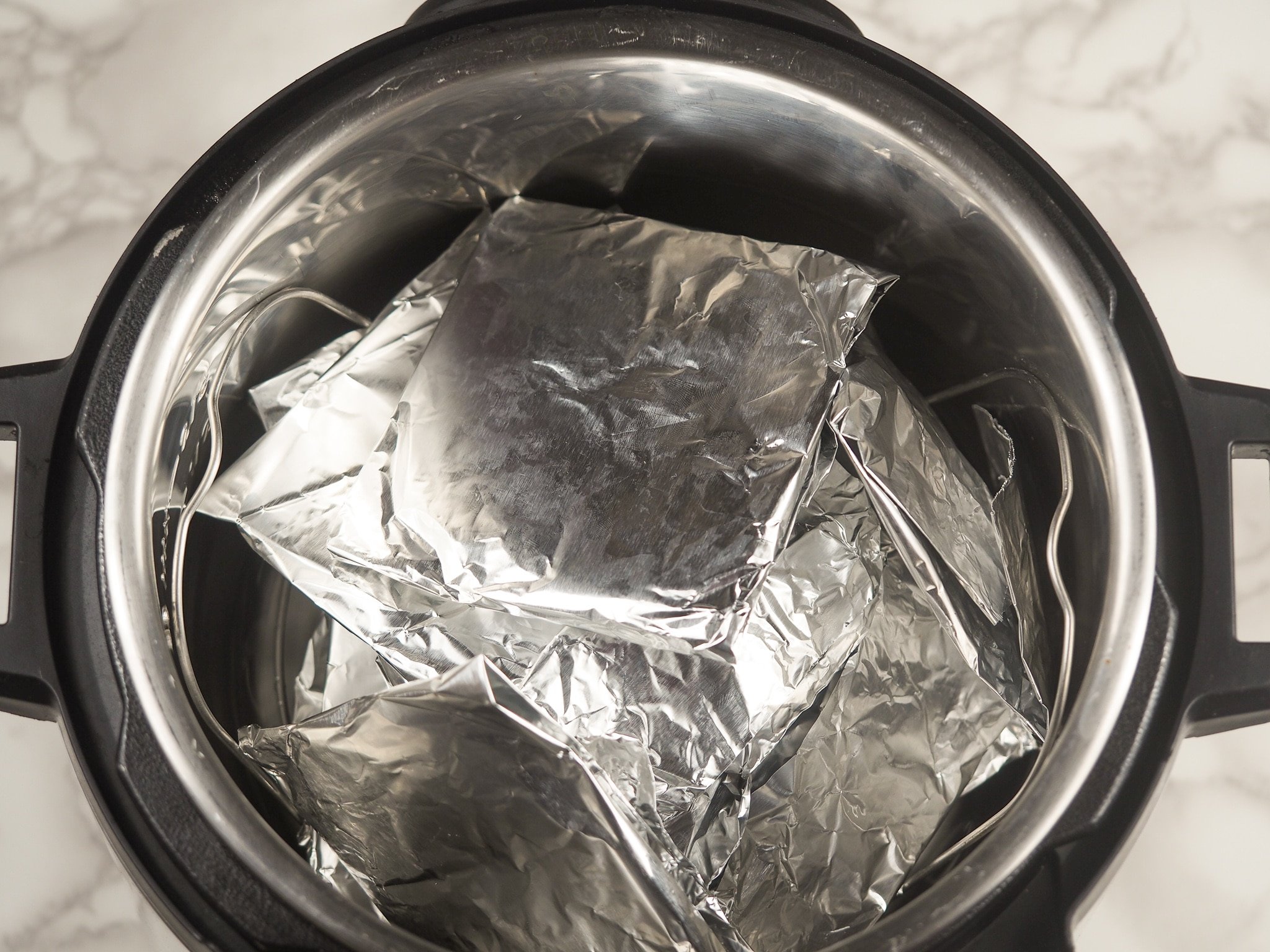 If you chose the golf ball size patty, then you will cook on high pressure (normal) for five minutes then follow with a quick release. These patties are extremely thin so this is plenty of cook time.
For the thicker more traditional size burger using the tennis ball size patty pressure cook on high pressure (normal) for ten minutes followed by a quick release of pressure.
Finishing the butter burgers
Carefully remove the packets from the Instant Pot keeping in mind that now the burgers have cooked there will be grease in our packets. This is easily resolved by pouring the grease out of one opened end of our packets.
I poured the water out of the pot, and wiped out the inner liner. I also used my Instant Pot Air Fryer Lid to finish my burgers. I set my burgers in the air fryer insert then cooked on 400-degrees for two minutes to try to give it a bit of a crisp.
I added a slice of cheese to each patty, and cooked in the air fryer setting for one minute at 400-degrees. This step can also be completed by placing the burgers on a baking sheet under the broiler for a few minutes.
While I waited for my burgers to finish I prepped my buns by adding some mustard, onion, and relish to the bottom half. I then added the butter on the top portion which melts on your burger. Traditionally you would use two tablespoons of butter, however, I found one tablespoon was more than enough to be delicious.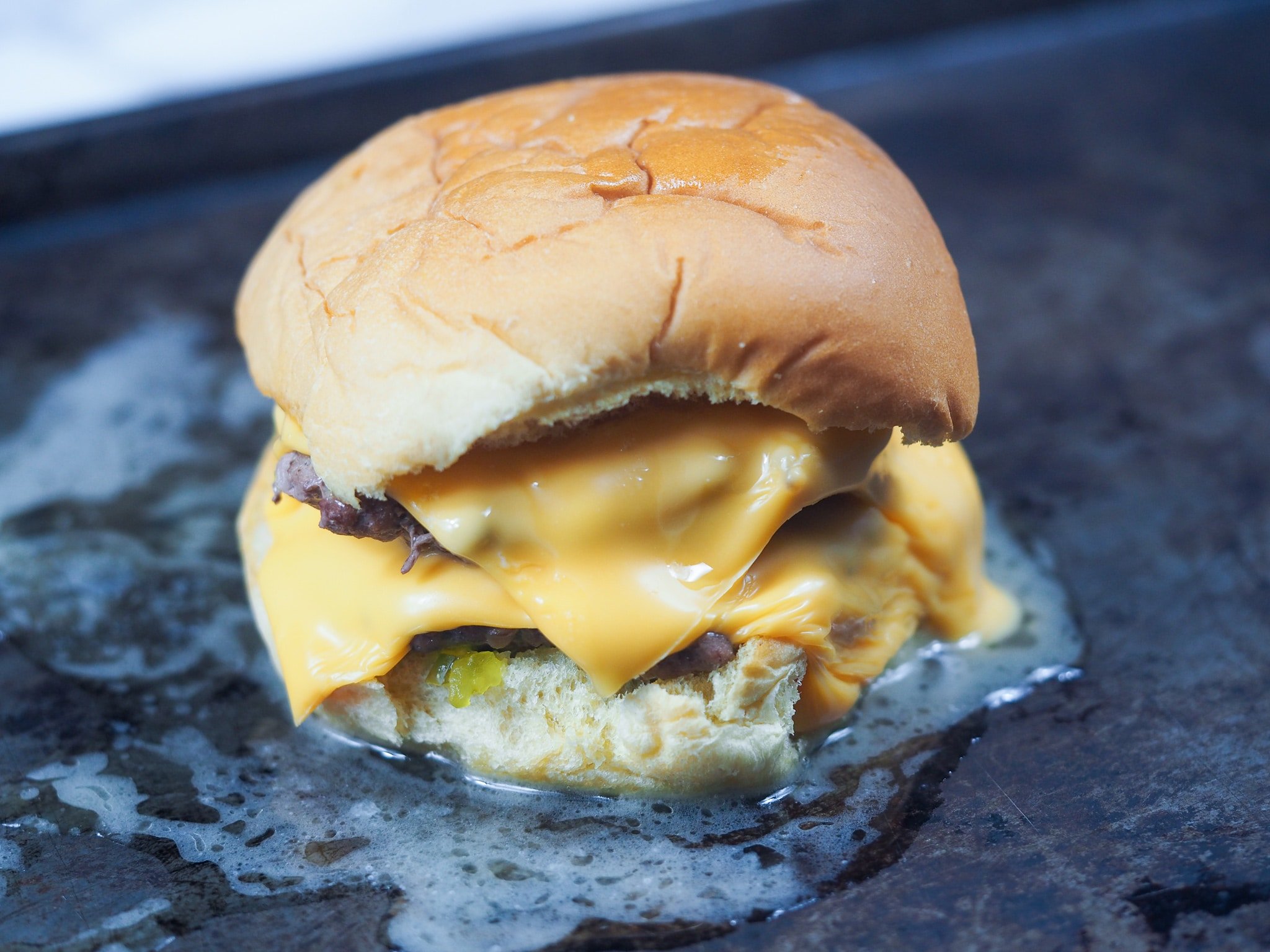 If you enjoyed this you might like some of my other Instant Pot recipes like Salisbury Steak with Mushroom Gravy, No-Fail Buffalo Chicken Meatballs, or my Sweet Spicy Wings!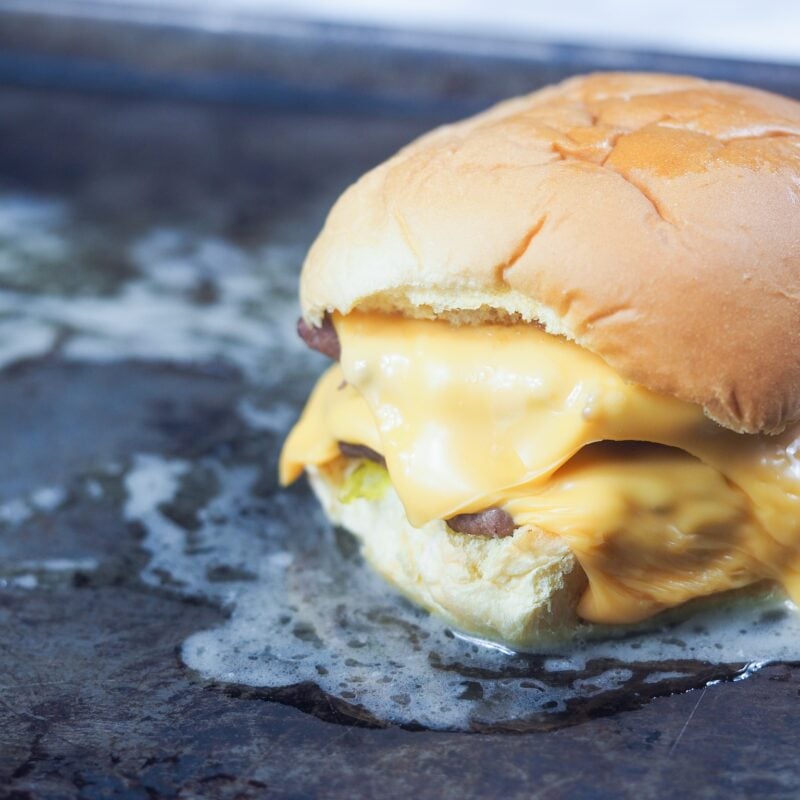 Ingredients
1

pound

ground beef

15-20% fat content

Salt, pepper, and garlic powder

to taste

8

tbsp

butter

I used unsalted, 2 tablespoons for each and can be reduced to one per burger

4

hamburger buns

8

slices

American Cheese

1

onion

small, diced

4

tbsp

pickle relish
Instructions
Mix together the ground beef with the salt, pepper, and garlic powder.

Melt two tablespoons of butter, and brush the hamburger buns with it. Air fry at 400-degrees for two minutes or broil in oven for a few minutes to toast. Set aside.

Dice an onion into small pieces, place in foil pack with a half tablespoon of butter then salt and pepper to taste.

Form golf ball size balls or ground beef, and smash into thin patties between the bottoms of two plates that have been coated in olive oil. For larger patties form tennis ball size balls of ground beef then repeat the process with the plates. Individually wrap each patty in foil. You will get 8 thin patties or 4 large ones from this recipe.

Place one cup of water and your rack in the Instant Pot. Layer the onion and burger packets in the pot. Seal the lid according to your manufacturer's directions.

Cook time for the golf ball size patties are 5 minutes on high (normal) pressure followed by a quick release. For the tennis ball size patties are 10 minutes on high (normal) pressure followed by a quick release.

When finished remove the patties, and drain any accumulated grease. Dump the water out of the pressure cooker, and wipe the inside with a paper towel.

To finish air fry the patties for two minutes at 400-degrees, and then top with a slice of cheese then cook an additional minute at 400-degrees to melt. This step can be completed in the broiler by placing on a baking sheet for a few minutes then topping with cheese for an additional minute or two while the cheese melts. Assemble the burger adding the butter on top allowing it to melt. Two tablespoons per burger is what is normally used, but I found just one tablespoon to be perfect.

Serve immediately on the toasted buns with mustard, onions, and relish or with the toppings of your choice. Can be stored in an airtight container for up to one week.
Nutrition
Serving:
2
burgers
|
Calories:
419
kcal
|
Carbohydrates:
15
g
|
Protein:
16
g
|
Fat:
33
g
|
Saturated Fat:
17
g
|
Cholesterol:
99
mg
|
Sodium:
704
mg
|
Potassium:
234
mg
|
Fiber:
1
g
|
Sugar:
2
g
|
Vitamin A:
648
IU
|
Vitamin C:
1
mg
|
Calcium:
274
mg
|
Iron:
2
mg