Instant Pot Crack Chicken is really awesome, especially when you make it from scratch and forget about the sodium heavy spice packets! Whether you make it keto, or full on with pasta there is something to please everyone in your family! Make this part of your regular meal planning.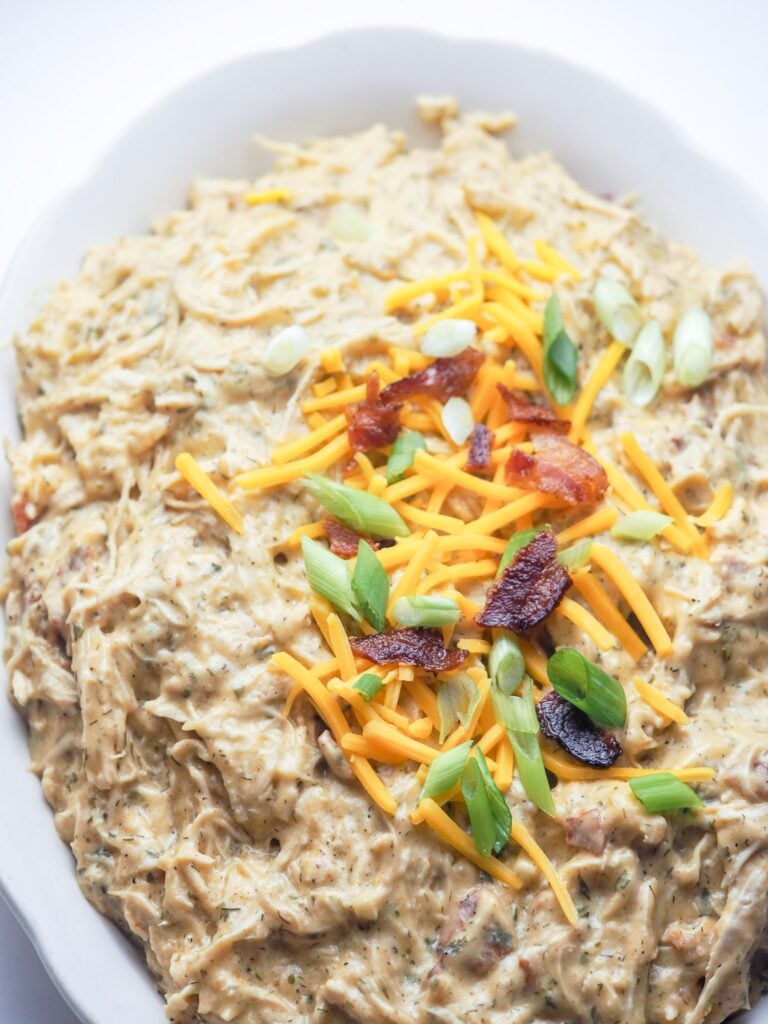 Prep the Instant Pot Crack Chicken
Start by taking the chicken breasts and laying them in the bottom of the Instant Pot. Here is where I was thinking that this should be easy but should taste much better than just using a generic ranch seasoning packet. Season the chicken breasts with the garlic powder, dill, chives, parsley, cayenne pepper, pepper, onion powder, and smoked paprika.
Next add a cup of broth, and this is very important. I tested the recipe using the popular ½ cup of broth, and I immediately got a burn notice. I use a 6-quart Instant Pot for my blog, and I found you definitely need that full cup for this Instant Pot Crack Chicken recipe.
I like to use Better than Bouillon for this to give it extra flavor, but I am in no way being compensated by the company to say this. Also, flip the chicken a little to get the breasts coated a bit with the spices. The spices and the broth are always good kitchen staples to keep on hand.
Next, cube the cream cheese and put it on top of the chicken.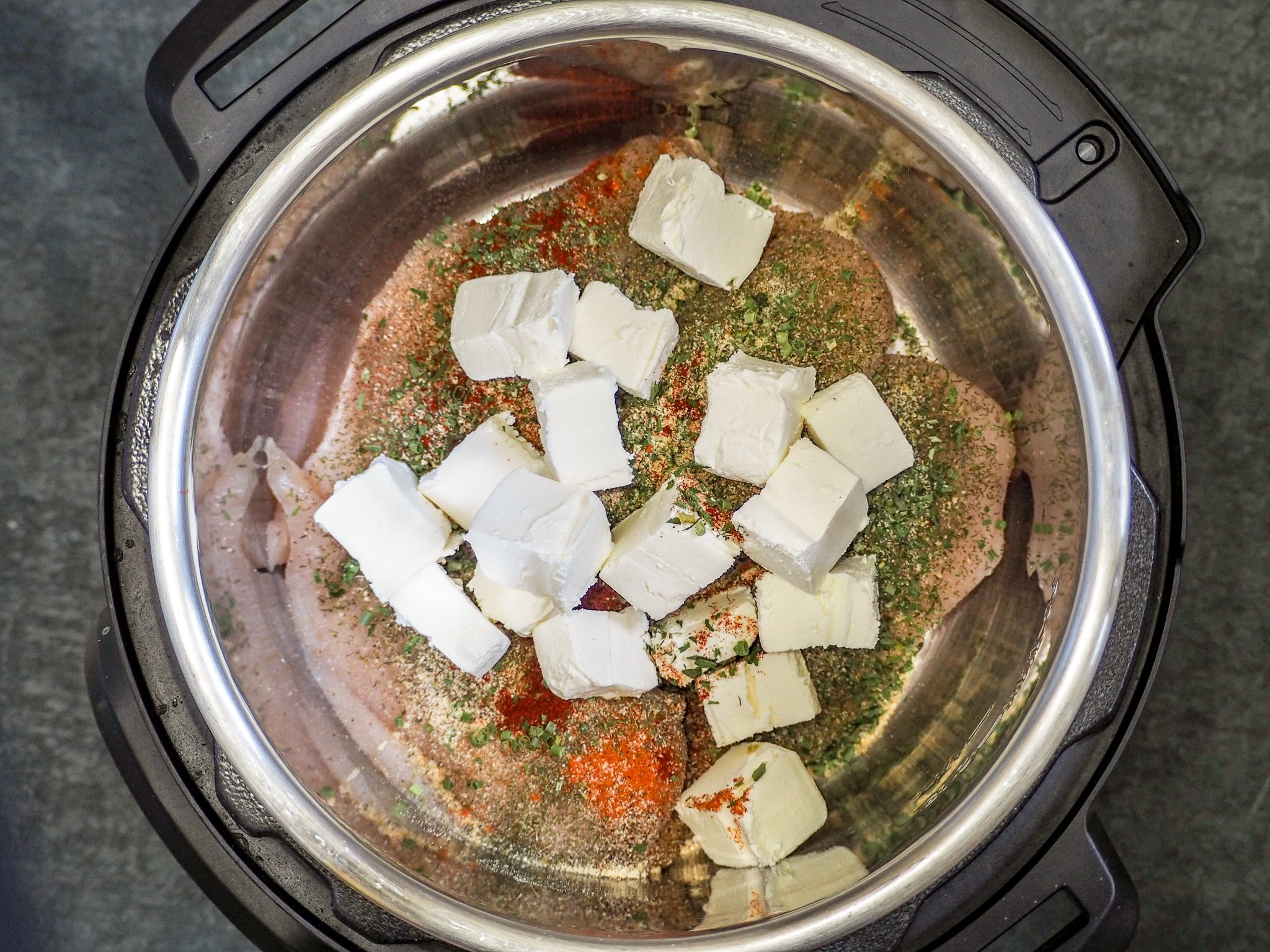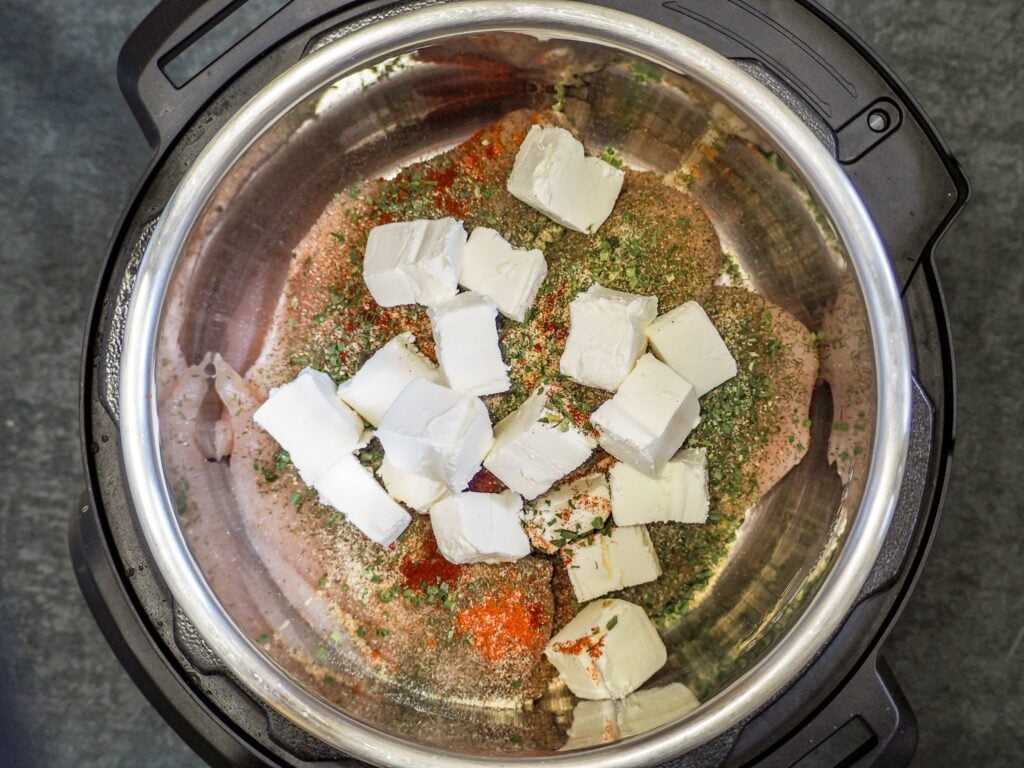 Seal the lid on the Instant Pot according to the manufacturers instructions. Cook on high pressure for 15 minutes and follow with a 10 minute natural pressure release.
Prep the extra's for the meal
While the chicken is cooking it's a perfect time to cook the bacon. You can pan fry, or bake in the oven at 425-degrees for about 20 minutes or until done to your desired level of crispiness.
Slice up some green onions and you are all set!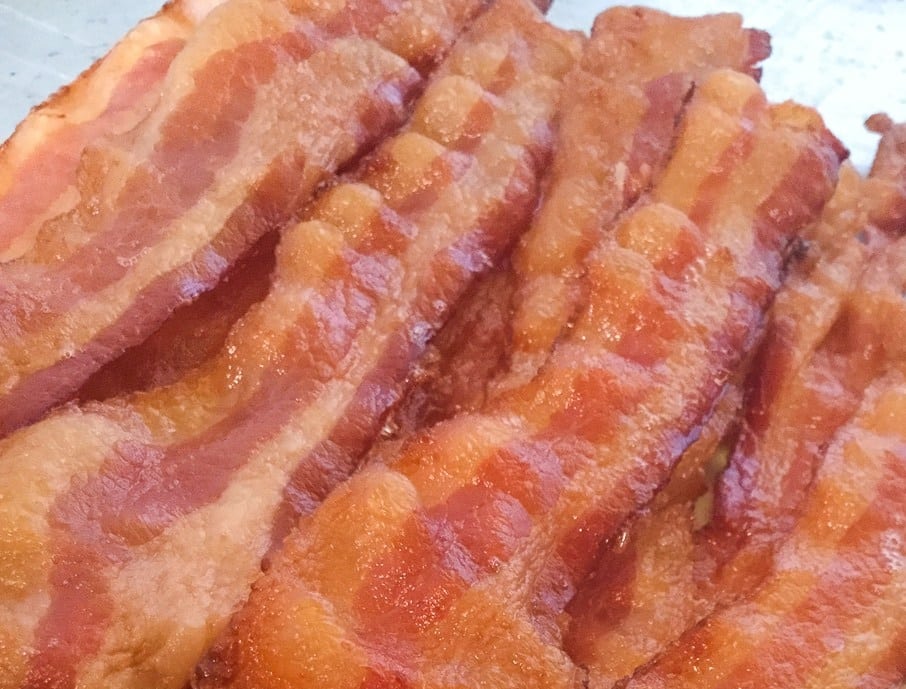 Finish preparing your meal
Once finished remove the chicken from the Instant Pot to a plate, and leave yummy broth in the pot. you might want to let it cool for a minute or two. 🙂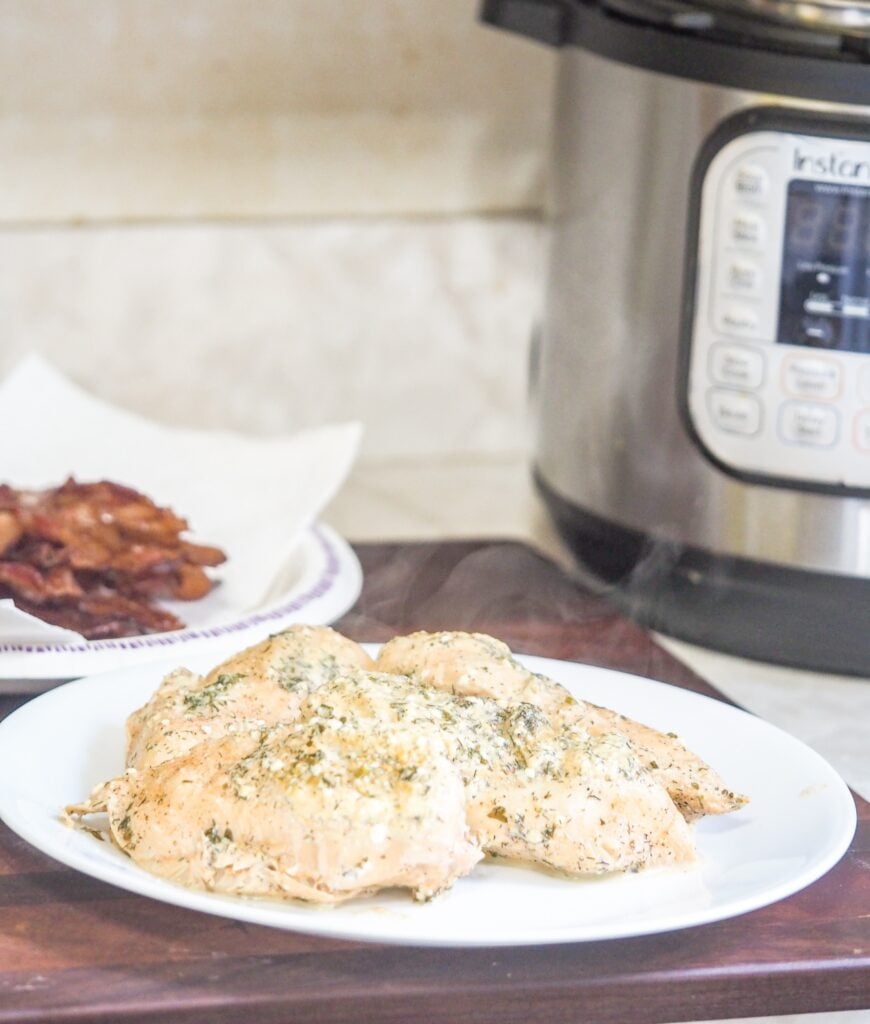 Shred the chicken well for this Instant Pot Crack Chicken deliciousness. I used these handy shredder claws, which are also perfect for shredding pork or beef.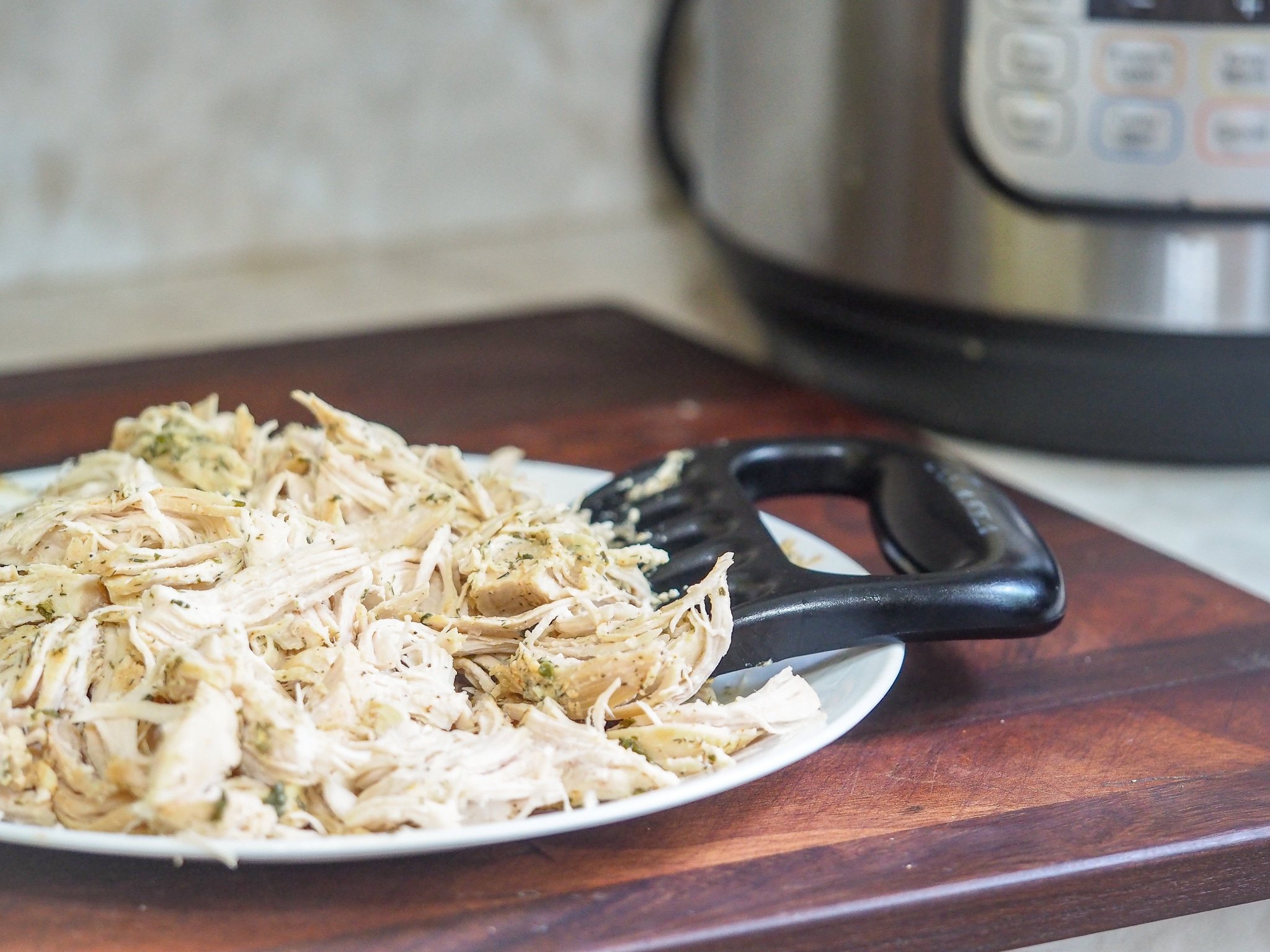 Add the mayo, sour cream, shredded cheddar cheese , Worcestershire sauce, some of your favorite hot sauce, lemon juice, and crumbled bacon to the pot.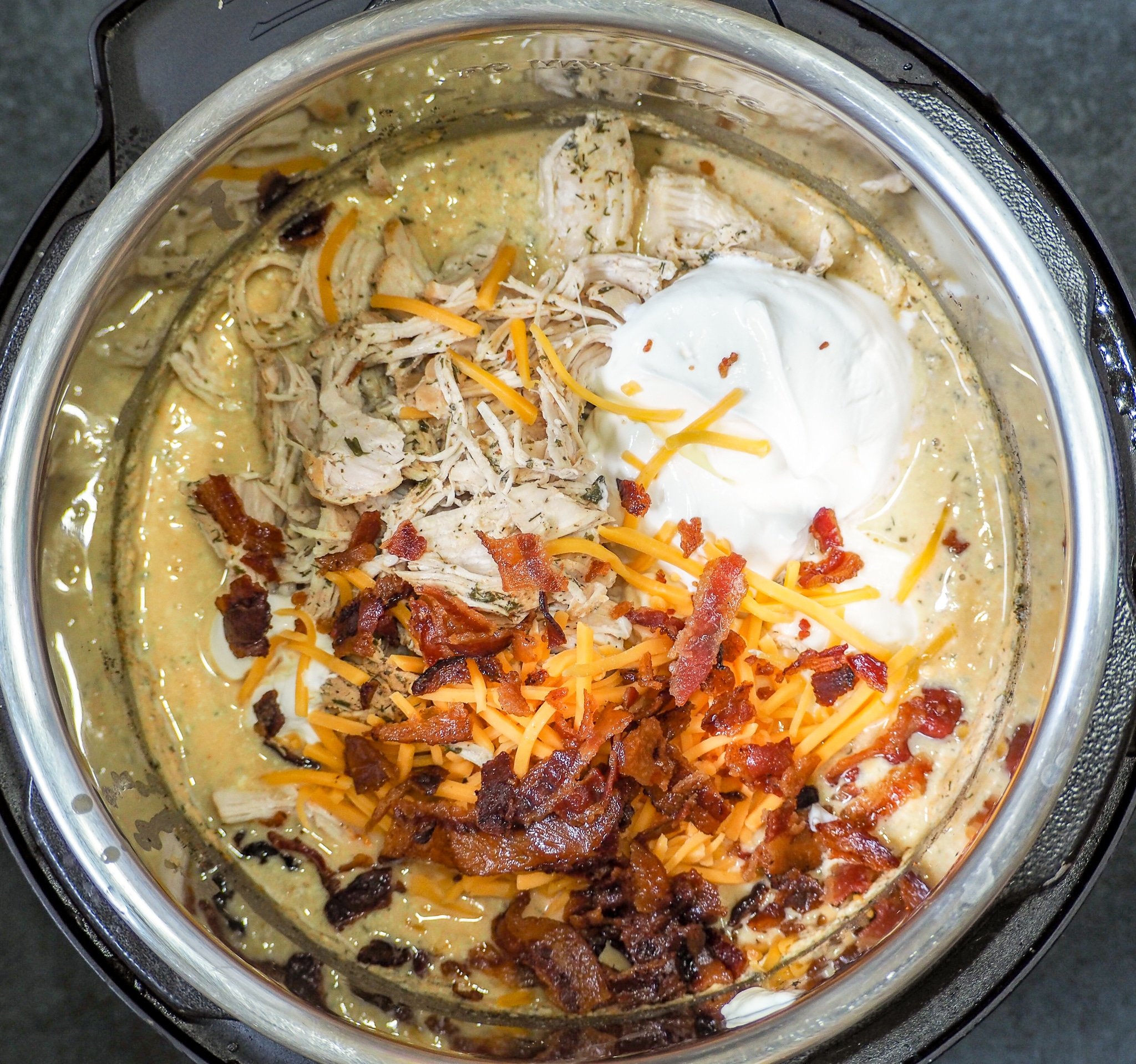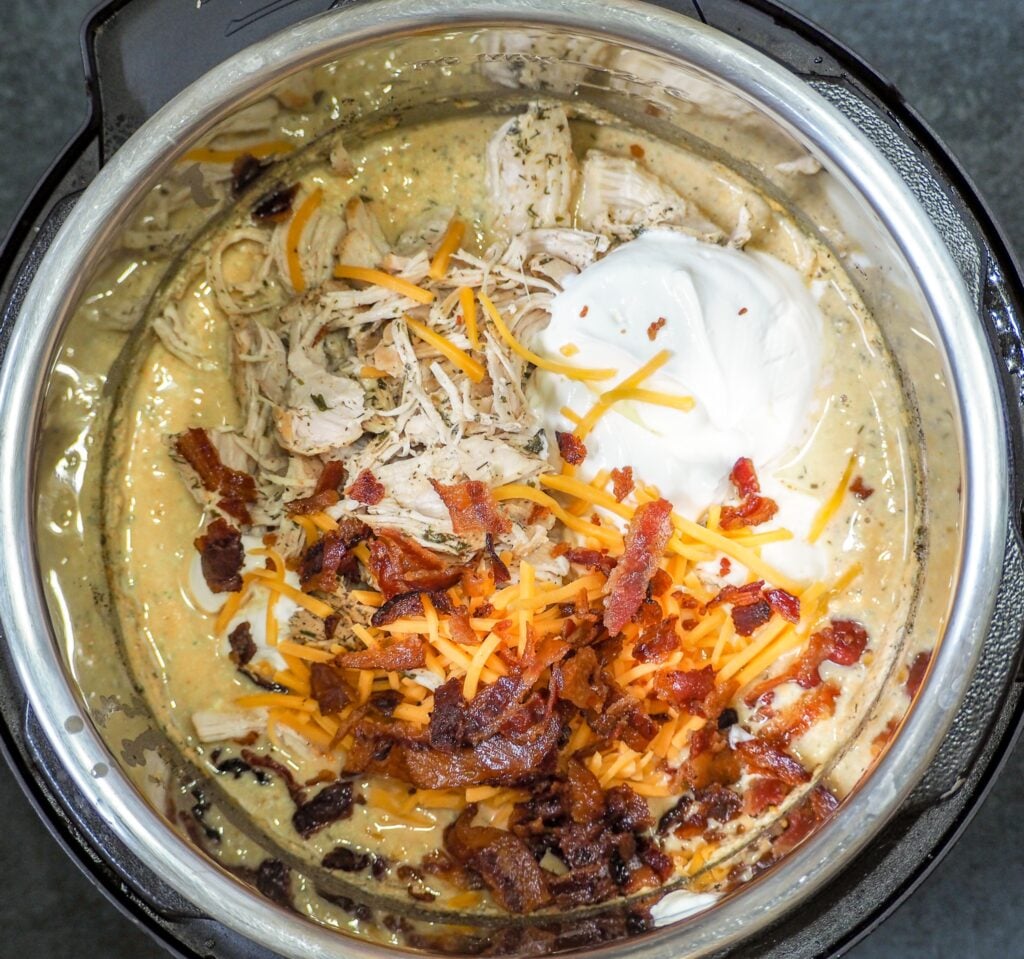 Turn the pot on saute, and stir together well. Cook until the cheese is melted. If the mixture is to thin, add a cornstarch slurry to the mixture or additional cheese. If you are following a keto diet you can thicken with the additional cheese, xanthan gum, almond flour, or other substitute.
Don't forget it's important to use the full cup of broth or it will give a burn notice. Serve immediately or refrigerate for up to one week in an airtight container. This is delicious served by itself, on a roll, in a pita, in a lettuce wrap, with pasta, or over rice.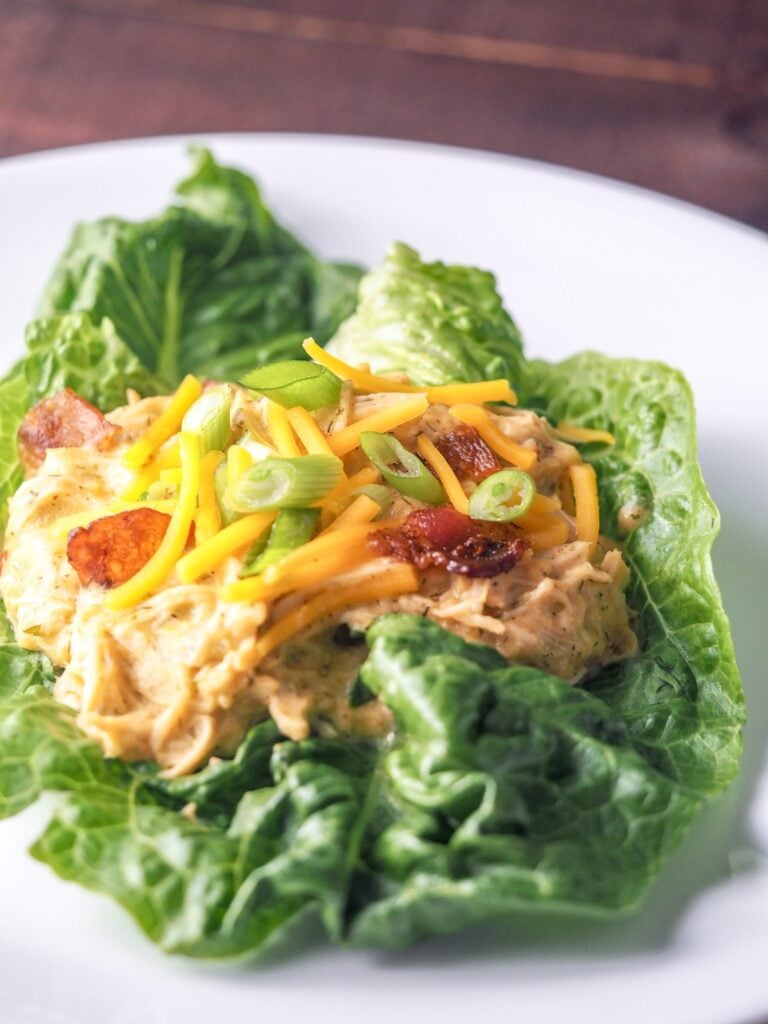 If you enjoyed this you'll love Instant Pot No-Fail Buffalo Chicken Meatballs, Instant Pot Frittata: Keto, Whole 30, WW, or Instant Pot Herbed Lemon Salmon!
Recipe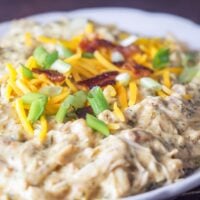 Instant Pot Crack Chicken
I totally decided that this classic Instant Pot dish was in sore need of a makeover. We needed a tasty dinner and meal prep for the week, so I though Instant Pot Crack Chicken would fit the ticket for everyone in the house. It's perfect for a quick low-carb lunch, or you can carb it up by serving it over rice or tossed in pasta. This dish was even better the next day for a leftover weeknight supper. Creamy, cheesy, loaded with bacon, tons of spices, and topped with bacon. It's, oh so good!
Print
Pin
Rate
Ingredients
Cooking the chicken
4

boneless, skinless chicken breasts

1

cup

chicken broth

8

ounces

cream cheese

1

tablespoon

garlic powder

1

teaspoon

dill

1

teaspoon

chives

1

tablespoon

parsley

¼

tsp

cayenne pepper

½

teaspoon

black pepper

1

tsp

onion powder

¾

tsp

smoked paprika
To finish the chicken
¼

cup

mayonnaise

½

cup

sour cream

½

teaspoon

lemon juice

1

cup

cheddar cheese

shredded

1

teaspoon

Worcestershire sauce

1

teaspoon

hot sauce

8

slices

bacon

cooked

2

tablespoon

cornstarch

optional

2

tbsp

water

optional

¼

cup

green onions

sliced, optional
Instructions
Place the chicken breasts in the Instant Pot with the chicken broth, cubed cream cheese, and all the seasonings in the 'Cooking the Chicken' instruction group above.


Seal the Instant Pot according to the manufacturers directions. Cook on high pressure for 15 minutes, and follow with a 10 minute natural pressure release.

Pan fry bacon or cook bacon in oven at 425-degrees for 20 minutes until done. Crumble, and set aside. Slice green onions if desired.

Remove chicken to plate once cooked, and shred. Add back to Instant Pot.

Add the mayo, shredded cheese, sour cream, lemon juice, Worcestershire sauce, and hot sauce. Stir well to combine, and cook until cheese is melted.

If desired, thicken with additional cheese or a cornstarch slurry by combining conrnstarch and water then adding to the crack chicken mixture.
Notes
*Note the nutrition values do not include the cornstarch slurry, if it is included then it results in 5 grams of carbohydrates instead of 3 grams.
Nutrition
Calories:
466
kcal
|
Carbohydrates:
5
g
|
Protein:
32
g
|
Fat:
34
g
|
Saturated Fat:
14
g
|
Cholesterol:
143
mg
|
Sodium:
644
mg
|
Potassium:
587
mg
|
Fiber:
0
g
|
Sugar:
1
g
|
Vitamin A:
840
IU
|
Vitamin C:
5.4
mg
|
Calcium:
155
mg
|
Iron:
1
mg