The pasty, pronounced "pass-tee", has a long history with working men. Originally wives made these for their husbands as a portable lunch before they went to the mines to work. My family hales from West Virginia, so making an American version of this long-time Cornish favorite has always been near and dear to my heart.
Warning though, this does take a bit of work. Also, lots of time.
First of all, you will need to make some butter crust pastry. As a rule of thumb for a family of four you want to double this recipe. This also means double the pastry. An alternative, would be to use some refrigerated dough - if you have no time. The pastry can be refrigerated for up to a week, but if you have no time please do opt out for the refrigerated stuff.
Grab one pound of ground beef, two Yukon gold potatoes, one onion, two carrots, and a small bunch of fresh parsley.
Chop onion, potatoes, and carrots and fry in olive oil a pan on medium heat for 10 minutes. A few minutes in add the parsley, and a generous tablespoon of unsalted butter. Add salt and pepper to taste.
Remove to a plate once cooked, and cook the ground beef. Add some more olive oil to the pan with the ground beef then add creole seasoning or seasoned salt, garlic salt or garlic powder, pepper, and onion powder. Cook until no longer pink.
Once the ground beef is cooked add one cup of beef broth, peas, and Colby Monterey Jack Cheese along with the cooked vegetables. Melt the cheese and simmer about ten minutes. The cheese should end up being kind of saucy not so much stringy. You can use fresh, frozen, or canned peas for this recipe.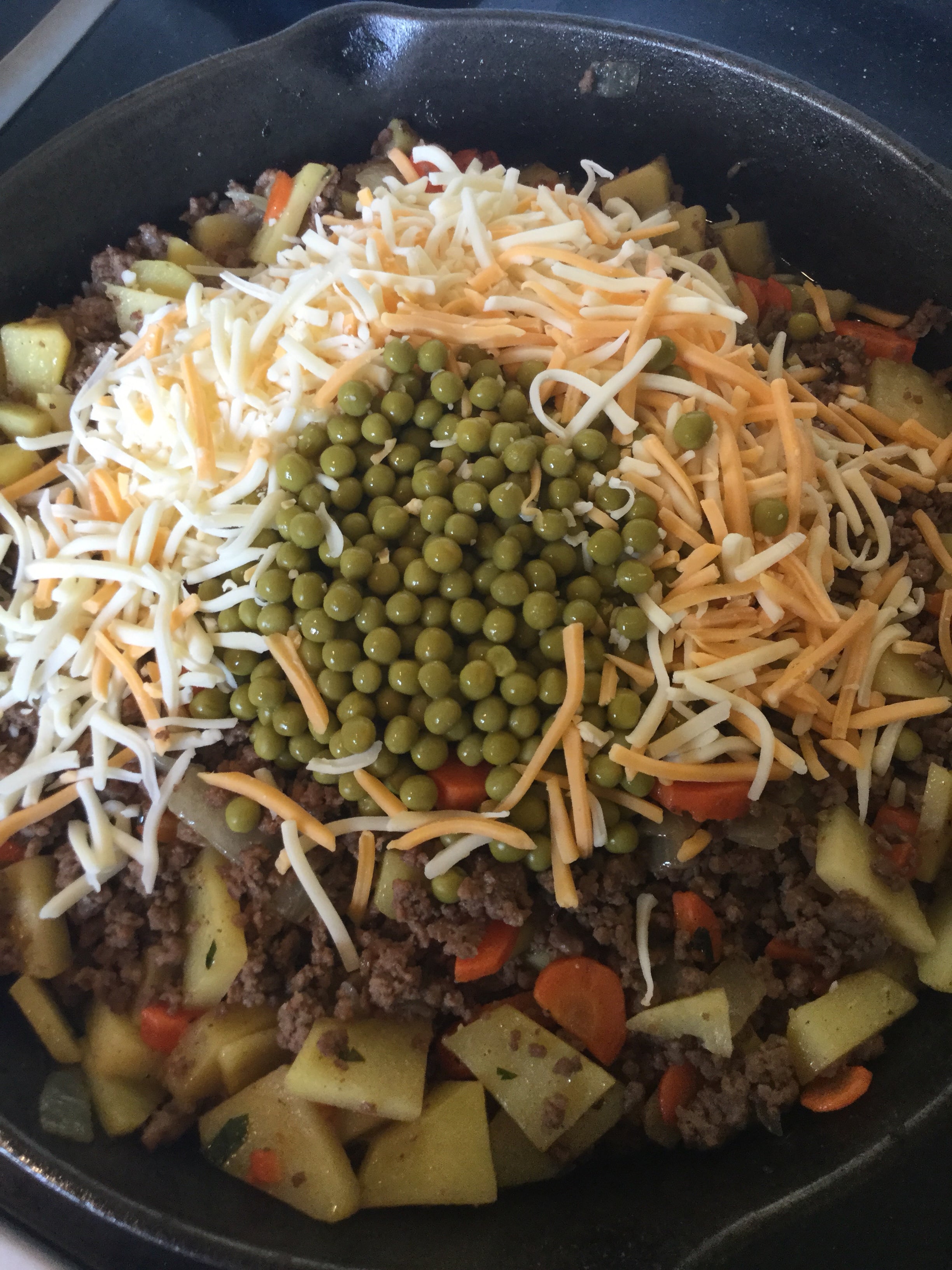 Next we'll make our pies. Take out your pastry and cut off a small piece then make into a small disc. This makes it easier to roll into something resembling a circle. To give you an idea how big it should be, that's a salad fork in the picture below. Of course, you can make these as big or as small as you want or need.
Add a nice scoop of your filling onto the pastry in the center.
Fold over and pinch the seams together, and seal with a fork. If you have trouble getting it to seal you can use a little egg wash to help you along.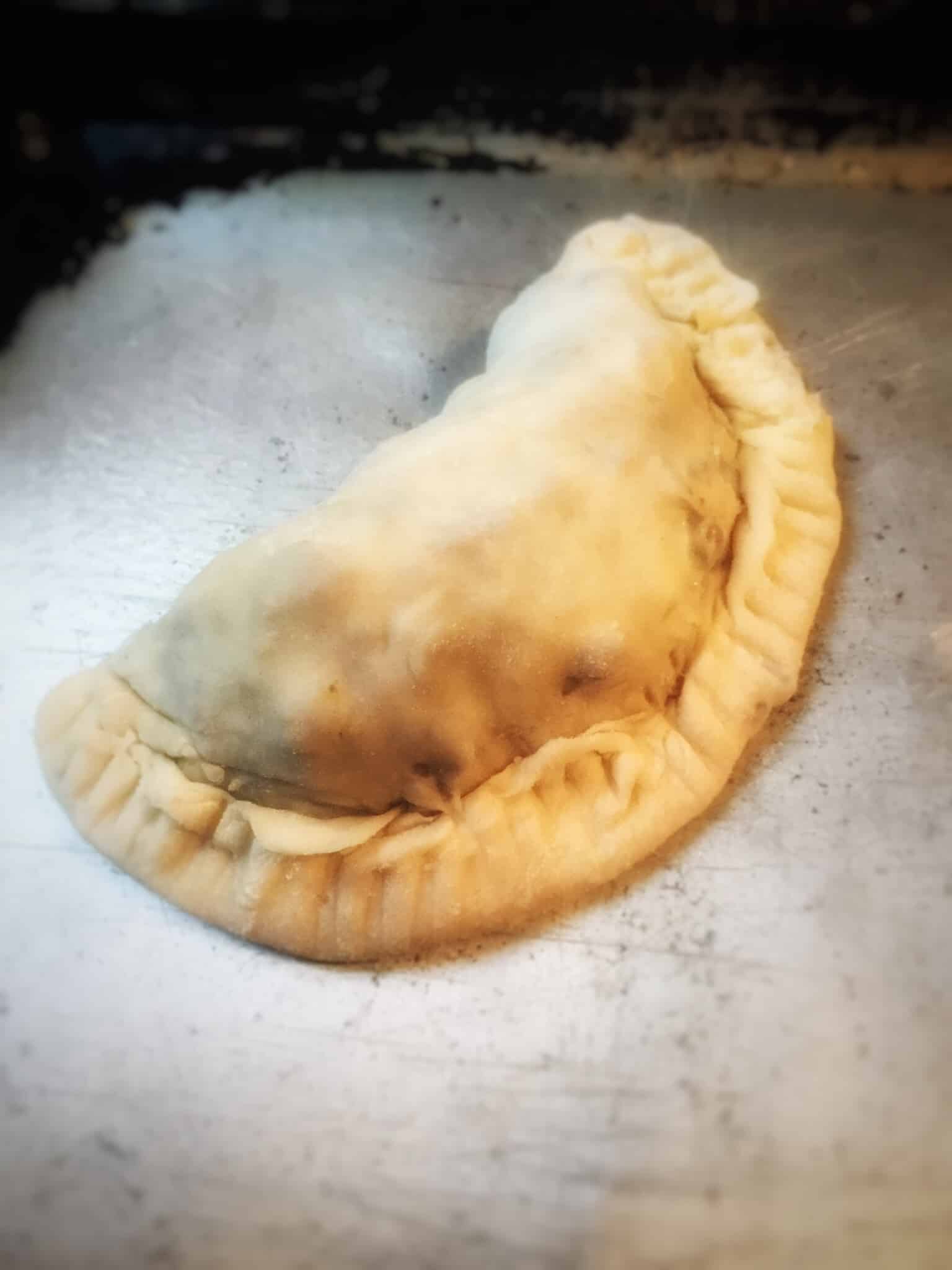 After you have your pies made stand them up on the baking sheet so the seam straight up and down. At this point make an egg wash adding salt and pepper to brush the outside of the pasties. My egg wash didn't have enough salt and pepper for my taste so I add some after the egg wash. Unfortunately, no matter how hard I tried my pasties were exactly picture perfect but they were delish!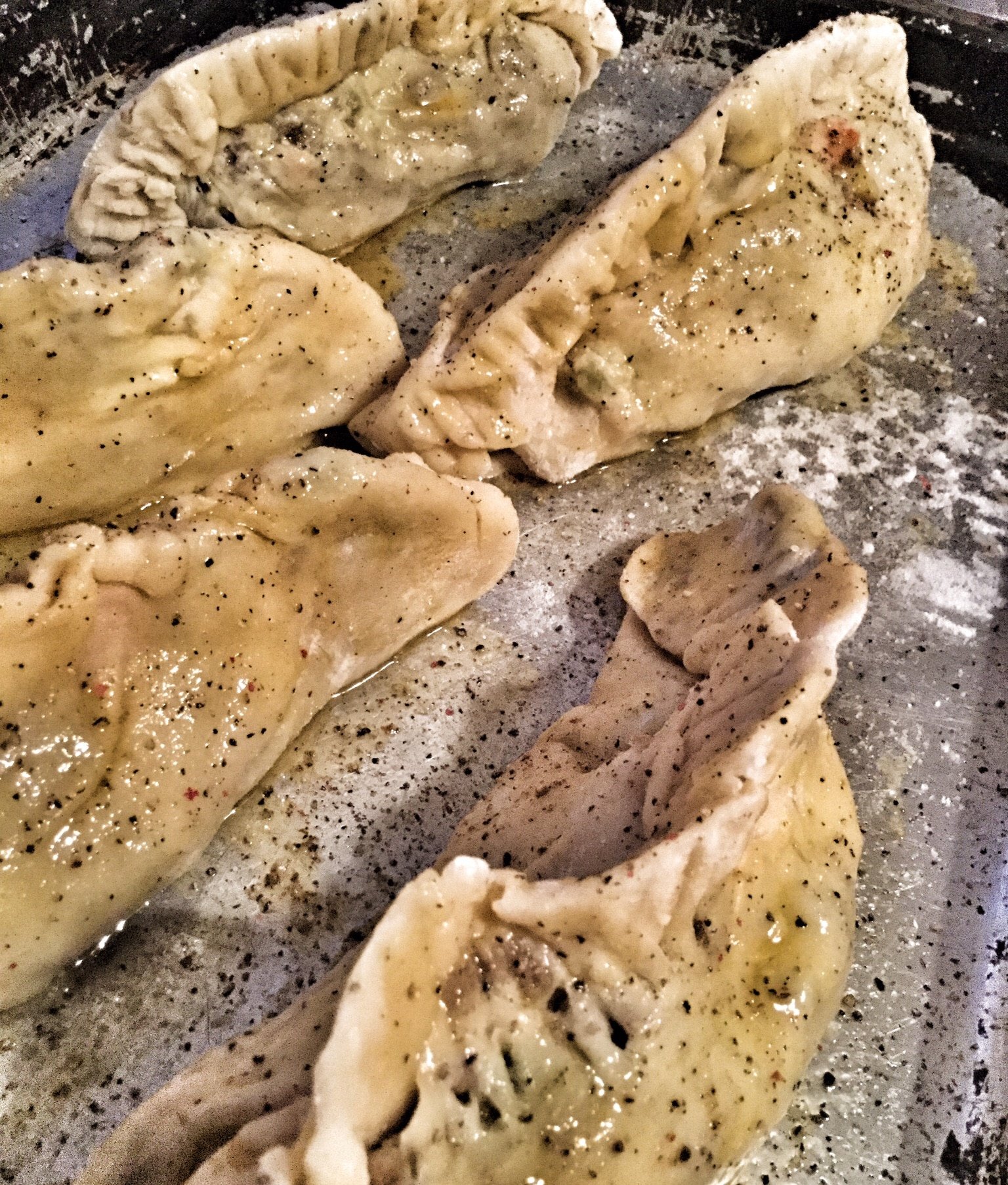 Bake these in a preheated 375-degree oven for twenty minutes, turning once half way through to ensure even browning of the crust. Cool for five minutes then serve with tomato relish or brown gravy.
Cornish Beef Pasties - Michigan Style
Cornish beef pasties were a coal miner's delight back in the day! Mini hand pies stuffed with sirloin or ground beef along with vegetables make a great lunch.
Print
Pin
Rate
Ingredients
1

pound

ground beef

2

refrigerated pie crusts

1

onion

chopped fine

2

carrots

diced small

2

potatoes

red or Yukon gold, diced small (can also do rutabaga instead)

2

tbsp

parsley

fresh, if dried use half

½

tsp

salt

½

tsp

pepper

½

tsp

garlic powder

½

cup

frozen peas

½

cup

cheddar cheese

shredded, optional

½

cup

beef broth

1

egg

beaten, for egg wash
Instructions
Bring water to a boil in a small pot. Add in the prepared carrots and potatoes. Put the peas on the counter to thaw. Bring to a boil and cook about ten minutes or until done.

Preheat large frying pan to medium heat. Add onions, and saute a few minutes until softened. Add ground beef then season with garlic powder, salt, and pepper. Cook until no longer pink, drain grease, and return to pan.

Add in the carrots, potatoes, and peas. Add the beef broth, cheese, and parsley. Stir well until the cheese is melted. Turn off heat, and remove to cool.

Preheat oven to 375-degrees. Then proceed to form the pasties.

Prepare the pie crusts by cutting into fourths. You can roll out as is, or form dough into ball then roll to get a perfect circle shape.

Add about a ½ cup of filling to each pasty. Fold over, brush the edges with egg wash then seal or crimp with a fork to seal.

Set on baking sheet. Once each pasty is filled, brush with remaining egg wash.

Serve immediately, or keep in an airtight container for up to one week.
Nutrition
Serving:
1
piece
|
Calories:
396
kcal
|
Carbohydrates:
25
g
|
Protein:
16
g
|
Fat:
25
g
|
Saturated Fat:
10
g
|
Trans Fat:
1
g
|
Cholesterol:
68
mg
|
Sodium:
477
mg
|
Potassium:
317
mg
|
Fiber:
2
g
|
Sugar:
2
g
|
Vitamin A:
2803
IU
|
Vitamin C:
7
mg
|
Calcium:
86
mg
|
Iron:
3
mg