One of the best classic comfort food dinners to have, in my opinion, is chicken pot pie. Warm, filling, and satisfying it helps use up veggies from the fridge or leftover chicken.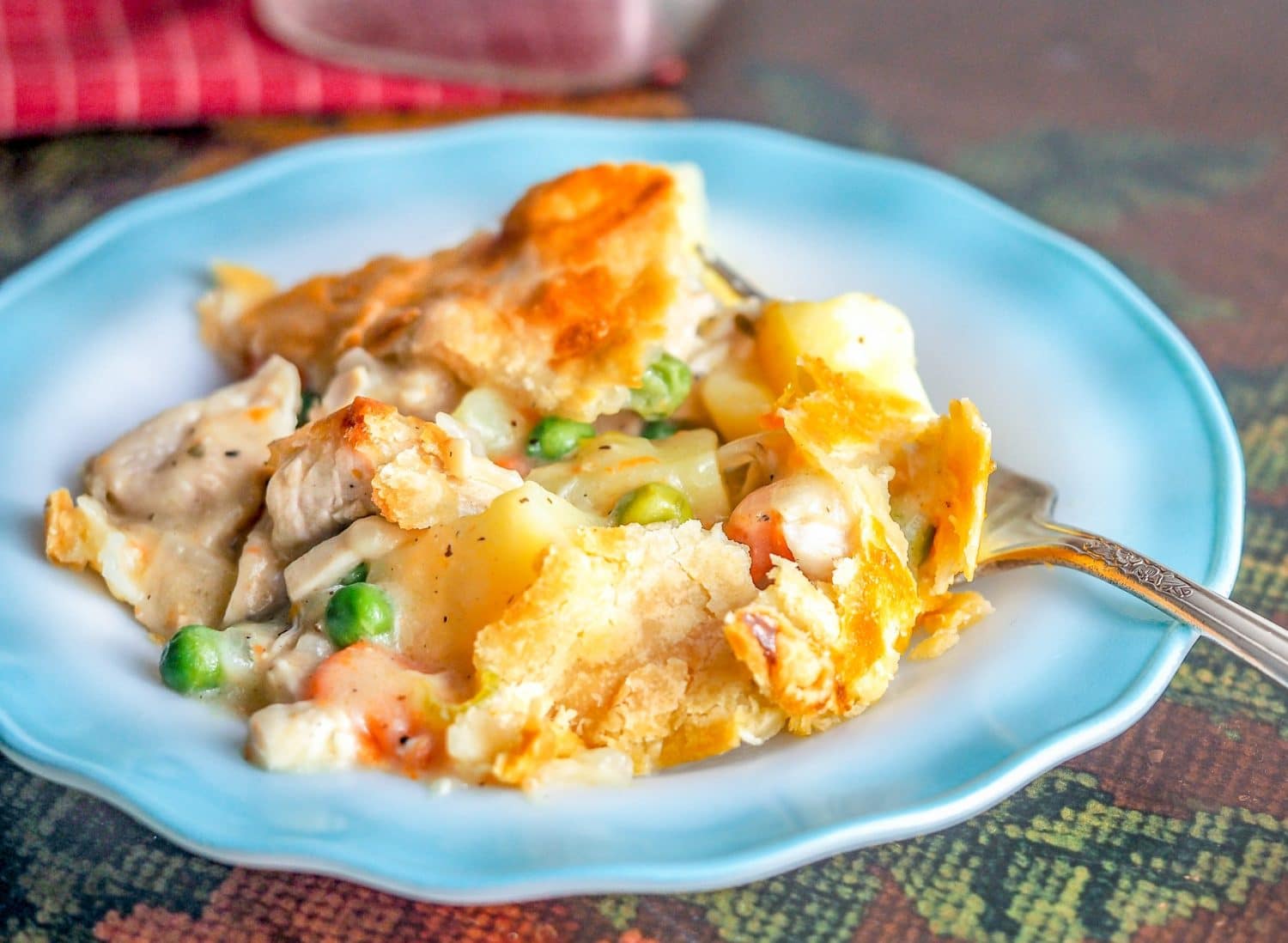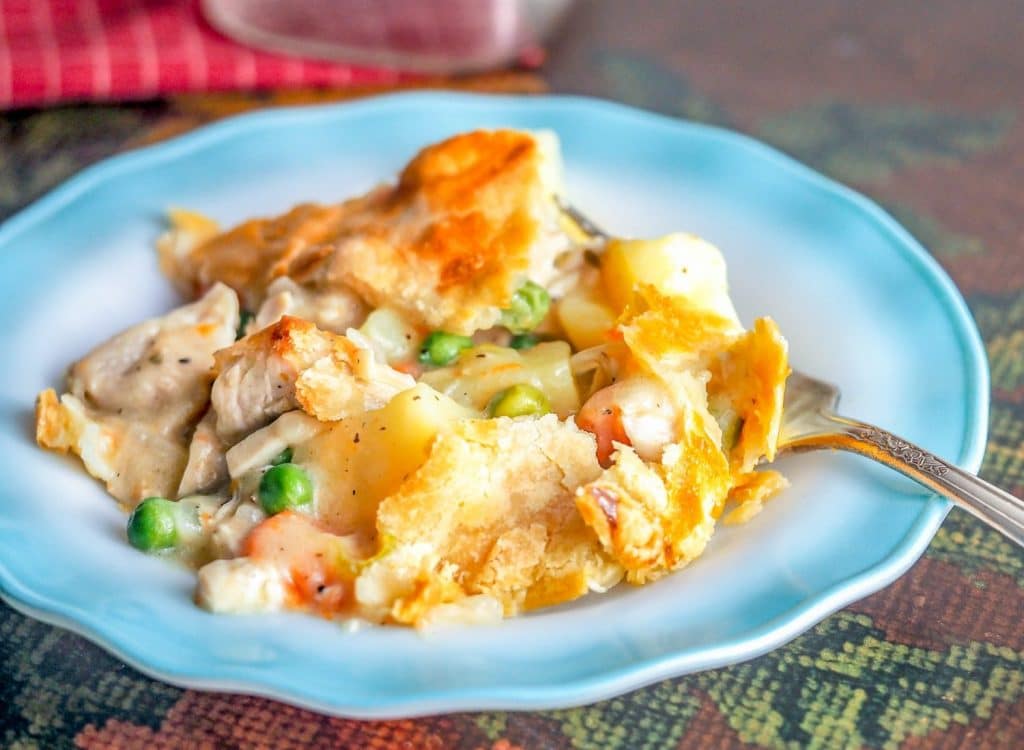 Lately, I've really been craving this so I decided to make my Classic Chicken Pot pie. The family enjoyed it so much recently that I made it twice in one week! This would be great followed up by my Instant Pot Monkey Crack Bread!
The crust for this easy chicken pot pie recipe can be the pre-made refrigerated kind that you roll out - which I used for the pics in the post. Or you can make two recipes of my Butter Pie Crust Pastry - either of which would be fine. 🙂
Prepare the meat for Chicken Pot Pie
Start by putting the chicken into a pot with the white pepper, black pepper, onion powder, garlic salt (you can substitute garlic powder and a little salt to taste if you like), parsley, cayenne pepper, and the chicken bouillon then cover with enough water to cover the chicken breasts.
If the water evaporates during cooking then you can add more. I love using Better than Bouillon Roasted Chicken Base, however, I am in no way being compensated by them in for this post. I just love the product and have been using it for years!
Allow the chicken a good long simmer on the stove as I think this develops more flavor, and also ensures very tender chicken. Bring the chicken to a boil then turn down so it simmers on the stove for an hour.
I know it seems like a long time, but it's worth it in my opinion. You can reduce the time to 45 minutes if you like. Once cooked slice the cooked chicken and dice to a chewable size. Set aside.
This is also a good time to either prepare the pie pastry or roll out one refrigerated pie crust then put into a pie pan.
Pro tip: Substitute your favorite rotisserie chicken or roasted chicken or turkey in this recipe for a great way to use up leftovers or save on prep time.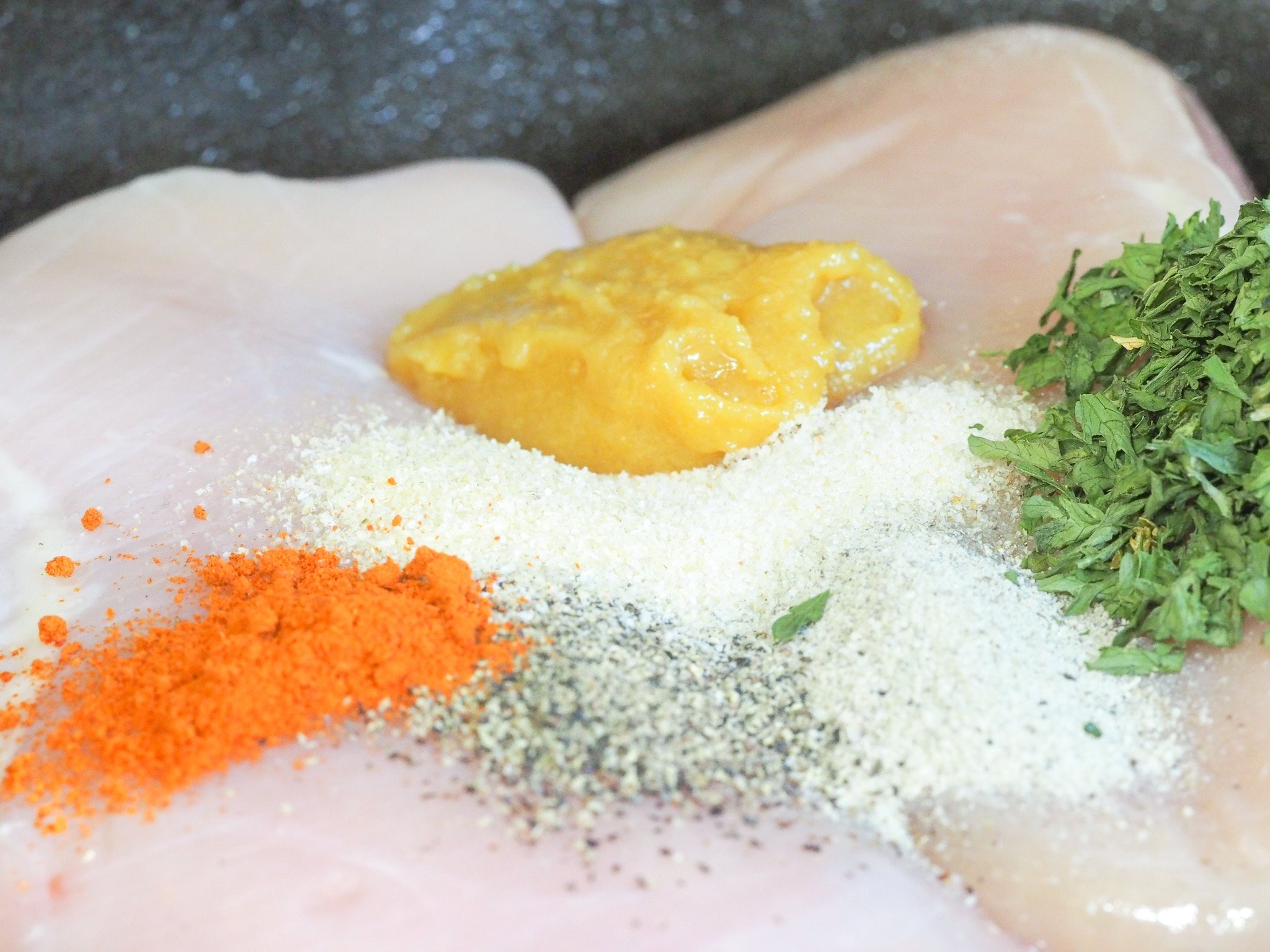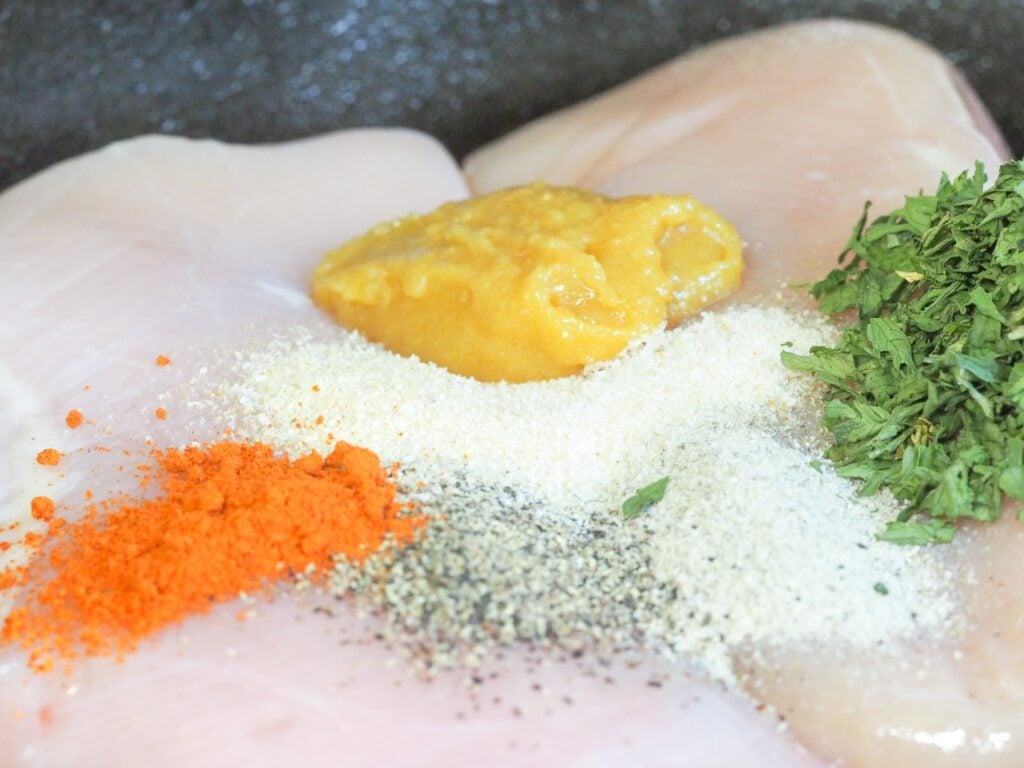 Prepare the filling
I like to develop the flavors of the chicken pot pie, and so I cook the potatoes and carrots on the stove. I cook them in simple chicken broth with chicken broth plus salt and pepper to taste.
Next, peel and cube 4-5 potatoes and carrots. Put them in a medium pot with enough water to cover then add the bouillon. Salt and pepper to taste. Bring to a boil, and cook until done. Drain once finished cooking, then set aside.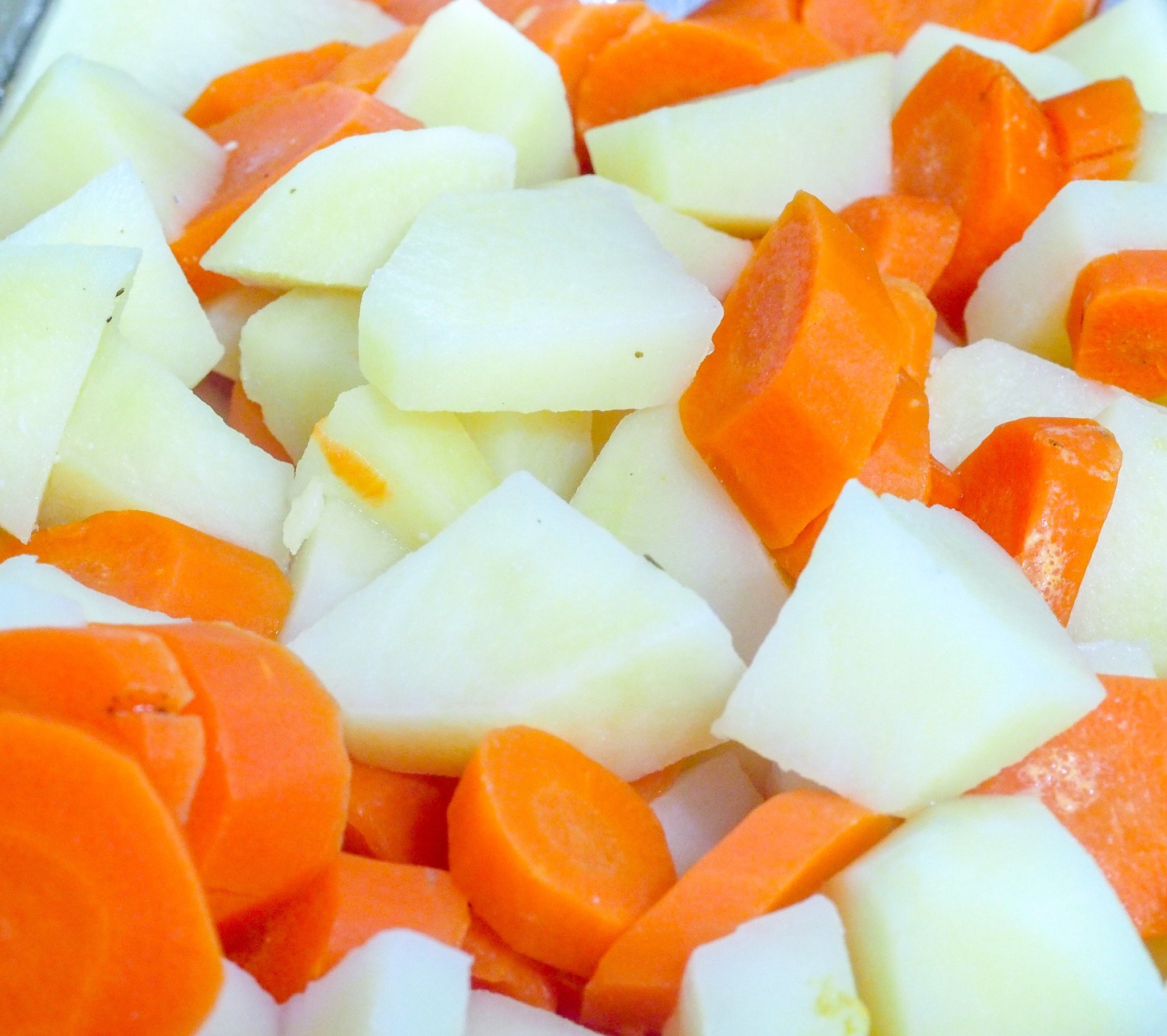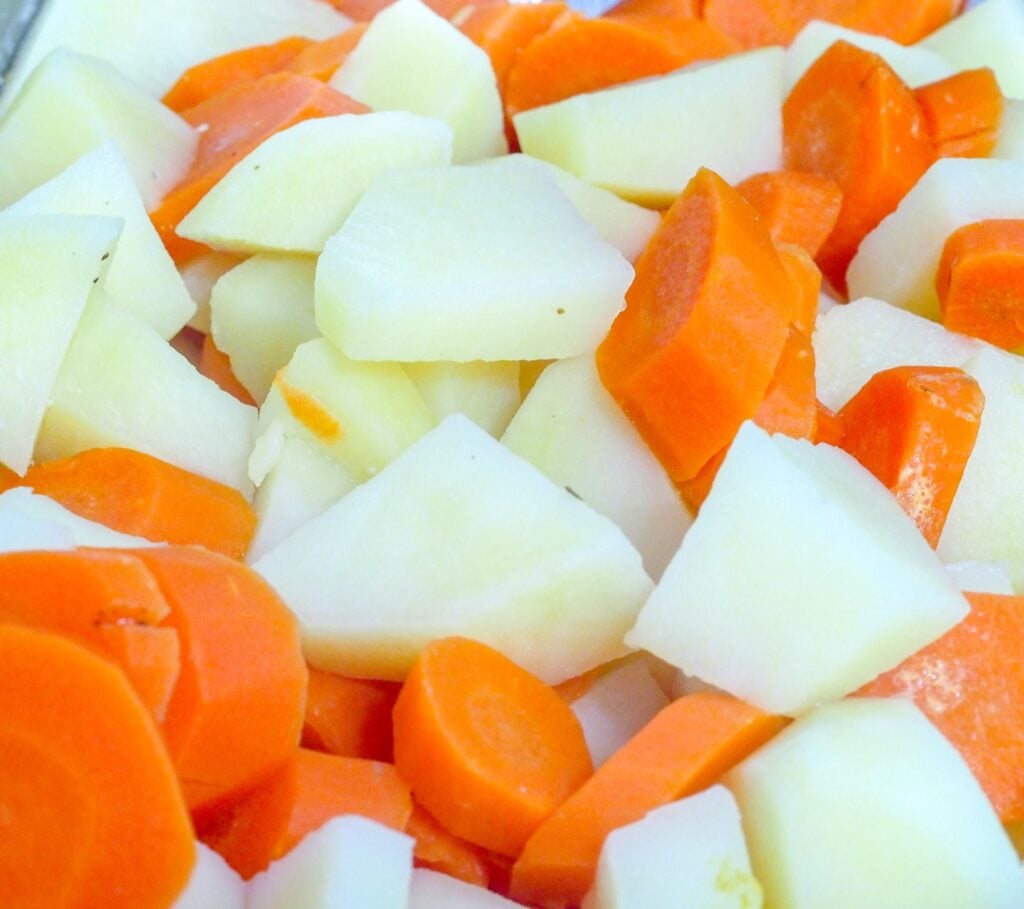 While the veggies and chicken are continuing to cook. Chop one large onion, and slice two stalks of celery then saute in butter in a large fry pan until softened then remove from the pan and set aside.
Next, we'll prepare a roux to make the sauce. Melt four Tablespoons of unsalted butter in the fry pan. Add in ⅓ cup of flour. If you think the roux looks thin you can always add more gravy.
Be careful though as you can always add but not take away. To much flour, and the sauce will be to thick, or to little and it will be to thin. We cook the flour for a few minutes prior to adding any liquid in order to 'cook' it so that the resulting sauce does not taste doughy.
Pour the milk and chicken broth in the pan to make the roux, then whisk or stir to combine until smooth. Add the seasoned salt then salt and pepper to taste. Stir in all the vegetables including the frozen peas, and the chicken.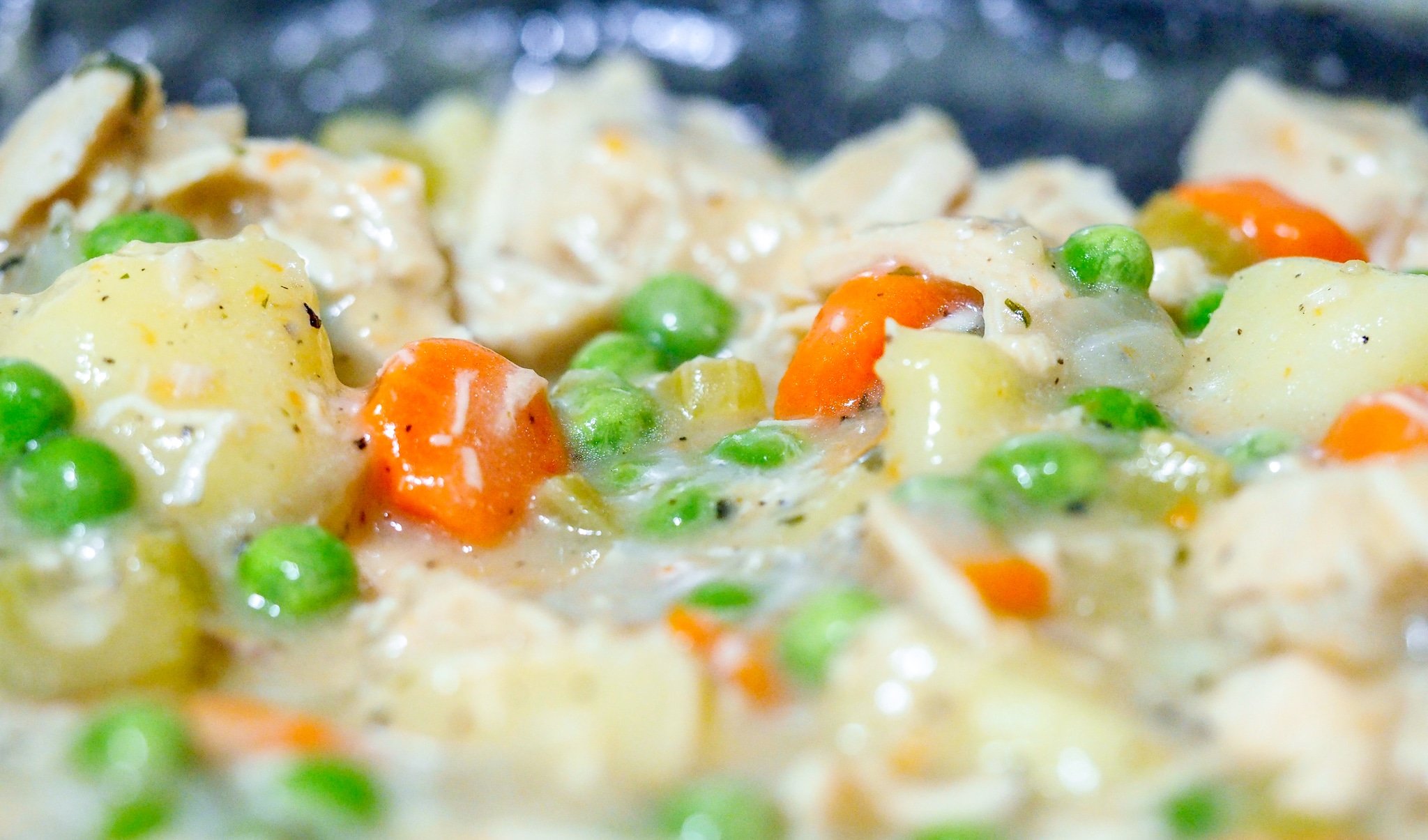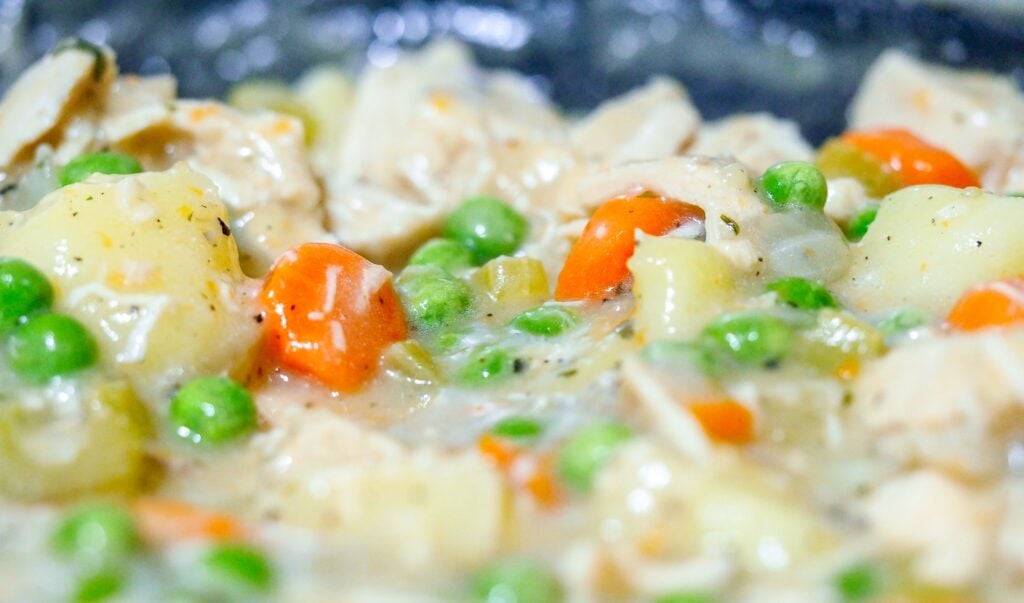 Once the filling is combined, cook for five minutes then pour into a prepared pie pastry. There will be plenty of filling so pile it high!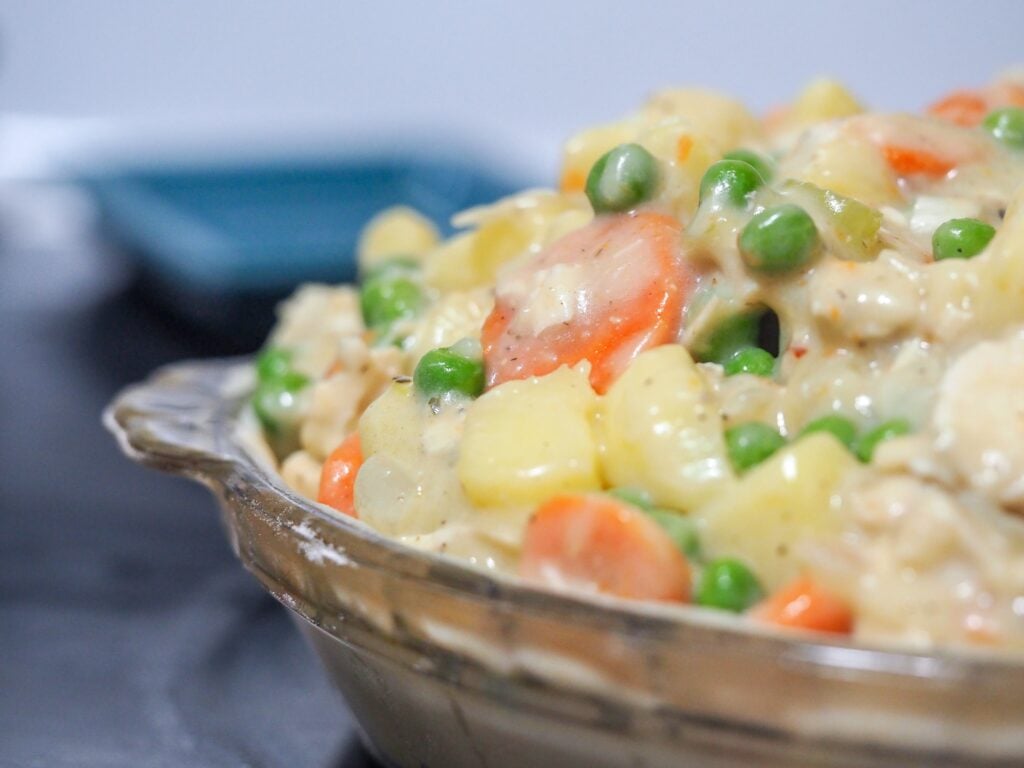 Bake the Pot Pie
Next roll out the second pie crust, and top the chicken pot pie with it then seal the edges. Just remember pretty doesn't always happen but yummy food should. So, don't stress to much if you don't have a pretty seal. 😉 Cut four small ½-inch slits in the top of the crust to vent. Brush the top of the chicken pot pie with the egg wash.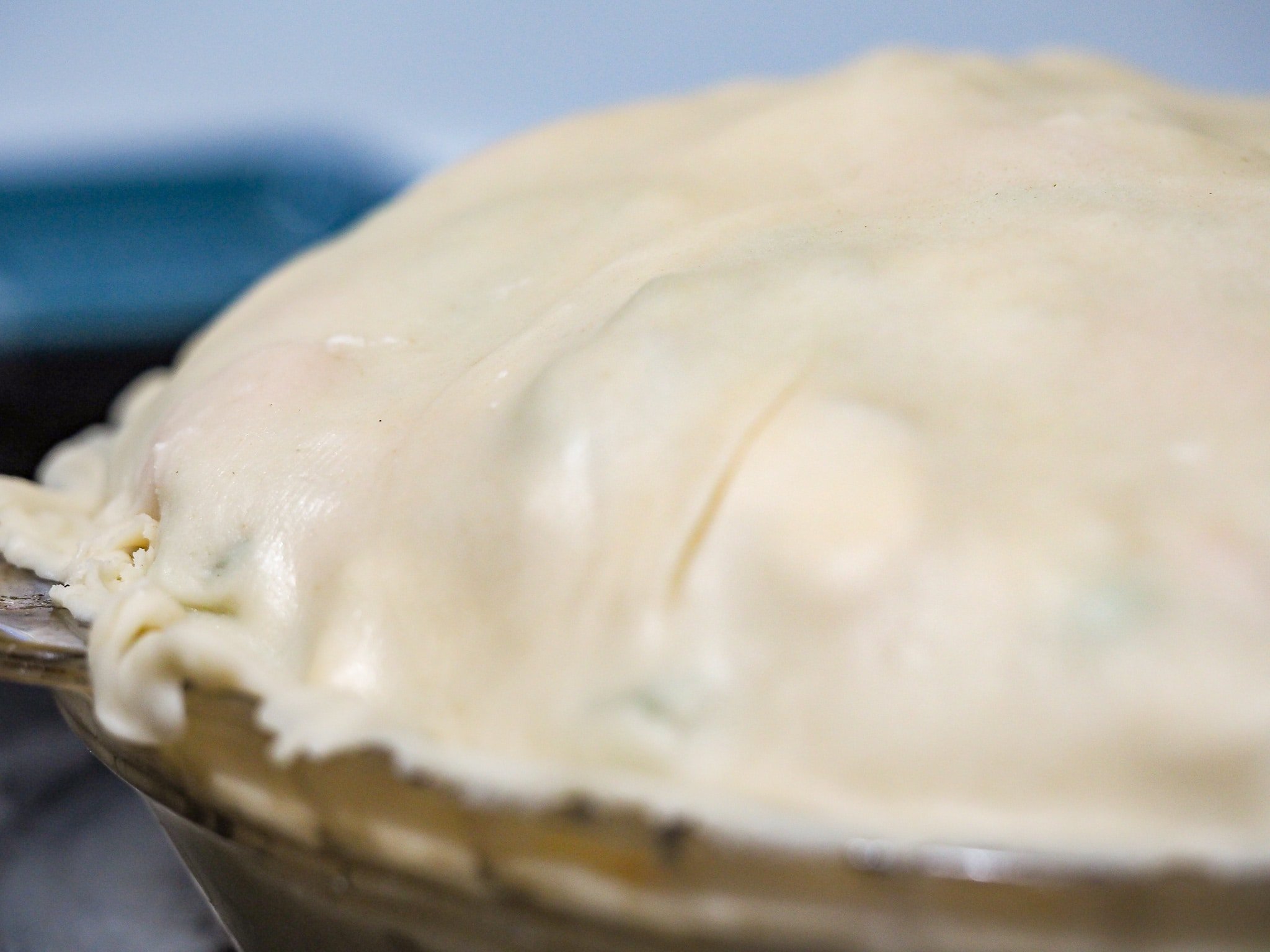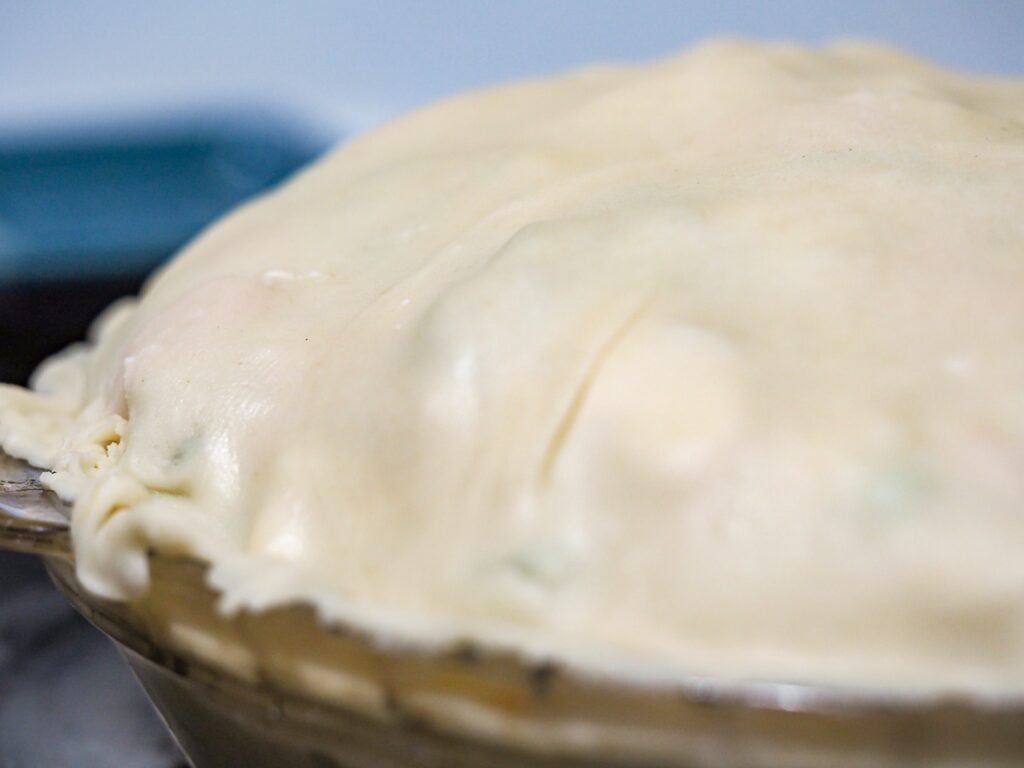 Bake in a preheated 400-degree oven for 35 minutes or until the crust has browned. Enjoy your chicken pot pie, I know we do!
If you enjoyed this recipe you may like Perfect Dutch Oven Stuffed Peppers, Classic Chicken Parmesan with Tomato Butter Onion Sauce, or Bacon BBQ Stuffed Meatloaf.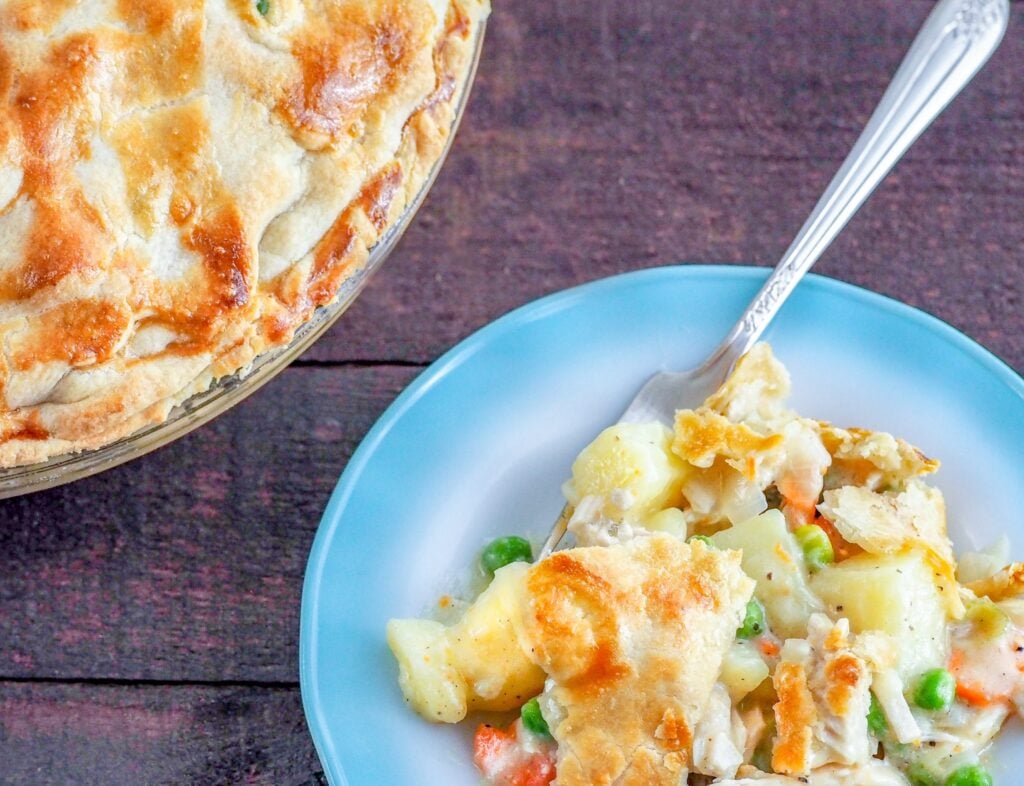 Recipe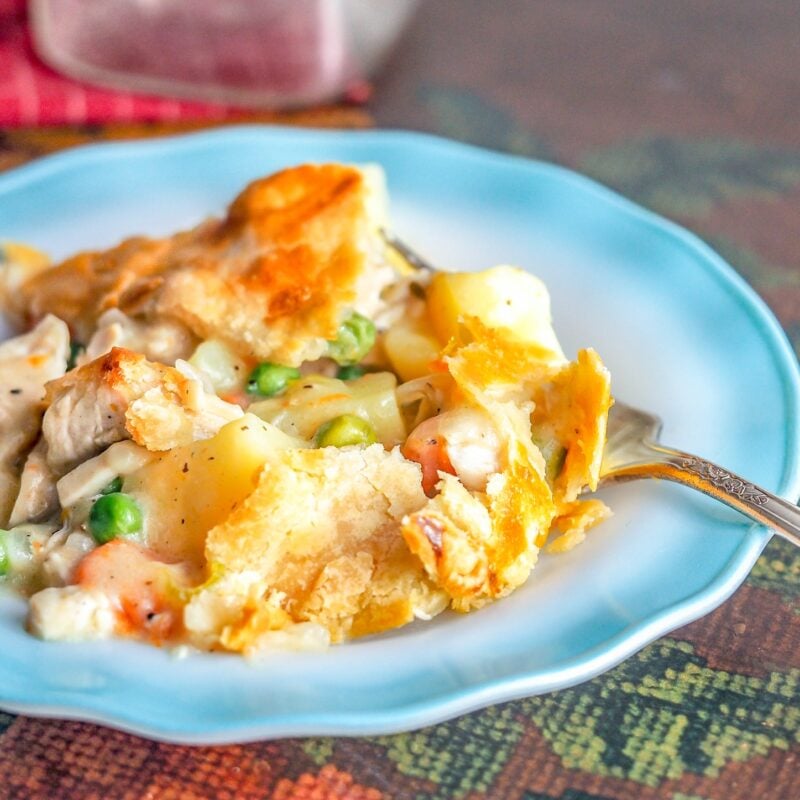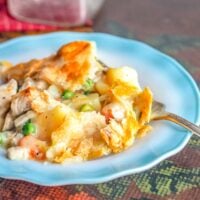 Classic Chicken Pot Pie
A satisfying cool weather comfort food this chicken pot pie is a classic family dinner that will please the pickiest eater! Perfectly seasoned chicken that has been cooked until fork tender then added to savory cooked potatoes and carrots in a cream sauce then baked in a pie crust until golden brown. A great budget friendly meal that can use up the leftovers in your fridge! #mondayismeatloaf #chickenpotpie
Print
Pin
Rate
Ingredients
2

refrigerated pie crusts
For the chicken
3

boneless, skinless chicken breasts

1

teaspoon

chicken bouillon

cube(1) or paste

½

teaspoon

white pepper

¼

teaspoon

black pepper

1

teaspoon

onion powder

½

teaspoon

garlic salt

1

tablespoon

parsley

⅛

tsp

cayenne pepper
For the vegetables
4

Yukon Gold Potatoes

diced

4

carrots

sliced

1

teaspoon

chicken bouillon

cube (1) or paste

2

celery stalks

sliced

1

large

onion

diced

1

cup

frozen peas
For the sauce
4

tablespoon

unsalted butter

⅓

cup

flour

3

cups

unsalted chicken broth

or enough to get to a smooth consistency

¾

cup

milk

½

teaspoon

seasoned salt
Instructions
Add the chicken breasts to a large pot, and cover with water. Add all the seasonings and ingredients from the ingedient group 'For the Chicken' to the pot. Bring to boil, then simmer until the chicken is cooked through and tender. Typically 45 minutes to one hour. Once cooked, dice the chicken into bite size pieces.

Add the potatoes and carrots to a medium saucepan with the chicken bouillon. Salt and pepper to taste. Cook until done, or about 20-30 minutes then drain and set aside.

Roll out one pie crust, and line a pie pan with it. Put in fridge while you prepare the filling. This will help prevent the bottom crust from becoming soggy when you add the hot filling in later.

Add the onions and celery to a large fry pan with some butter. Salt and pepper to taste. Cook 3-5 minutes or until the onions are transluscent. Remove and add to other cooked vegetables.

In the same pan melt 4 tablespoons of butter, and add the flour. Stir to make a roux, and cook for a few minutes. This will prevent the sauce from tasty doughy, or having a raw flour taste.

Add the chicken broth, and milk with the seasoned salt. Salt and pepper to taste. Stir with a whisk until thickened to a sauce consistency. Add additional chicken broth if it thickens to much.

Once thickened, add all the vegetables and the chicken to the pan. Stir gently to combined, and cook for a few minutes.

Pour the filling into the prepared pie crust. There will be a lot of yummy filling, so be sure to pile it high. Kind of like a mini chicken pot pie mountain.

Roll out the second pie crust, and place on top of the chicken pot, and seal the edges. Make four small slits in the center of the pie for venting. Brush the top with the egg wash.

Bake in a preheated 400-degree oven for 35 minutes or until the crust is a golden brown.

Serve immediately or store the leftovers in an airtight container for up to one week.
Nutrition
Serving:
1
serving
|
Calories:
434
kcal
|
Carbohydrates:
45
g
|
Protein:
19
g
|
Fat:
20
g
|
Saturated Fat:
8
g
|
Cholesterol:
65
mg
|
Sodium:
596
mg
|
Potassium:
837
mg
|
Fiber:
5
g
|
Sugar:
4
g
|
Vitamin A:
5545
IU
|
Vitamin C:
21.3
mg
|
Calcium:
89
mg
|
Iron:
5
mg