Instant Pot Meal Planning and strategies don't need to be a mystery anymore. Your meals also don't need to come out of the freezer, and can be done with fresh ingredients right out of the pantry of fridge. With a little planning and a well-stocked pantry you can have dinner on the table in no time.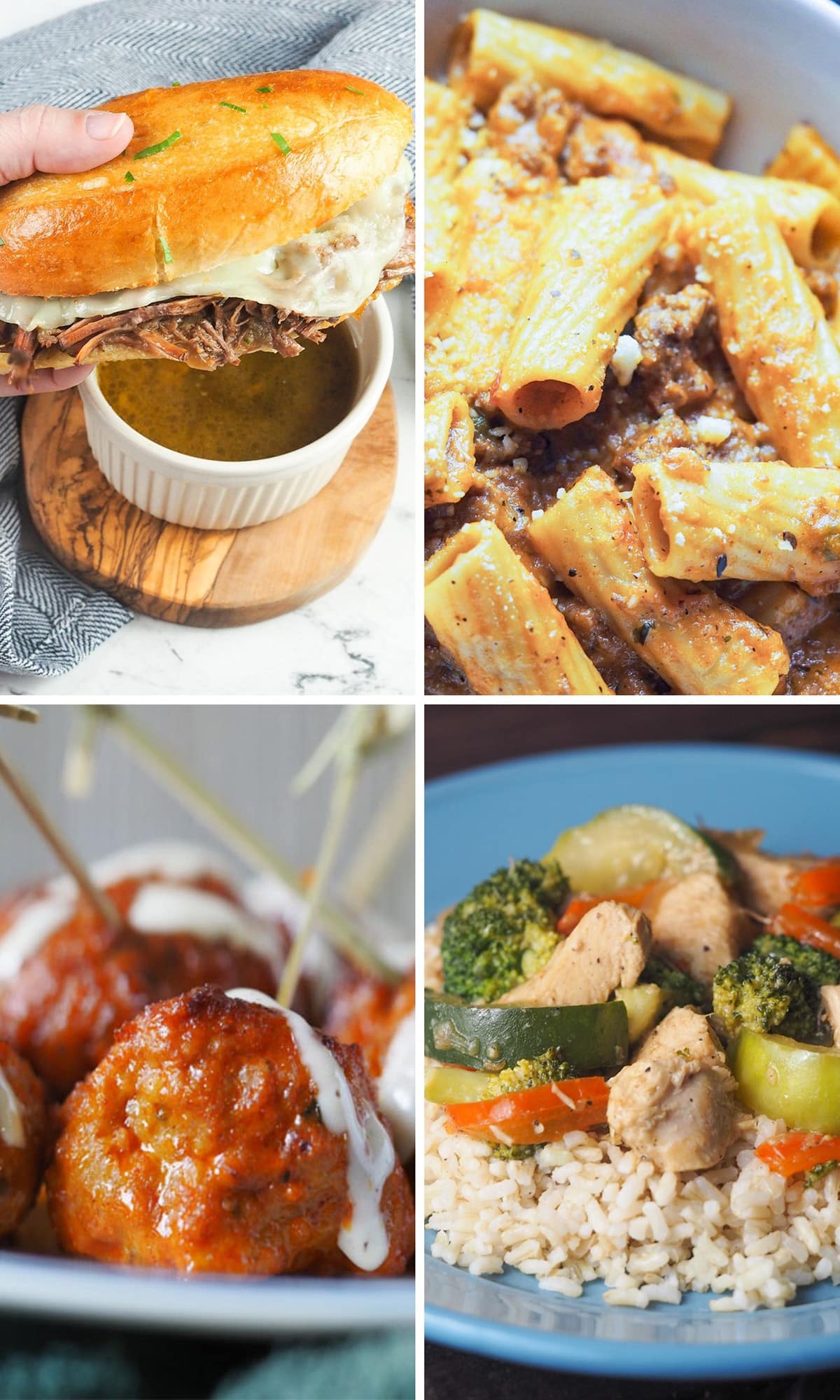 What inspires you?
Instant Pot Meal Planning can be overwhelming but it boils down to just a few simple steps and concepts. Armed with just a few strategies meals can become a no-brainer. To start with think about either what inspires you in the kitchen or what your favorite foods are.
Shop for recipes before you shop for food - spend some time each week looking for new recipes to add to your staple meals list. This list should be recipes that are intended to be in your regular dinner rotation if they pass the taste test with your family. Join a new Facebook group like our Instant Pot and Air Fryer group to help find recipes.
Create a place to save your staple recipes - find a simple system that works for you. I like to bookmark new recipes in my web browser in a folder. Others might like a recipe app, Evernote, OneNote, Trello, index cards, or you might like to print them to keep in a binder. Whatever is easy and works for you will be perfect.
Remember everyone's favorite foods - while it's always fun to try new recipes try to keep track of your family's like and dislikes. Look for recipes with ingredients that your family already knows and loves for better success with your staple list.
Look for recipes that fit your goals - think about why you need to meal plan, and look for recipes that reflect that. Are you budgeting, need to save money or time, looking to eat healthier, just learning to cook and need simple recipes, or hate to cook so you're looking for one-pot meals that are quick? Keep all this mind while you're planning.
Recipes to help inspire you
Let's get organized
Now that you have a starter list of recipes you're probably wondering what to do with them. Let's talk about how we are going to make those recipes go into action for you as part of your Instant Pot Meal Planning.
Start a calendar - pick out how far in advance you want to plan. A few days, a week, every two weeks, or once a month. Make sure it's easy to fill out and visible in a place where you will check it or see it on a regular basis.
See what's on sale - take a look at the sales flyer from where you like to shop and then compare it to your staple recipe list. Make sure that as you're shopping for the current menu that you also are shopping to keep your pantry stocked.
Plan your leftovers - as you plan your meals be sure to at least add one or two meals in that will give you leftovers for a second night. This way you can give yourself a night off and save money. Think of it as a leftover buffet where everyone can pick and choose what to eat then heat it up their plate in the microwave.
Multiple Instant Pots - if you don't already have more than one Instant Pot you're probably wondering if you need one. One of the big reasons to have multiples is for meal planning and prepping. Being able to cook a dish ahead for the week, or components of a dinner in a short period of time. This is a major payoff of having two or more pots.
My staple recipes
Now that your armed with all the knowledge you need to start Instant Pot Meal Planning. Let me share some of my favorite staple recipes that help me get through the week.
These recipes can be made ahead, and reheat as good if not better later in the week. Or, these recipes require very little to no prep and can be thrown together quickly for a quick meal. These recipes also have common ingredients you can find at the grocery store or already in your own home.
Instant Pot French Dip
Instant Pot French Dip is a classic comfort food! The Instant Pot makes this recipe easy and perfect each time. Serve this tender flavorful meat on a crusty baguette with melted Provolone cheese for the best sandwich ever. Made with just a few simple ingredients you can easily feed your family or feed a crowd with no problem.
Check out this recipe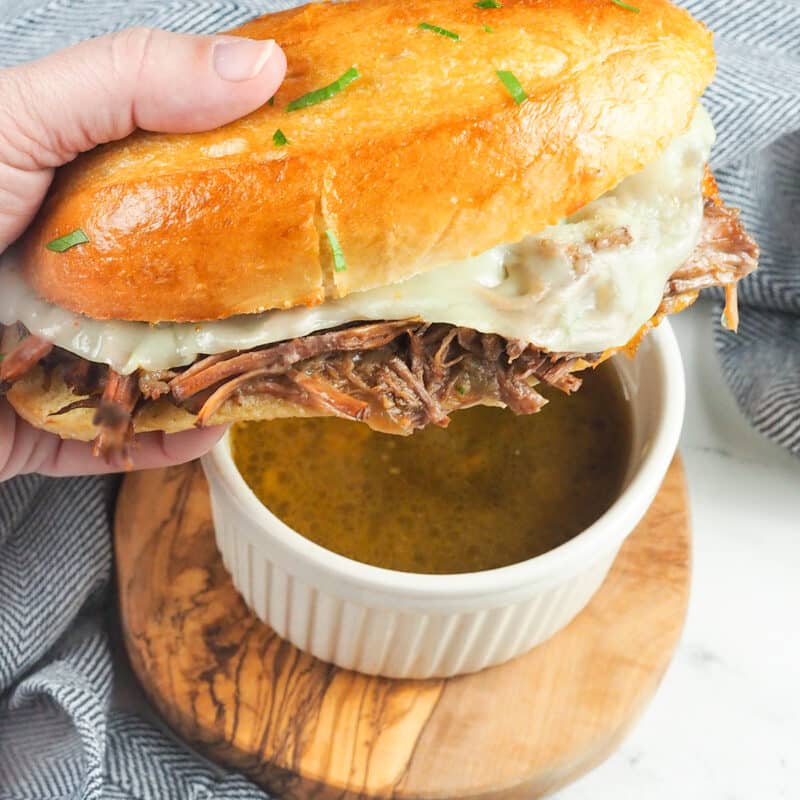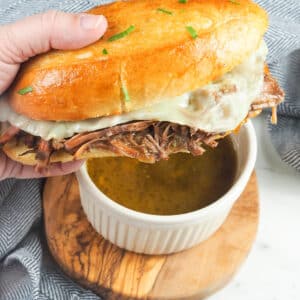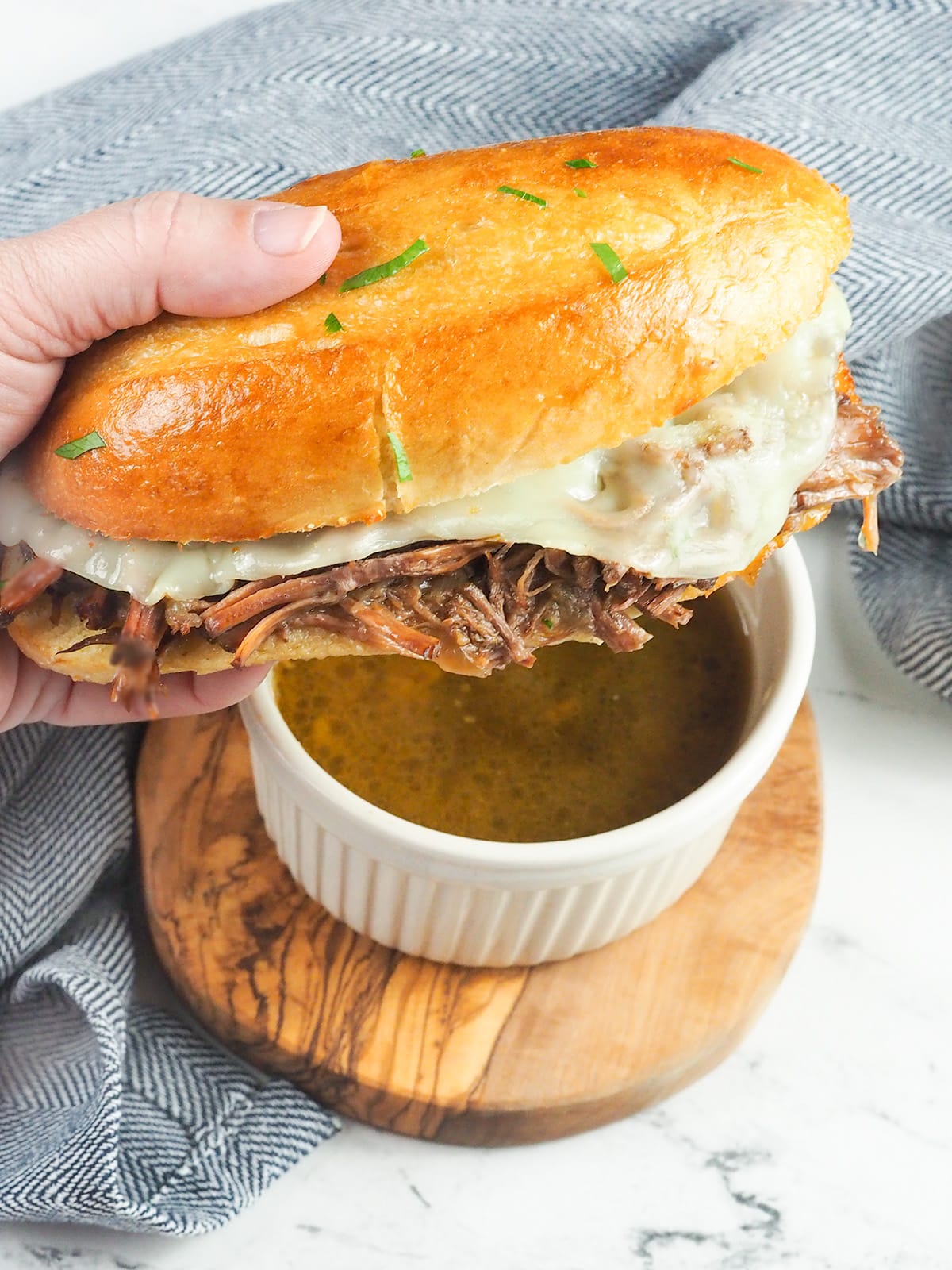 Instant Pot Whole 5-Spice Chicken
Instant Pot Whole Chicken is an easy way to get dinner on the table! Perfectly marinated chicken with an abundance of Asian inspired flavors will be a real weeknight dinner treat for the family!
Check out this recipe
Instant Pot Sausage Gnocchi Soup
Instant Pot Sausage Gnocchi is a simple and quick meal to make in the pressure cooker that is super filling. A tomato-based soup flavored with saffron and spices with store bought gnocchi then finished with spinach!
Check out this recipe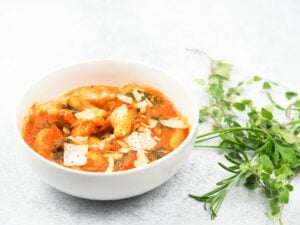 Instant Pot Crack Chicken
I totally decided that this classic Instant Pot dish was in sore need of a makeover. We needed a tasty dinner and meal prep for the week, so I though Instant Pot Crack Chicken would fit the ticket for everyone in the house. It's perfect for a quick low-carb lunch, or you can carb it up by serving it over rice or tossed in pasta. This dish was even better the next day for a leftover weeknight supper. Creamy, cheesy, loaded with bacon, tons of spices, and topped with bacon. It's, oh so good!
Check out this recipe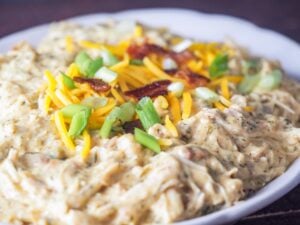 Instant Pot Cube Steak
If you're looking for a quick and easy dinner Instant Pot Cube Steak fits the bill! Cube steaks smothered in an onion gravy made with a few pantry staples served over some creamy mashed potatoes is perfect for those meat and potato lovers out there.
Check out this recipe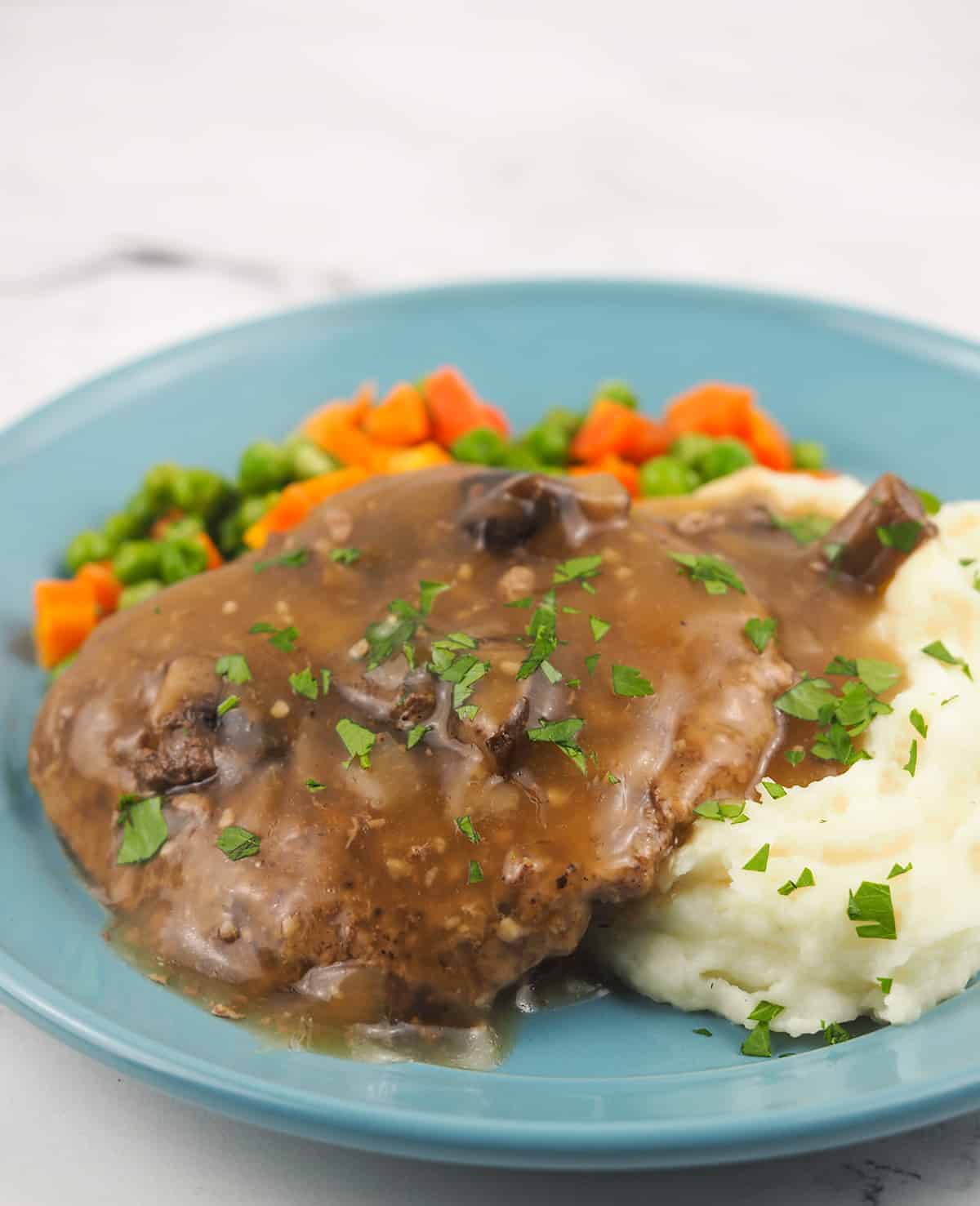 Instant Pot Ham
Instant Pot Ham is so super easy and juicy! I'll never make this in the oven again! Steamed to perfection in a fraction of the time. Covered in your favorite rub for some extra spice, and covered in a delicious pineapple topping.
Check out this recipe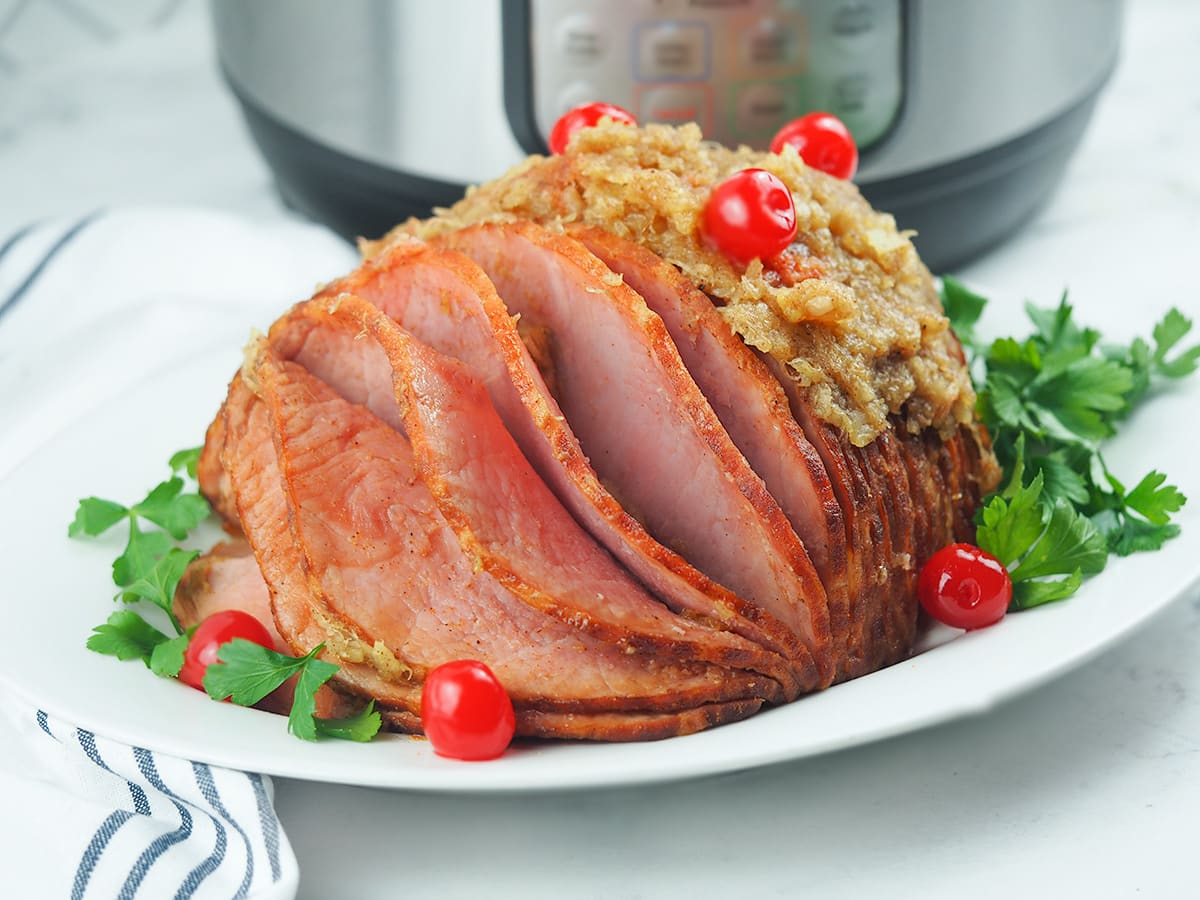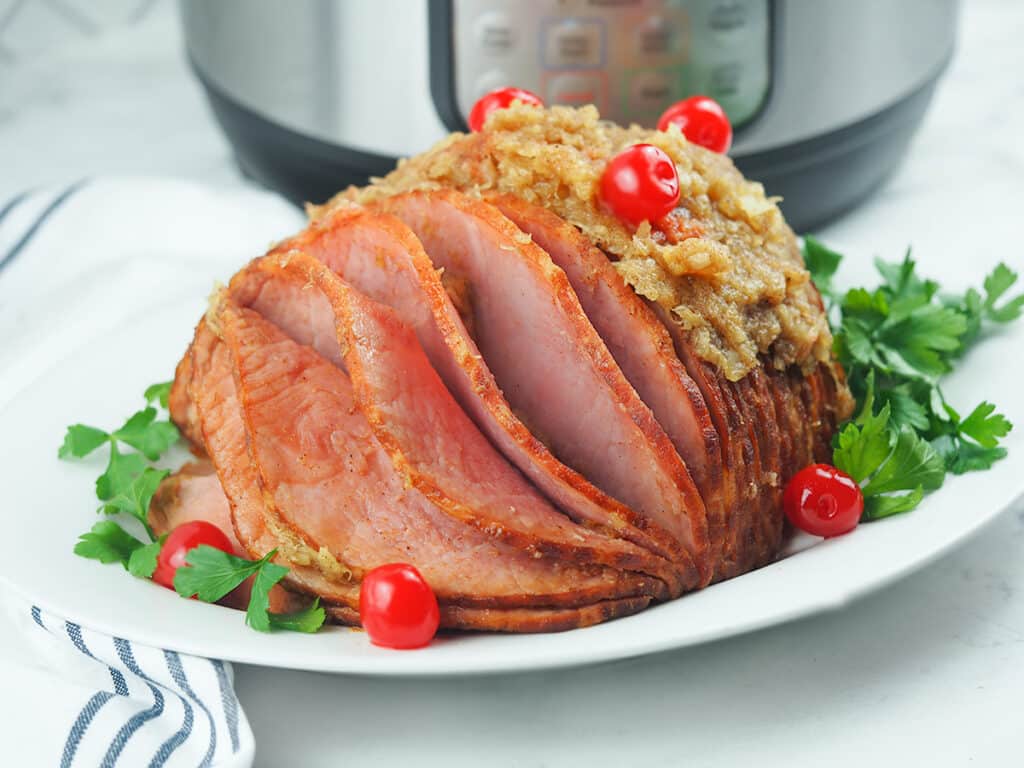 Ground Beef Stroganoff
Instant Pot Ground Beef Stroganoff is my favorite hamburger helper recipe. An easy recipe that is done in 30 minutes, and is perfect for a busy weeknight. An all-in-one dish that's full of flavor, budget-conscious and kid-friendly!
Check out this recipe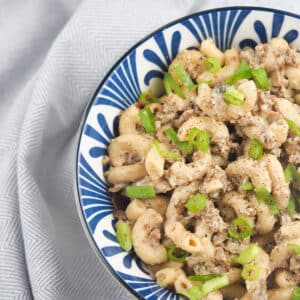 Be sure to sign up for our email list, or follow us on Pinterest, Facebook, or Instagram!