I decided to try air frying salmon patties that I've been making on my stovetop for many years because they are one of my favorite meals. These are way less greasier when done in the air fryer, and have a super crunchy exterior when finished. If you like this recipe you may want to check out Simply Seasoned Air Fryer Chickpeas!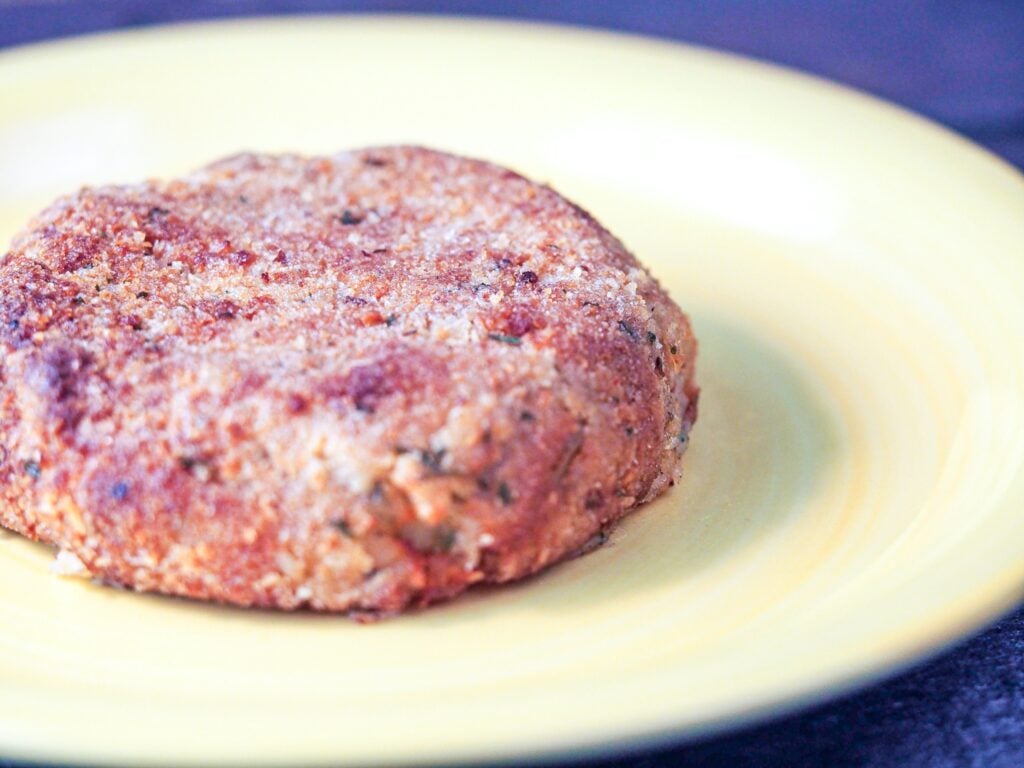 What are salmon patties?
Salmon patties are fish cakes made from canned salmon that contain a breading or binding mixture which are combined with spices then breaded and fried. While you can find recipes from every corner of the world this is an especially popular recipe in American homes. In the late 19th century canned salmon made it's debut it would turn out to be one of the best things since sliced bread! A real game changer that brought a taste of Alaskan shores to the average home. These tins also featured intricate artwork featured on the can labels that are still collected today.
Rumored to be a favorite dish of American author William Faulkner salmon patties have been an economical way of using up leftover fish or using canned fish. During the depression this was an easy way for those in the lower 48 to add essential nutrients to their diets with cheap canned food and very little other ingredients.
Prep the salmon patty mixture
Drain the salmon, and remove the bones from the meat unless you bought boneless canned salmon. Add to a large mixing bowl the salmon, leftover mashed potatoes, milk, parsley, chives, dill, white pepper, cayenne pepper, and creole seasoning or seasoned salt then combine very well. You can use either fresh or dried herbs. If you are sitting there thinking that you never have leftover mashed potatoes you can make a half recipe of my Perfect Instant Pot Mashed Potatoes ahead of time to have on hand when you are ready to make Air Fryer Salmon Patties.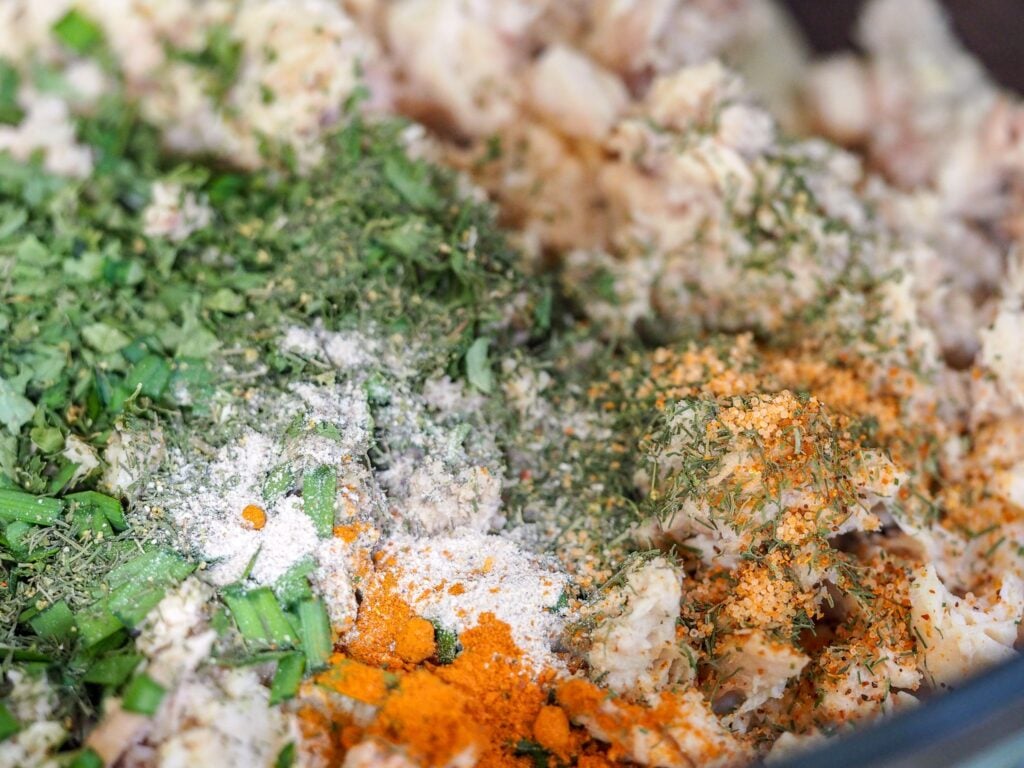 Cooking the salmon patties
These salmon patties require a triple breading, so grab three medium sized bowls. Put a half cup or so of flour in the first bowl, crack 4-6 eggs in the second bowl then whisk those really well, and in the last bowl add a cup of breadcrumbs.
Spoon a half cup or so of the salmon patty mixture into your hand and form into a patty. Coat in the flour being sure to pat off any excess flour. Dip in the egg mixture, drain off the excess egg mixture by holding above the bowl for a second. Finally, coat the patty in the breadcrumbs.
Stove top directions
To cook these on the stove preheat a large fry pan on medium heat. Add to this a pat of butter and some olive oil. Fry the patties on each side until they are lightly browned, and have a nice crust on each side. Repeat until all the patties are cooked.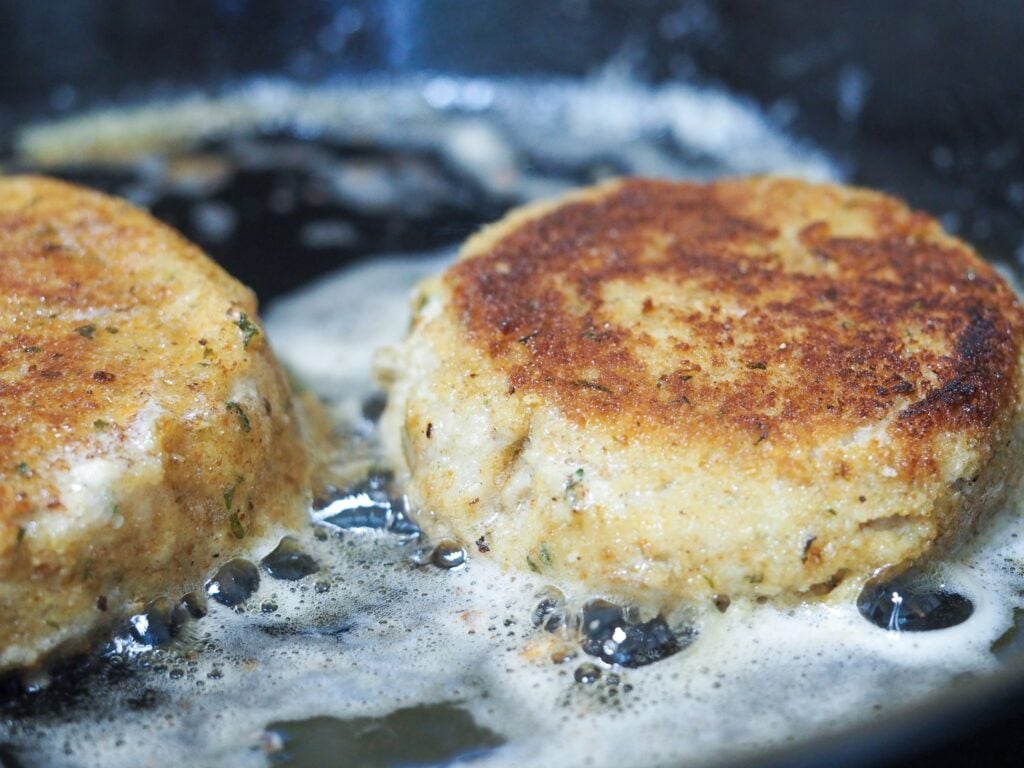 Air Fryer Directions
Arrange salmon patties in the air fryer and be sure not to crowd them. I set them on top of parchment paper, spritzed them with olive oil then cooked on 400-degrees for 8 minutes. I did not preheat my air fryer. Next, I flipped them and spritzed again with a little olive oil and cooked for an additional 8 minutes. Depending on how big you've made your patties you may or may not want to add an additional couple of minutes if you would like to crisp them up more.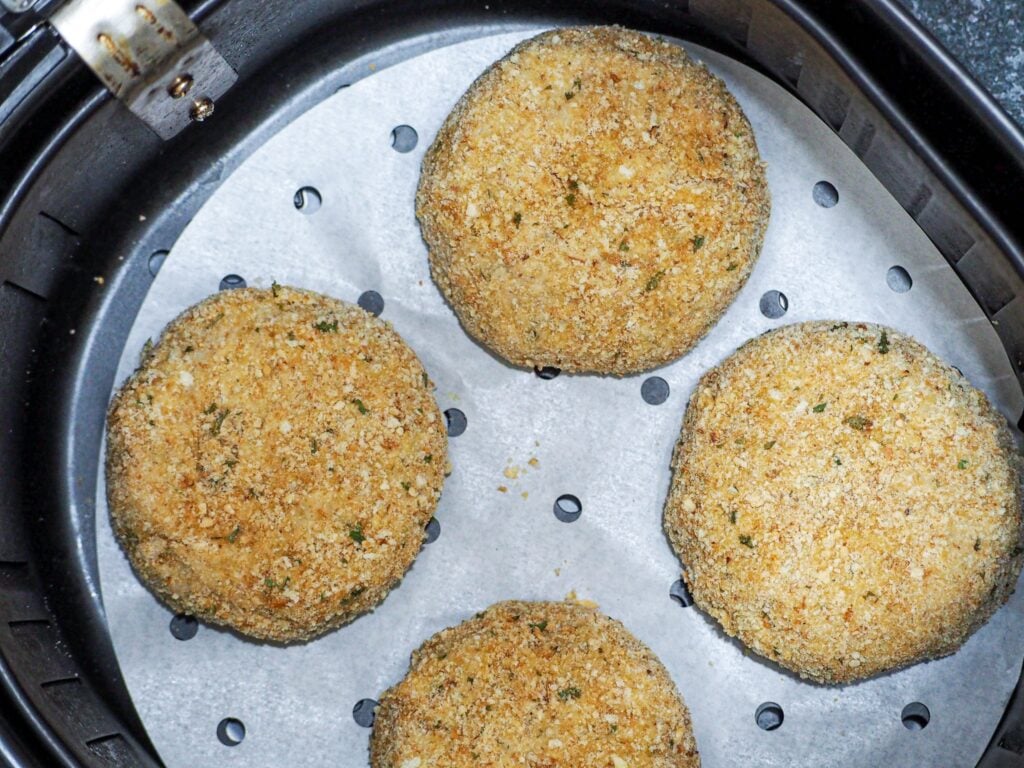 Additional tips for great salmon patties
Salmon patties are great on their own but we like to serve them with creamed peas which are basically peas in a Béchamel. Make a quick Béchamel sauce by melting 4 tablespoons of unsalted butter in a medium pan, and ¼ cup of flour. Stir and cook for a few minutes to get rid of that floury (is that a word? LOL) taste. Add 2 cups of milk, stir over medium heat until thickened. Add to this some canned peas or cooked frozen peas (I love the microwave in the bag ones - quick and easy!)
Using Italian seasoned breadcrumbs versus plain will give your patties a little extra flavor. Add a ¼ cup of plain Panko crumbs to the mixture for extra crispiness.
Add extra cayenne pepper to turn up the heat or add extra spices until the mixture is as fragrant as you like it.
Don't go for plain mashed potatoes! Make sure you make them as if you were going to eat them on the table for dinner with salt, pepper, milk, and butter!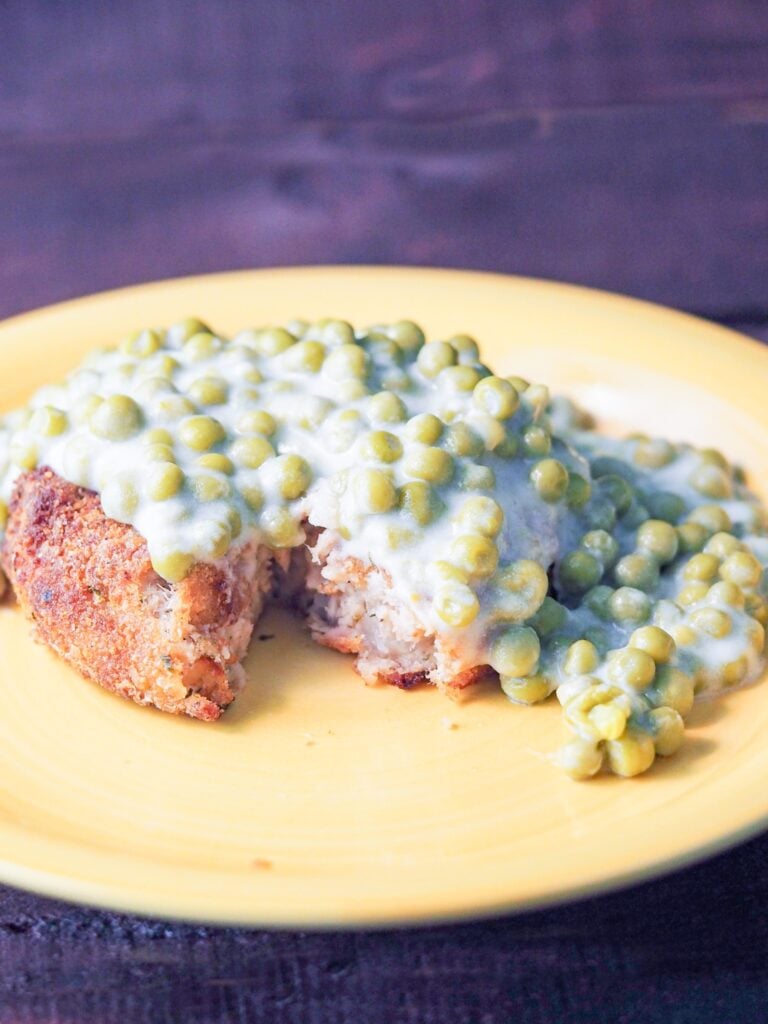 If you enjoyed this you may also like Instant Pot Salisbury Steak, Air Fryer Bacon Wrapped Asparagus, or Instant Pot Omelette Bites!
Recipe
Air Fryer Salmon Patties (+ Stovetop)
Air fryer salmon croquette patties that are full of spice, leftover mashed potatoes, and then fried to perfection. An easy weeknight dinner for the whole family. #airfryersalmonpatties #mondayismeatloaf #salmonpatties #airfryersalmoncroquettes
Print
Pin
Rate
Ingredients
20

ounces

canned Salmon

wet weight, 16 ounces dry weight

2 ½

cups

mashed potatoes

leftover

¼

cup

milk

can substitute with heavy cream

1

tablespoon

parsley

generous

1

teaspoon

chives

generous

1

teaspoon

dill

½

teaspoon

white pepper

¼

teaspoon

cayenne pepper

¼

teaspoon

Creole seasoning

can substitute with seasoned salt
Breading Ingredients
½

cup

flour

4

eggs

beaten

1

cup

breadcrumbs
Instructions
Combine all the ingredients except the breading ingredient group.

Form salmon mixture into patties. Dip in flour, then egg mixture, and then breadcrumbs.

Stovetop: Melt butter on stove and add olive oil to a preheated large fry pan. Cook a few minutes on each side until golden brown, and a nice crust has formed.

Air Fryer: Cook at 400-degrees for 8 minutes, and spritz with olive oil. Flip, and spritz with olive oil again, and cook and additional 8 minutes.

Serve immediately or refrigerate in airtight container for up to one week. Can be served with creamed peas, recipe in post above.
Nutrition
Serving:
1
serving
|
Calories:
283
kcal
|
Carbohydrates:
32
g
|
Protein:
24
g
|
Fat:
7
g
|
Saturated Fat:
2
g
|
Cholesterol:
141
mg
|
Sodium:
423
mg
|
Potassium:
517
mg
|
Fiber:
2
g
|
Sugar:
2
g
|
Vitamin A:
265
IU
|
Vitamin C:
15.8
mg
|
Calcium:
251
mg
|
Iron:
2.2
mg