Stuffed Pork Loin is an elegant but easy way to serve for a holiday meal or dinner party. This pork loin is stuffed with sweet Italian sausage sweetened with shredded apple. The meat is marinated with a mustard rub then finished with peach glaze then garnished with grilled peaches.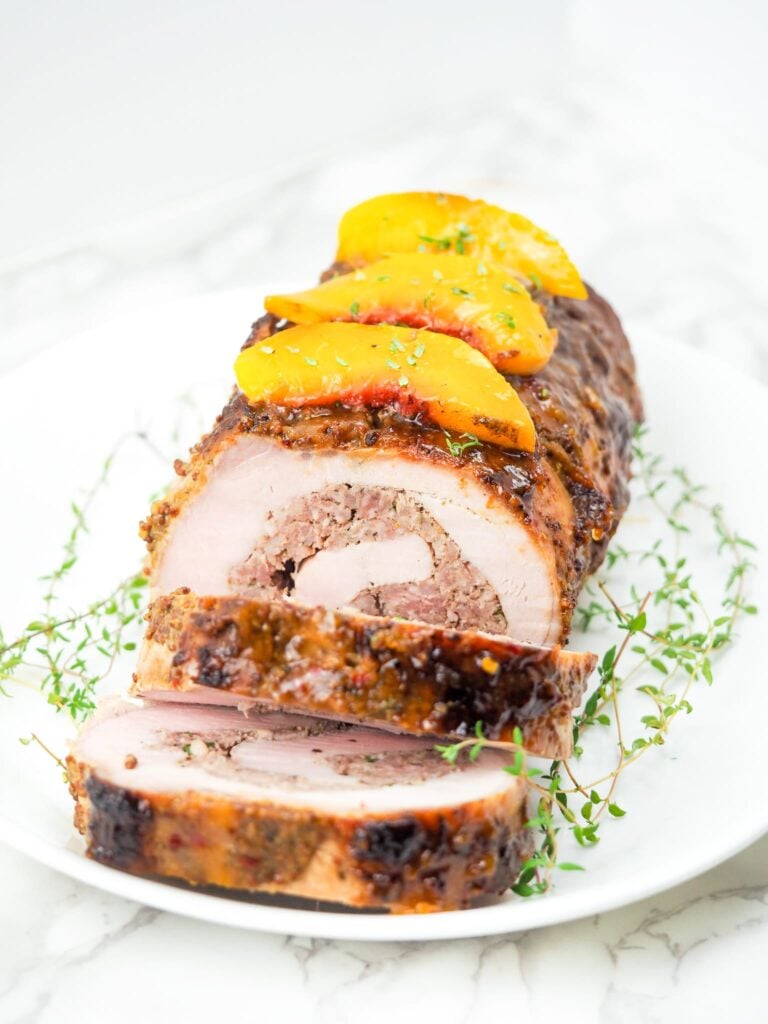 MY OTHER RECIPES
What kind of pork should I buy?
This recipe uses a pork loin not to be confused with a pork tenderloin. The two are very different looking, and come from different parts of the pig.
The tenderloin is thin and small. It is the muscle that runs along the backbone. It can be referred to as a filet or tender. They weigh about one pound each, are generally sold whole, and a pair to each pack.
The pork loin is large, and a whole pork loin can be a couple of feet long. It can be sold bone-in or boneless, and come from the animals back. It can be referred to as center cut pork loin, pork loin center, or pork loin rib half.
For this recipe you will be using a 10 to 12-inch pork loin. You can use the entire pork loin from the butcher to make this as well your cooking time will just increase.
Preparing the mustard rub
In a small mixing bowl combine the stone ground mustard, balsamic vinegar, minced garlic cloves, ground ginger, ground thyme, pepper, honey, salt, and hot red pepper flakes. Stir together until combined then set aside.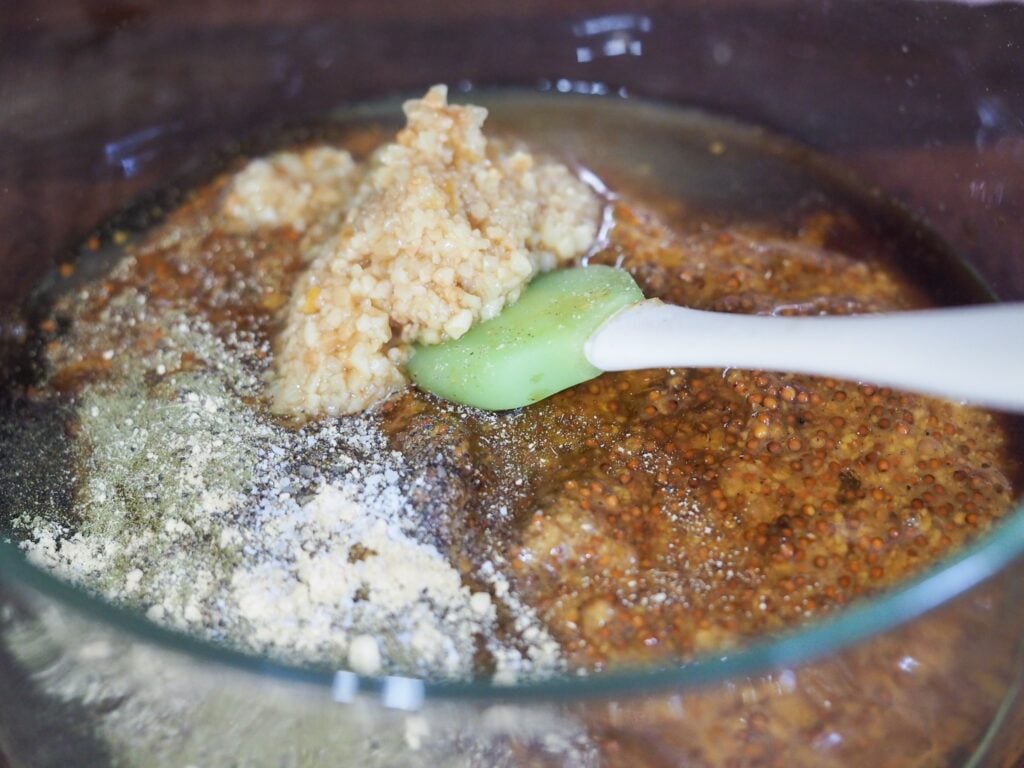 Prepare the sausage filling
In a medium mixing bowl combine the sweet Italian sausage, shredded apple, finely chopped onion, lemon zest, parsley, and panko bread crumbs. Using a spoon or your hands mix everything together then set aside.
Note: You can substitute regular Italian sausage or pork breakfast sausage if you like.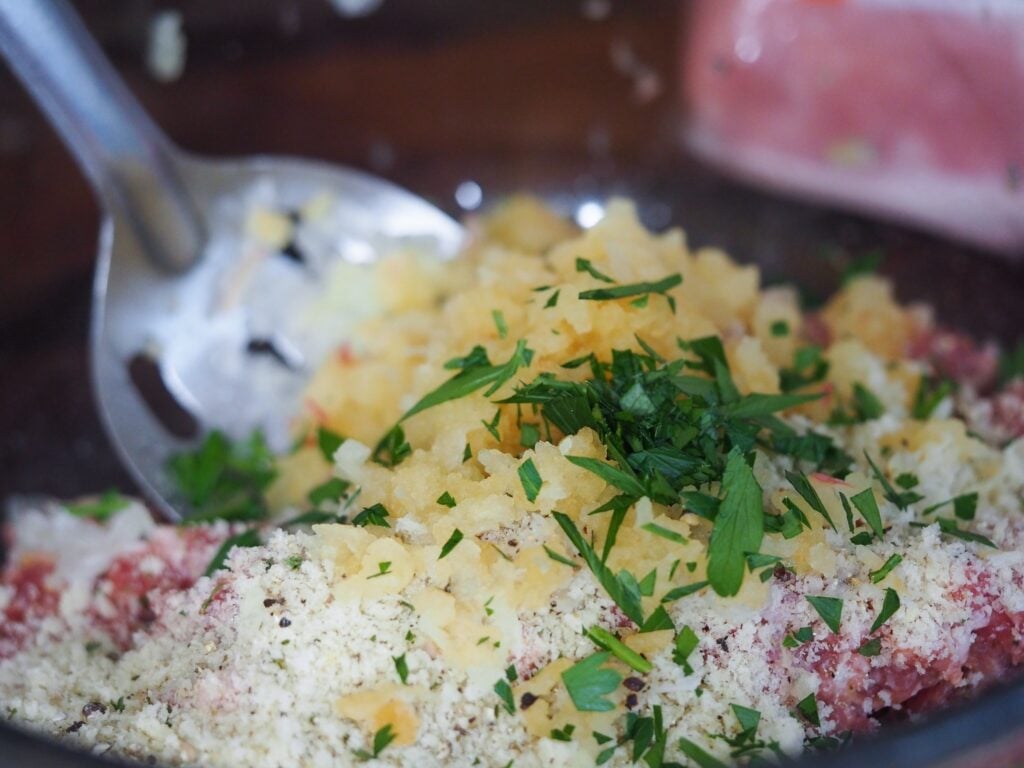 Prepare the pork loin
You will need to place the pork loin on the cutting board. Take your knife and cut along the length of the loin about a half-inch from the bottom cutting about three quarters of the way through.
Turn the pork over, and fold out the flap for the first cut you made. For the second cut, cut along the inside of the loin through the middle. Then fold out the flap, and season the inside of the loin with Montreal Steak seasoning.
Take the prepared sausage filling and pat onto the pork loin. Spread out to within one-half to one-inch of the edges.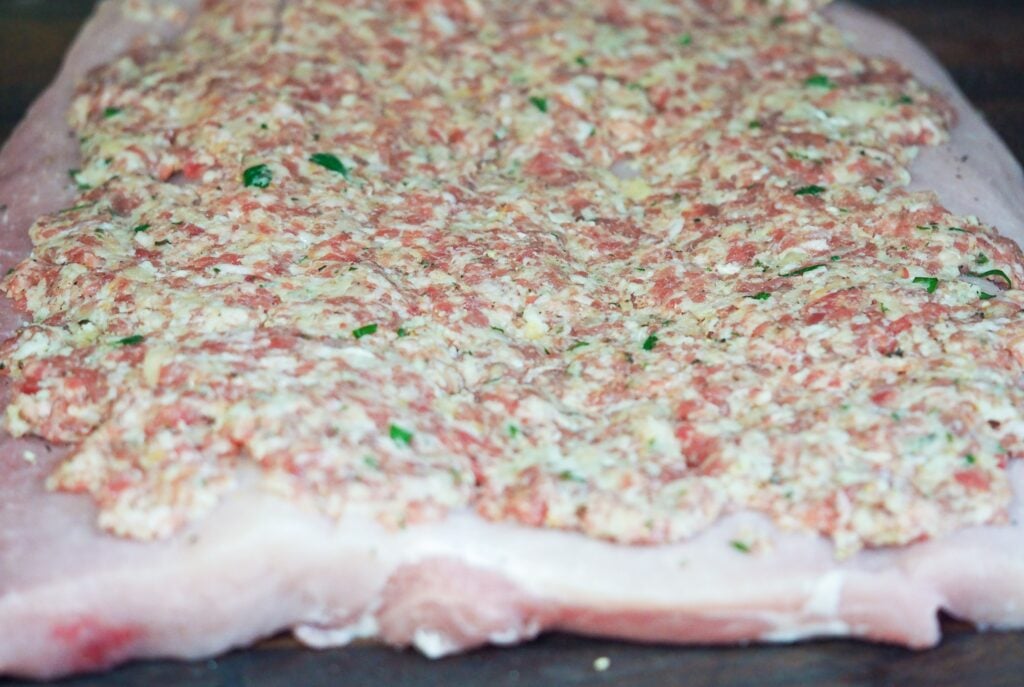 Roll the pork loin from the long side finishing with the seam side down on the cutting board. Take lengths of twine starting from the center and tie the pork loin together. Place them roughly every two inches.
Place in a roasting pan on rack. Take the prepared mustard rub and brush all of it on the pork loin.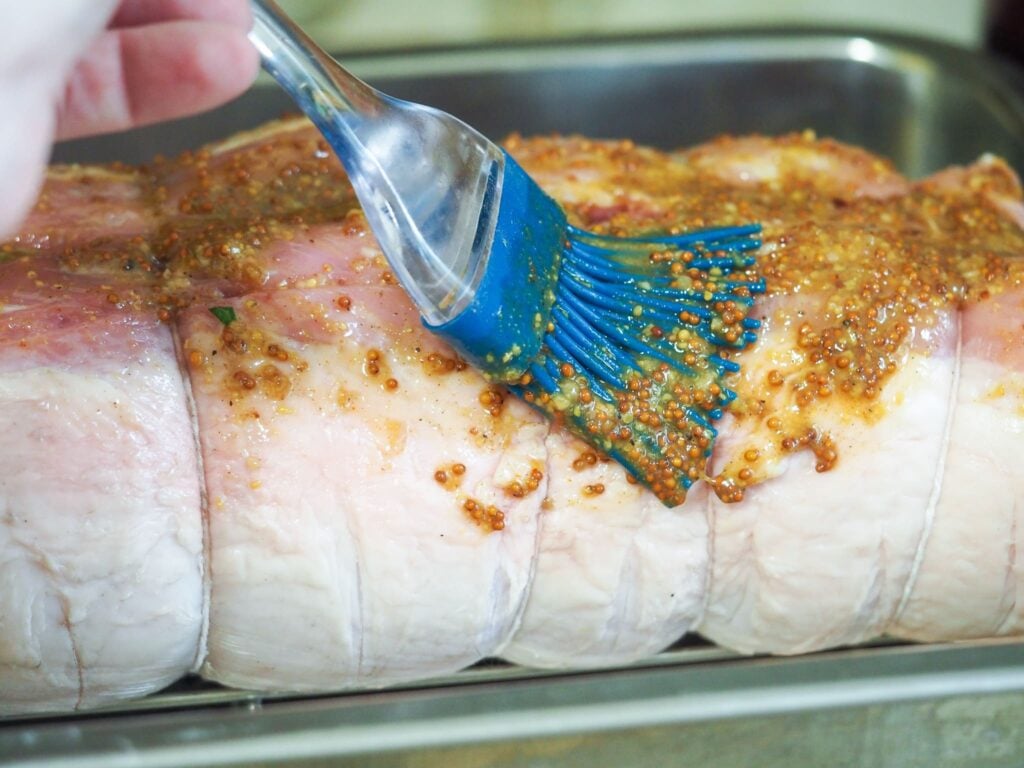 Cooking the roast
Preheat the oven to 450-degrees. Place in the oven uncovered, and bake for 15 minutes then turn down to 375-degrees. Doing this will in effect "sear" the meat since we didn't do it on the stove.
Cook times will vary depending on how big your pork loin is, and how hot your oven runs. Plan to check on your pork loin in one hour to check the temperature. Once the internal temperature reaches 145-degrees according to the FoodSafety.gov website your meat will be done and safe to eat.
Once the roast has browned to your satisfaction if it is not done then cover loosely with foil until the glaze is applied.
Cooking the peach glaze
In a small saucepan, combine the peach preserves, cinnamon, nutmeg, red pepper flakes, olive oil, Dijon mustard, and apple cider vinegar. Stir with a small whisk until the mixture comes to a simmer. Simmer for about five minutes stirring often.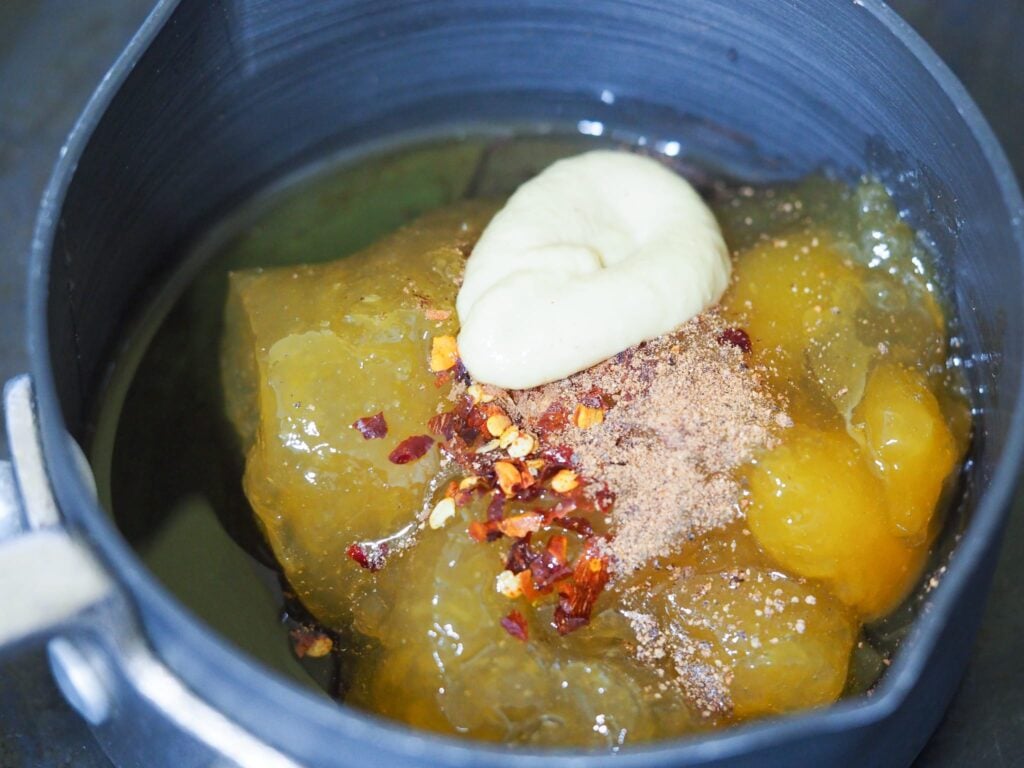 When the roast is almost done, brush the pork loin with the prepared peach glaze then cook for at least an additional 10-15 minutes.
Once finished, pull out of the oven and tent the pork loin for 15 minutes prior to serving to let the meat rest. This is great served with my Green Beans with Onion with Instant Pot Chocolate Strawberry Cake.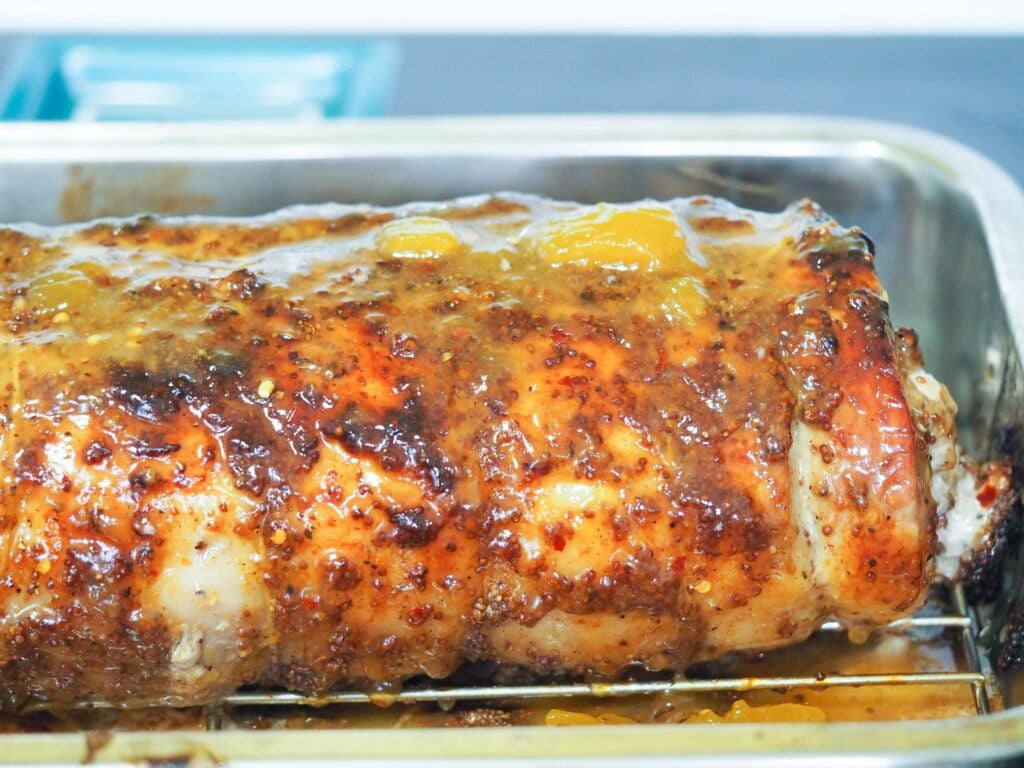 Optional grilled peaches
Simply take freestone peaches halve them, and remove the pits. Brush with melted butter or olive. Sprinkle brown sugar, cinnamon, and nutmeg on top to your taste. Grill on medium heat for 4-5 minutes on each side.
Grilled peaches are a great as a side dish for this recipe or as a dessert served with vanilla ice cream.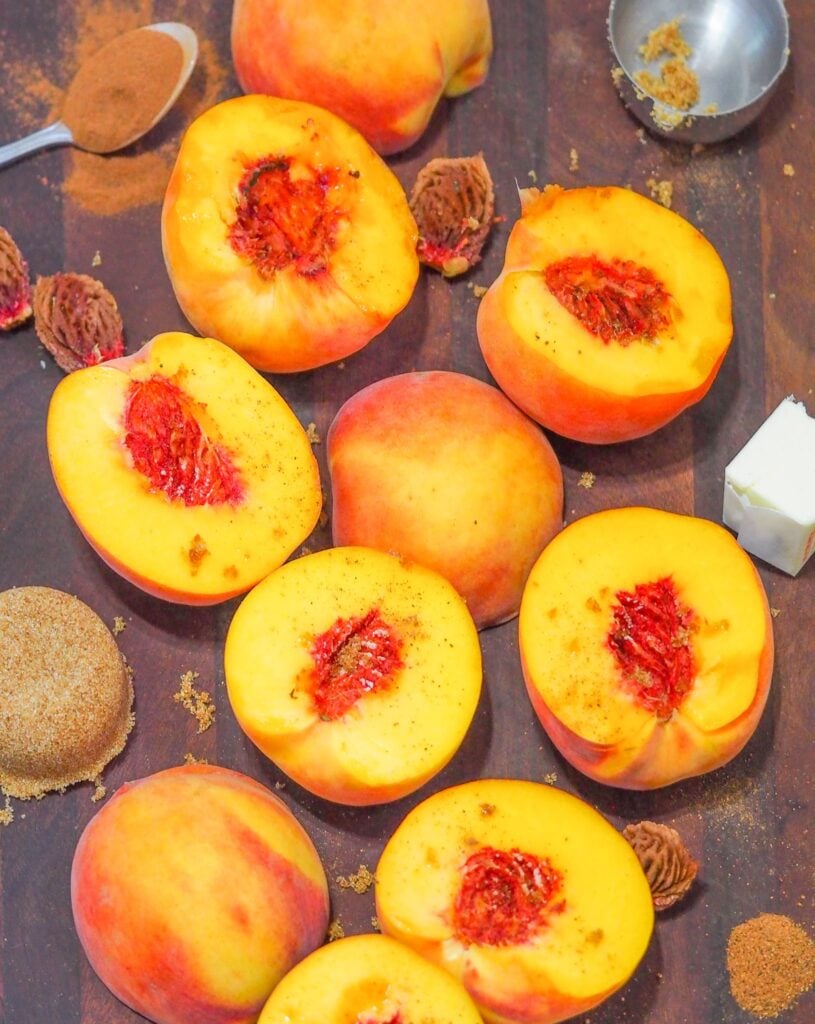 Serve immediately, or store in an airtight container for up to one week.
If you enjoyed this recipe you might also like Bacon Wrapped Pork Loin Stuffed with Herbed Goat Cheese, Spinach, and Mushrooms, or Instant Pot Cheesy Green Bean Casserole.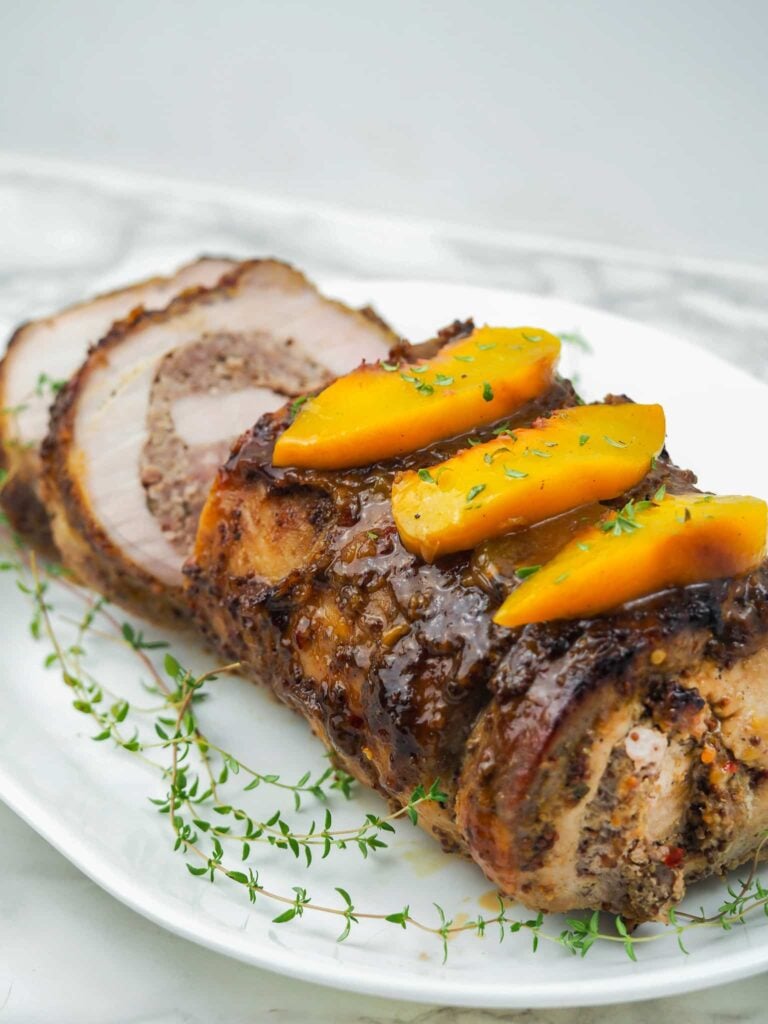 Ingredients
3

pound

pork loin

1

tbsp

Montreal Steak Seasoning
Mustard Rub
½

cup

stone ground mustard

1

tbsp

balsamic vinegar

1

cloves

garlic

minced

½

tsp

ground thyme

¼

tsp

ground ginger

1

tbsp

honey

⅛

tsp

salt

hot red pepper flakes

dash
Italian Sausage Stuffing
½

pound

sweet Italian sausage

½

onion

finely diced

½

apple

shredded

lemon zest

pinch

1

tbsp

fresh parsley

can substitute dried in half the amount
Peach Preserve Glaze
1

cup

peach preserves or jam

⅛

tsp

cinnamon

¼

tsp

nutmeg

¼

tsp

hot red pepper flakes

1

tbsp

olive oil

1

tsp

Dijon mustard

1

tbsp

apple cider vinegar
Grilled Peaches (Optional)
4

Free Stone Peaches

halved and pitted

Brown sugar, cinnamon, and nutmeg

to taste
Instructions
Mustard Rub
Add all the ingredients in the mustard rub group in a small bowl, and mix to combine. Set aside.
Italian Sausage Stuffing
Combine all the ingredients in the Italian Sausage Stuffing group together in a medium bowl, and combine. Set aside.
Prep the Pork Loin
Preheat oven to 450-degrees.

Butterfly the pork loin by making a long vertical cut length wise about one inch deep into the pork loin going about three-quarters of the way through.

Turn over and open the flap you just made. Make another vertical cut through the center of the remaining thickness so that you can open the pork loin like a book.

Sprinkle with Montreal Steak Seasoning on the inside.

Add the stuffing spreading to within an inch of the sides.

Roll long side until it resembles a log, and then with the seam side down tie with kitchen twine about every two inches.

Put tied pork loin in baking pan with rack. Brush on mustard rub.
Peach Glaze
Combine all the peach glaze ingredients into a small saucepan then stir to combine. Bring to a simmer then cook stirring almost constantly for about 5 minutes.
Optional Grilled Peaches
Brush the halved and pitted peaches with melted butter or olive oil. Sprinkle with brown sugar, cinnamon, and nutmeg to taste.

Grill over medium heat for 4-5 minutes on each side.
Cooking the Pork Loin
Put the pork loin, uncovered, into the preheated oven for 15 minutes.

After 15-minutes turn the temperature down to 375-degrees until the internal temperature reaches 145-degrees. This may take one hour more or less.

Remove from oven just before done, and brush with peach glaze then put back in the oven at least 15 additional minutes.

Once done remove and tent with foil for ten minutes to rest.
Notes
*Pork loin should measure about 8-10 inches in length. *This recipe can be used for a whole pork loin. Ingredients should be doubled, and cooking time adjusted appropriately.
Nutrition
Serving:
1
serving
|
Calories:
489
kcal
|
Carbohydrates:
36
g
|
Protein:
43
g
|
Fat:
18
g
|
Saturated Fat:
6
g
|
Cholesterol:
129
mg
|
Sodium:
527
mg
|
Potassium:
784
mg
|
Fiber:
1
g
|
Sugar:
25
g
|
Vitamin A:
83
IU
|
Vitamin C:
6
mg
|
Calcium:
38
mg
|
Iron:
2
mg