Instant Pot Baked Potatoes have been an absolute game changer for me. Baked potatoes have somehow turned into a mystery on the grill and in the oven as sometimes no matter how long you cook they don't always come out done! In the pressure cooker they come out perfect each time. These would be great on their own with toppings for dinner or served along side of my Instant Pot Mississippi Pot Roast!
Monday is Meatloaf is a participant in the Amazon Services LLC Associates Program, an affiliate advertising program designed to provide a means for sites to earn advertising fees by advertising and linking to Amazon.com.
Prep the Potatoes
First, select russet potatoes that are roughly all the same size. I like to use medium to large potatoes. Wash the potatoes with soap and water in the sink to get all the grimy dirt from the field off of them.
Can potatoes explode while cooking? The answer is YES!!! So, be sure you prick the potato several times with a fork or knife to ensure that while pressure is building up in your Instant Pot and your potato that it won't explode. 😉
Place a rack into the Instant Pot (I used a 6-quart), and add the potatoes in. If you don't have a rack you can always improvise with aluminum foil balls. You can sprinkle some kosher sea salt on top the wet potatoes for a little extra flavor.
Note: If you are going to freeze these for later, then do not salt them. The salt will continue to leach out moisture even after freezing.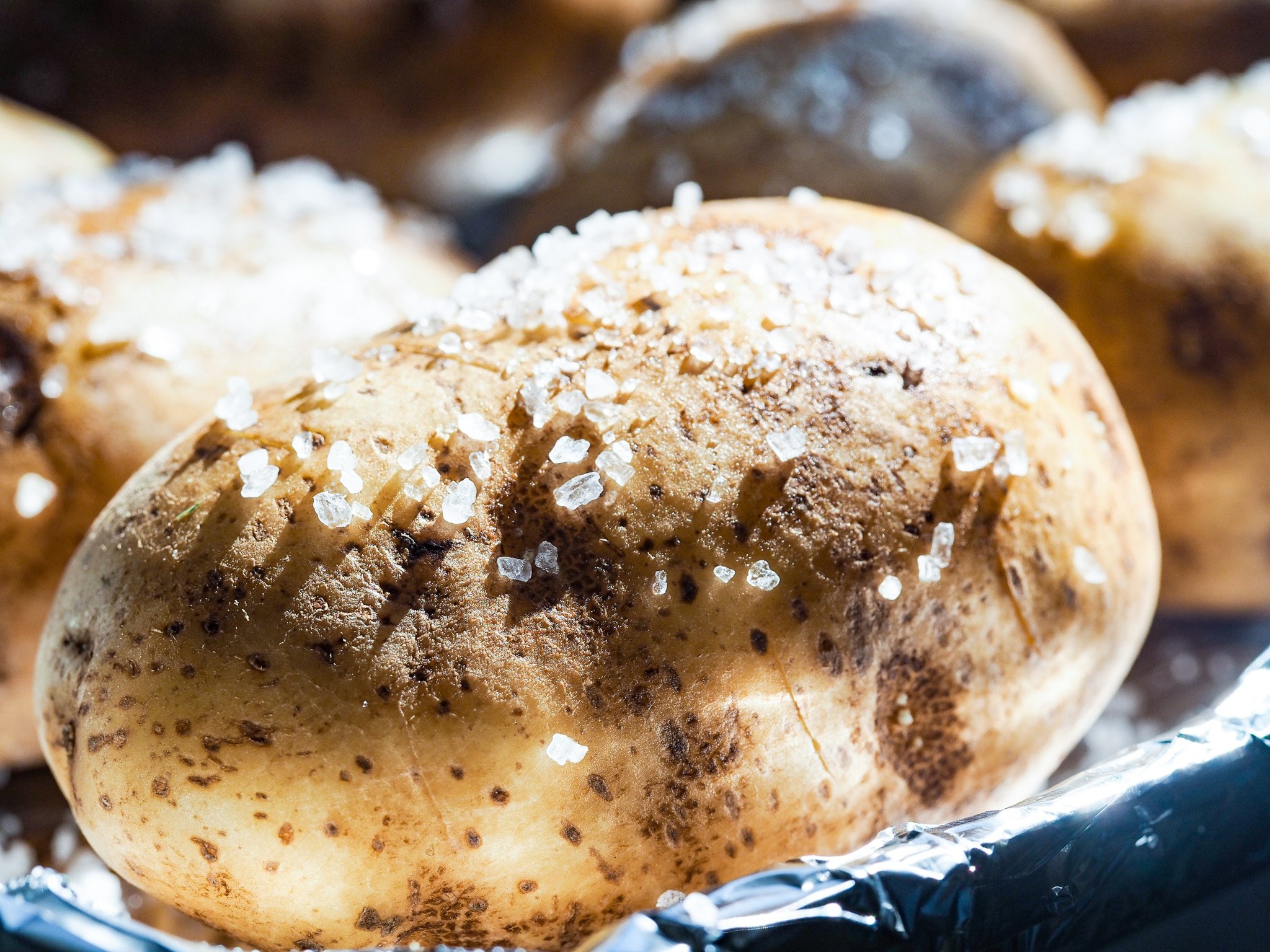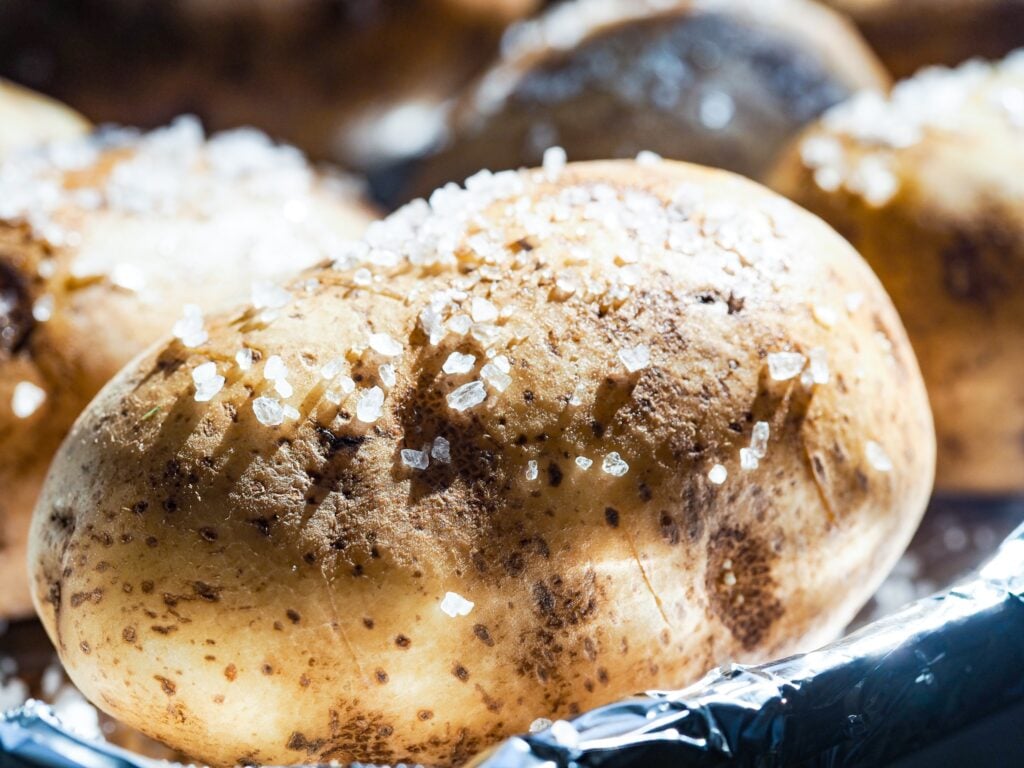 Cooking instructions
Add one cup of water to the pressure cooker, and seal the lid. Cook on high (normal) pressure for 18 minutes and follow with a 10 minute natural pressure release.
Note: If freezing then reduce the high pressure time by two minutes and the natural release to five minutes with the intention that the potato be cooked almost to doneness.
Serve immediately, or store in an airtight container for up to one week. Add toppings like bacon, cheese, sour cream, cottage cheese, broccoli, chili, leftover BBQ pork or chicken, or chives for an easy dinner or side! The leftover potatoes are great cut up for home fries or hash! Enjoy!
To freeze cool for one hour, wrap in foil individually, and put in plastic bag. Can be frozen for up to one month. To thaw place in fridge the day before or microwave on low to reheat.
If you enjoyed this you might also like Instant Pot Carolina Ribs, Instant Pot Swiss Steak, or Creamy Instant Pot Mac and Cheese!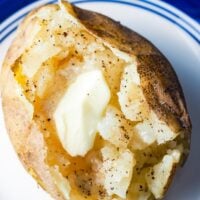 Easy Instant Pot Baked Potatoes
The best easy Instant Pot Baked Potato recipe for any size potato large or small. Take the quiz work out of how much time to cook for baked potatoes that are done perfectly each time.
Print
Pin
Rate
Ingredients
6

Russet potatoes

medium to large

1

cup

water

Kosher Salt to taste

optional
Instructions
Wash the potatoes well, and prick each several times with a fork or knife.

Insert rack into Instant Pot, add the water, and place the potatoes inside then seal the lid.

Cook on high (normal) pressure for 18 minutes then follow with a 10 minute natural pressure release.

Serve immediately, or store in an airtight container for up to one week.
How to Freeze
Cook just before doneness. Cool for one hour. Do not season with salt, as once the potato reaches freezing temperatures they will lose moisture even while frozen. Wrap each one in aluminum foil, and freeze for up to one month in a plastic bag.

To thaw place in fridge overnight or microwave on low until thawed.
Nutrition
Serving:
1
serving
|
Calories:
168
kcal
|
Carbohydrates:
38
g
|
Protein:
5
g
|
Fat:
1
g
|
Saturated Fat:
1
g
|
Sodium:
13
mg
|
Potassium:
888
mg
|
Fiber:
3
g
|
Sugar:
1
g
|
Vitamin C:
12
mg
|
Calcium:
28
mg
|
Iron:
2
mg