These fluffy Southern Buttermilk Biscuits are made from scratch with a "tried and true" technique that gives you a tender biscuit filled with lots of flaky layers.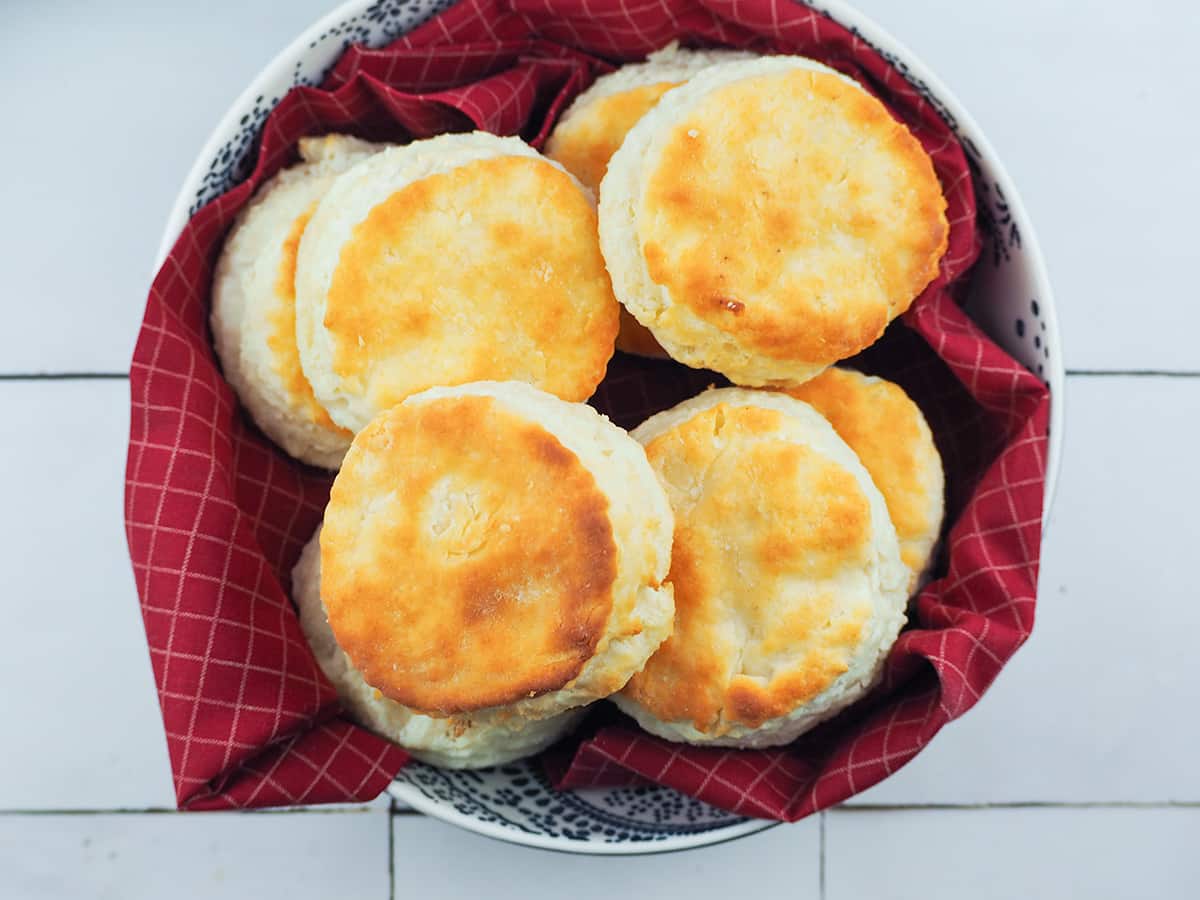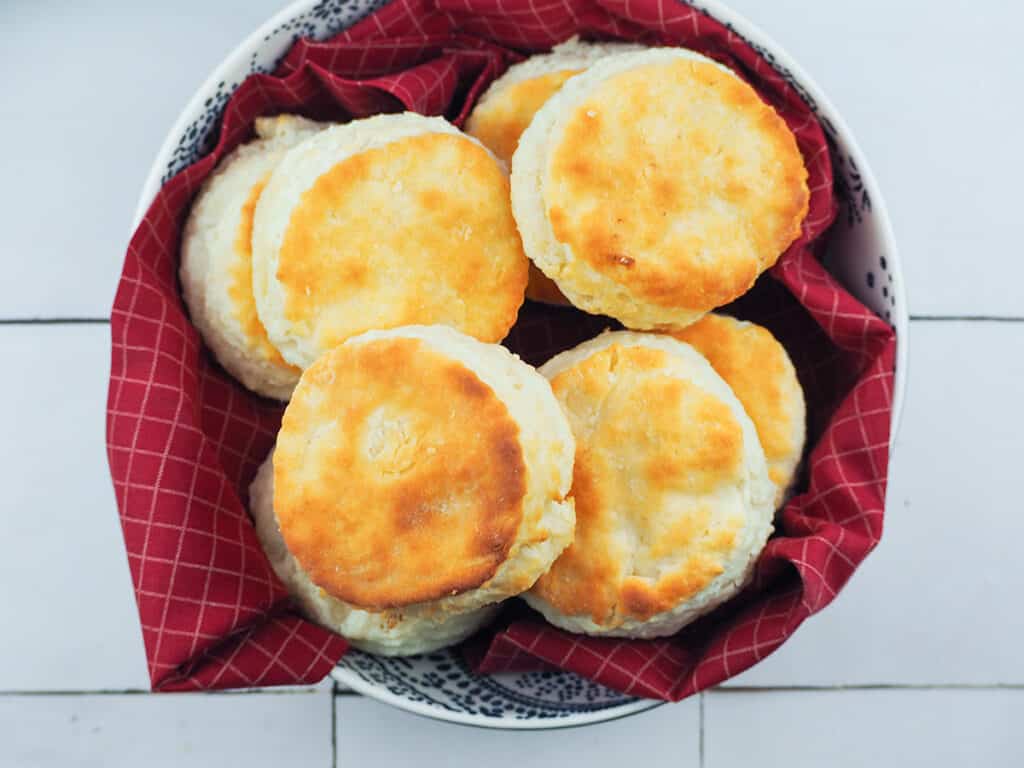 Monday is Meatloaf is a participant in the Amazon Services LLC Associates Program, an affiliate advertising program designed to provide a means for sites to earn advertising fees by advertising and linking to Amazon.com.
FEATURED RECIPE
Ingredients
Self rising flour - White Lily flour is the preferred as it is made from soft winter wheat. Any high quality self rising flour will work though.
Butter - I prefer to use unsalted butter. The butter will need to be chilled, and should be brought out just at the moment you intend to use it. You can also use frozen butter by using a grater to grate the butter into the flour.
Buttermilk - this should also be chilled. If your dough seems a little to crumbly you can always add a little extra to make it come together a little better.
What if I don't have self rising flour?
You can use all purpose flour by adding to ingredients to it. For two cups of all purpose flour whisk in 1 teaspoon of salt and 3 teaspoons of baking powder.
How to make the biscuits
The big key to making high quality biscuits is to have chilled butter and buttermilk, work quickly, and not to overwork the dough.
Put the flour into a large bowl, and cut the butter into pieces then add to bowl. Work the butter into the flour with a pastry blender until it you have a lot of pea sized pieces. The bits of butter left in the dough at this stage will help add the flaky layers we're looking for.
Add the buttermilk all at once and stir with a spoon until just combined. Be careful not to overwork the dough at this stage.
Then we are going to get a little flour on our board, a two-inch biscuit cutter, and a bench scraper. Turn the dough out onto the floured surface.
Pat the dough out into a rectangle until it is uniformly about an inch thick. Fold one-third towards the center, then fold the other third over, and flip the dough over to pat out again to about one-inch thickness. This process should be done three times.
Pat out the dough to about 1 inch thick then cut with a 2-inch biscuit cutter. Place on an ungreased baking sheet. Bring the leftover back together pat out, and cut more biscuits. Repeat until the dough is gone.
You can also cut the doughs into squares which means you would only have to pat out the dough once.
Bake in a preheated 500-degree oven for 10-12 minutes or until the biscuits are a light golden brown. Melt some butter in the microwave while they are baking.
When you take your biscuits out of the oven, be sure to butter the tops then flip them over to butter the bottoms. Even though you take them out of the oven they are still hot...hot...and still baking on the tray...sooo...let's take care not to have those bottoms overdone!
Be sure to make some Sausage Gravy to pour over these, top with some Cherry Jam, or serve with some Instant Pot Omelette Bites!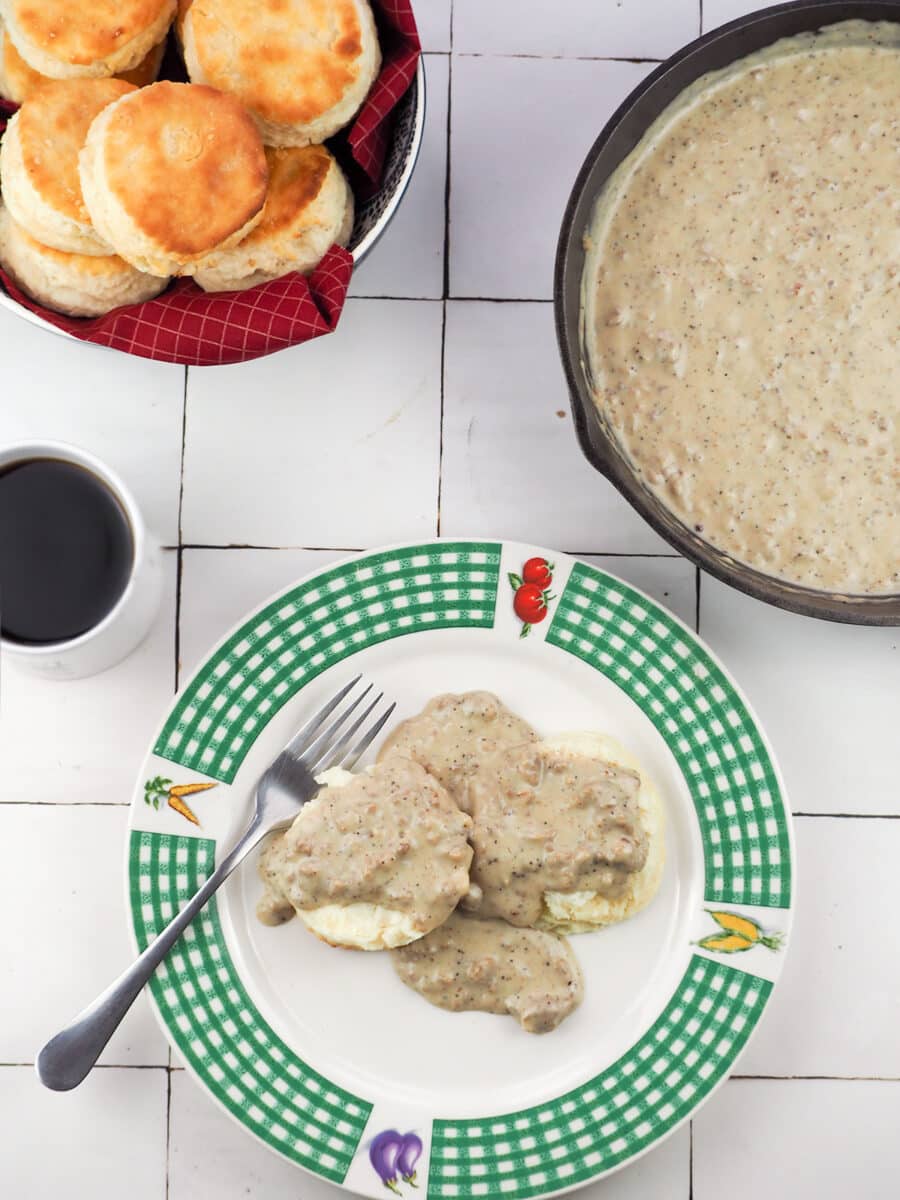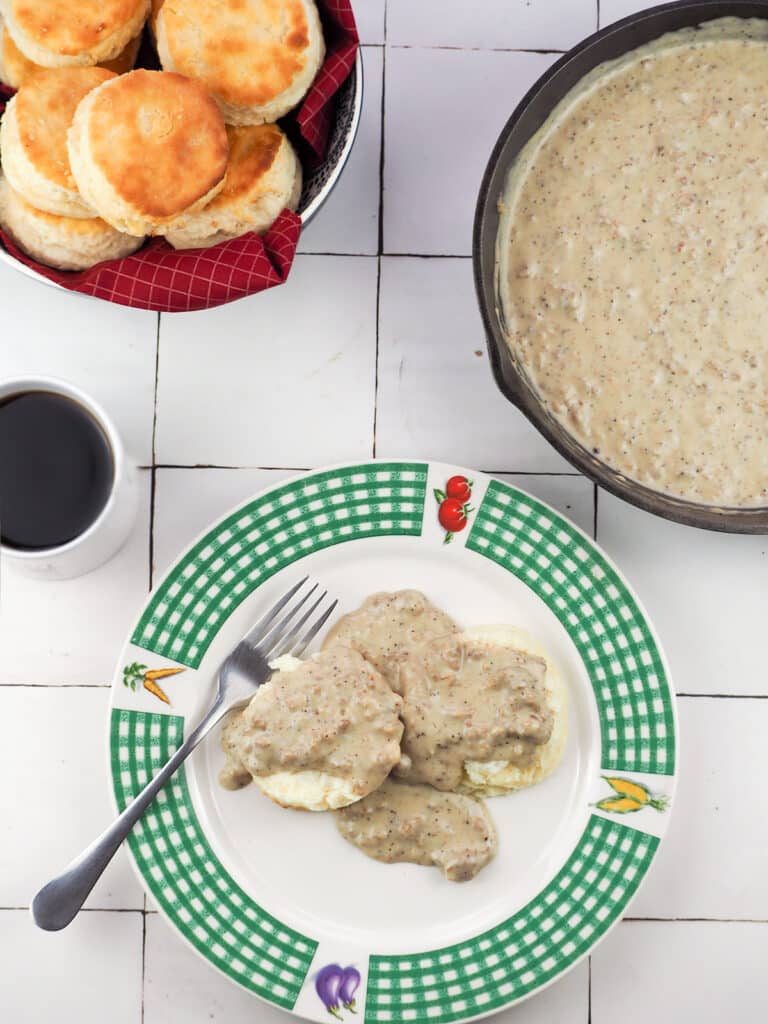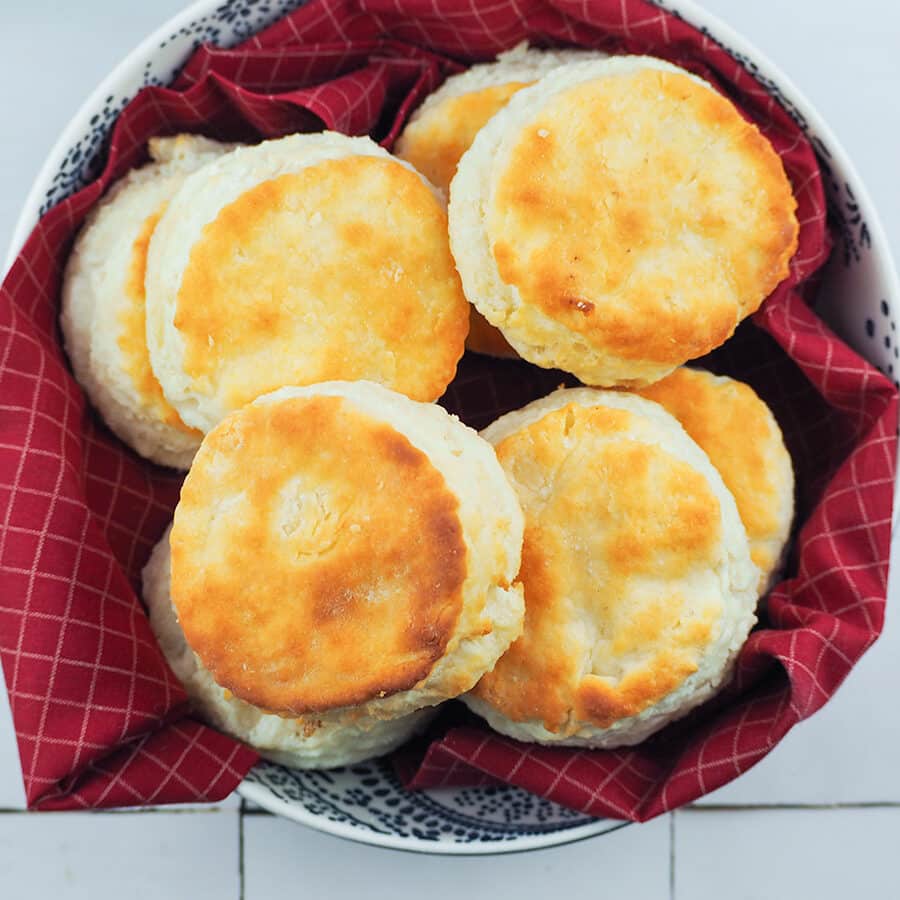 Ingredients
2

cups

self rising flour

White Lily flour is best

8

tbsp

butter

chilled, I use unsalted

¾

cup

buttermilk

chilled

2

tbsp

butter

for brushing tops and bottoms after cooking
Instructions
Preheat oven to 500-degrees.

Add the flour to a large bowl. Cut the chilled butter into pieces then blend with a pastry blender until you have rough pea sized pieces. If using frozen butter then use a grater to grate into the flour then mix.

Pour in the chilled buttermilk, and stir until just combined. If to crumbly add more buttermilk but do not overwork at this step.

Pour dough out onto a lightly floured surface. Pat into a large rectangle then fold ⅓ over, and the remaining ⅓ over. Flip pat into a large rectangle then repeat the last step twice.

Pat the dough out to 1-inch thick, and cut with a 2-inch biscuit cutter. Put the biscuits onto an ungreased baking sheet. Continue to pat out the dough to make biscuits until all of the dough is used.

Bake for 10-12 minutes or until the biscuits are lightly golden. Melt the remaining 2 tablespoons of butter. Remove biscuits from the oven, brush tops with butter, and then flip to brush the bottoms. This also prevents the bottoms from continuing to cook and burn.

Serve immediately or store for up to one week in an airtight container.
Notes
Use a high quality self rising flour like White Lily
Work quickly
Use chilled butter and buttermilk
Bits of butter in the dough is normal, and creates flaky layers
Do not overwork the dough
If you don't have self rising flour then all purpose flour can be used

Whisk into the flour 1 teaspoon of salt and 3 teaspoons of baking powder to make self rising flour
Nutrition
Serving:
1
piece
|
Calories:
252
kcal
|
Carbohydrates:
24
g
|
Protein:
5
g
|
Fat:
15
g
|
Saturated Fat:
9
g
|
Trans Fat:
1
g
|
Cholesterol:
40
mg
|
Sodium:
149
mg
|
Potassium:
66
mg
|
Fiber:
1
g
|
Sugar:
1
g
|
Vitamin A:
475
IU
|
Calcium:
35
mg
|
Iron:
1
mg